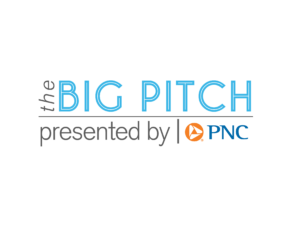 Introducing… our 2019 finalists for The Big Pitch presented by PNC!
On Saturday, November 23, five Big Pitch finalists will vie for a share of $50,000 in cash and professional services prize packages, as they pitch their business models to a panel of judges, potential investors, and a live audience (that's you—buy your tickets now!). Big Pitch finalists are paired with mentors and service providers to help them prepare a successful business model and perfect pitch for the annual competition organized by REV Birmingham.   
Now, let's meet the 2019 Big Pitch finalists: 
The Blueroot Company: Jennifer Ryan fills her produce-forward menu with bright, delicious, and nutrient-rich foods, showcasing the best our local farmers have to offer. 
Elysian Gardens: William and Kelly Colburn of Iron Age Studio are planning a community sculpture park in Avondale where art, music, & food connect neighbors, build bridges, and open doors in our city. 
Encore Rouge: Antoinne and Shantale Davis are serving bold flavorful authentic Cajun fare from their food truck as they work toward opening their brick-and-mortar restaurant. 
Relaxation Room: Massage therapist Adrian Ward has plans to create the Relaxation Room, where you can sit in a massage chair, put on virtual goggles, and take a trip to a peaceful place. 
Sidekicks: Bonaventure Akinlosotu and Joseph Bradley of Sidekicks in Avondale are driving Birmingham's sneaker culture as they aim to grow their shop into a boutique-style smart store. 
"This year's finalists represent an exciting mix of food, retail and experience creation concepts that would all add to Birmingham's vibrancy," said REV CEO and President David Fleming. "The Big Pitch Presented by PNC is designed to find and feed Birmingham's next big things, and we believe all five of these businesses fit that build. Throughout the Big Pitch process and even beyond the live event, REV and our sponsors, mentors and service providers will support these entrepreneurs as they work toward their dreams."  
The Big Pitch live competition is Saturday, November 23 from 1 to 4 p.m. at 1900 2nd Avenue North, which is also the location of REV's Upswing project from September through December. Big Pitch tickets are available now at bigpitchbham.com.  
Each finalist has been paired with a local entrepreneur who will serve as a mentor throughout their Big Pitch experience. These mentors have either started, built or sold successful ventures of their own. Service providers are professionals in areas like business law, accounting, marketing and more who have been selected to provide a free one-on-one consultation to finalists.  
This is the sixth year PNC has sponsored the Big Pitch. In addition to offering capital to the top competitors, PNC employees provide coaching and other support for all finalists.  
Other sponsors include Poole & Company Architects and Barfield Murphy Shank & Smith. Gatehouse Law, Red Thread Consulting and TruFund are also contributing time and talents to support the entrepreneurs. 
As they plan their Big Pitch, finalists will attend REV's three technical assistance workshops, which are also open to the public. Tickets are available for aspiring entrepreneurs and growth-minded small business owners at bigpitchbham.com.  
Telling Your Brand Story | Friday, October 11 | 10 a.m. – 12 p.m. 
Start-up to Storefront | Friday, October 11 | 12:30 p.m. – 2 p.m. 
Funding Your Dream | Friday, October 11 | 2:30 p.m. – 4 p.m.
 
Past Big Pitch finalists include Zebbie Carney of Eugene's Hot Chicken, a food truck plus brick-and-mortar near Uptown; Kelli and Stephen Steward of Gatos and Beans, Alabama's only cat café (in Avondale); and Kate Hardy of Square One Goods, a cheeky gift shop in Founder's Station downtown.  
For more details on The Big Pitch, visit bigpitchbham.com. Follow @revbham on Facebook, Twitter and Instagram to see updates on #REVBigPitch and more of REV's vibrancy-driving work in Birmingham. 
Related News
Filed Under: Business-Proving, Filling Vacant Spaces, Small Business, Woodlawn

When Karen Gathany began her search for a brick-and-mortar space, she wasn't quite sure where she'd end up. But she fell in love with a charming historic storefront, complete with hardwood floors and an exposed brick wall, on 1st Avenue North in Woodlawn.