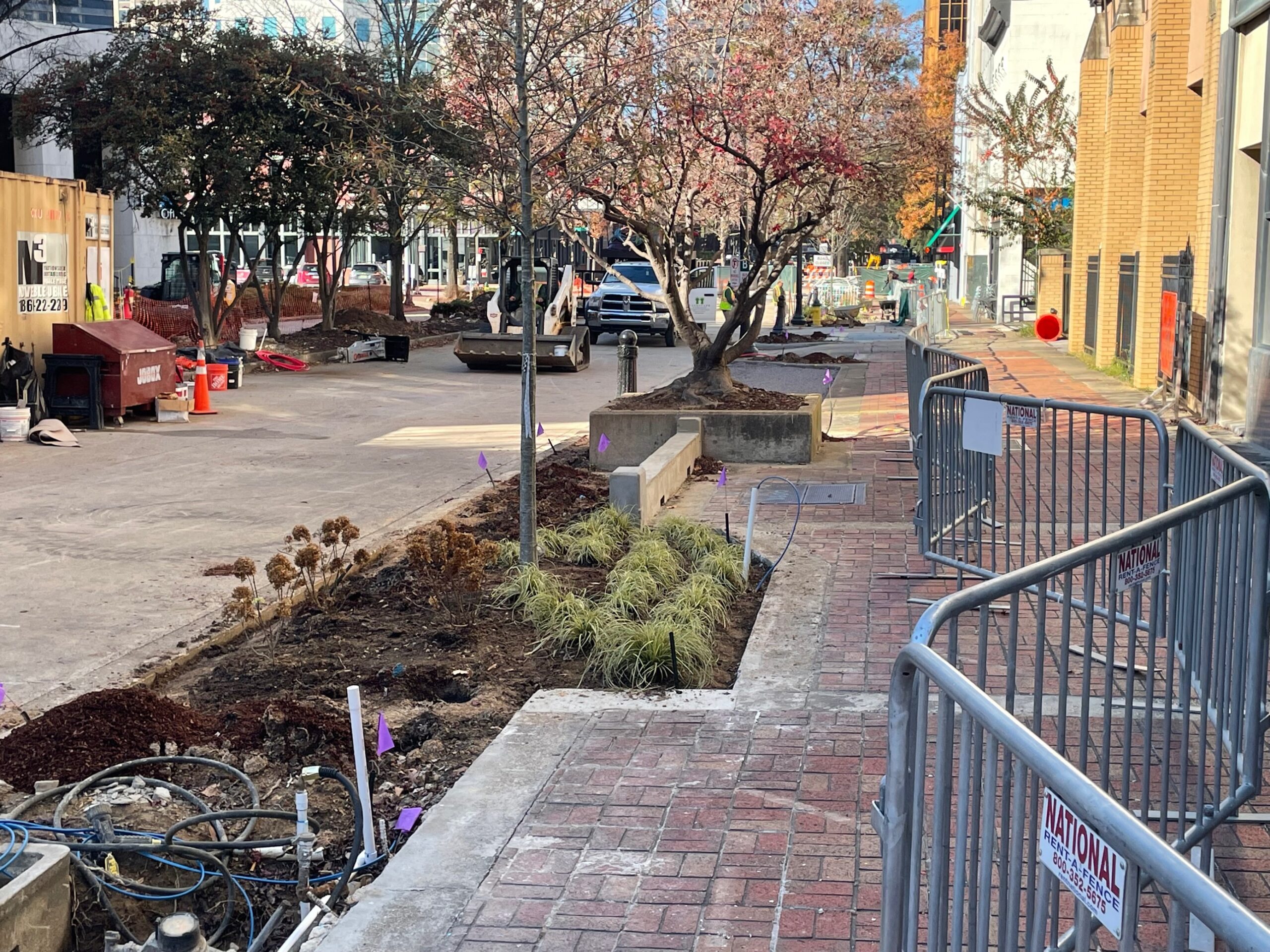 We hope you've noticed that big things are happening on 20th Street North. For the first time in nearly 50 years, Birmingham's main street is getting a face-lift. 20th was one of the first public places in the city to receive electric lighting in the 1940's. In the 1970's it received the nickname "The Birmingham Green" after an eponymous beautification project along the 20th St N corridor. According to architect James Adams the goal of The Birmingham Green project was, "knitting the fabric of the central business district with high quality thread." That quality thread has been well loved, and well worn over the last 50 years. Right now, we're in the middle of re-furbishing and re –working it for the next 50 and beyond. Here's what is already completed, and what you can expect to see on 20th over the next few months. 
As we've mentioned on this blog in the past, the "hardscape" work will be done in four phases. Now that the first phase is complete on the northbound lane of 20th Street from 3rd Avenue North to Linn Park let's talk about what gets done in each phase.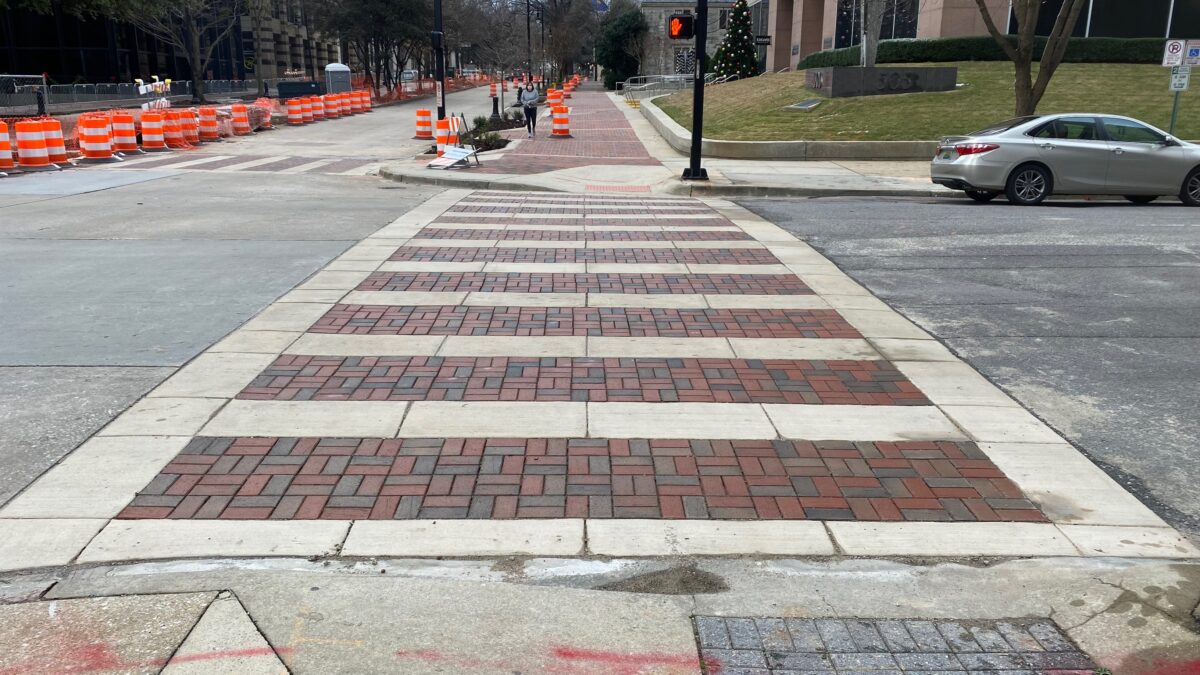 If you've been out on 20th St N recently, the first thing you probably noticed is the new crosswalks! Cracked and degrading concrete in the crosswalks have been replaced with beautiful new brick crosswalks. Every crosswalk on 20th St N between Morris Ave and Park Place is getting replaced, and trip hazards in the sidewalks are being leveled and re-bricked as well.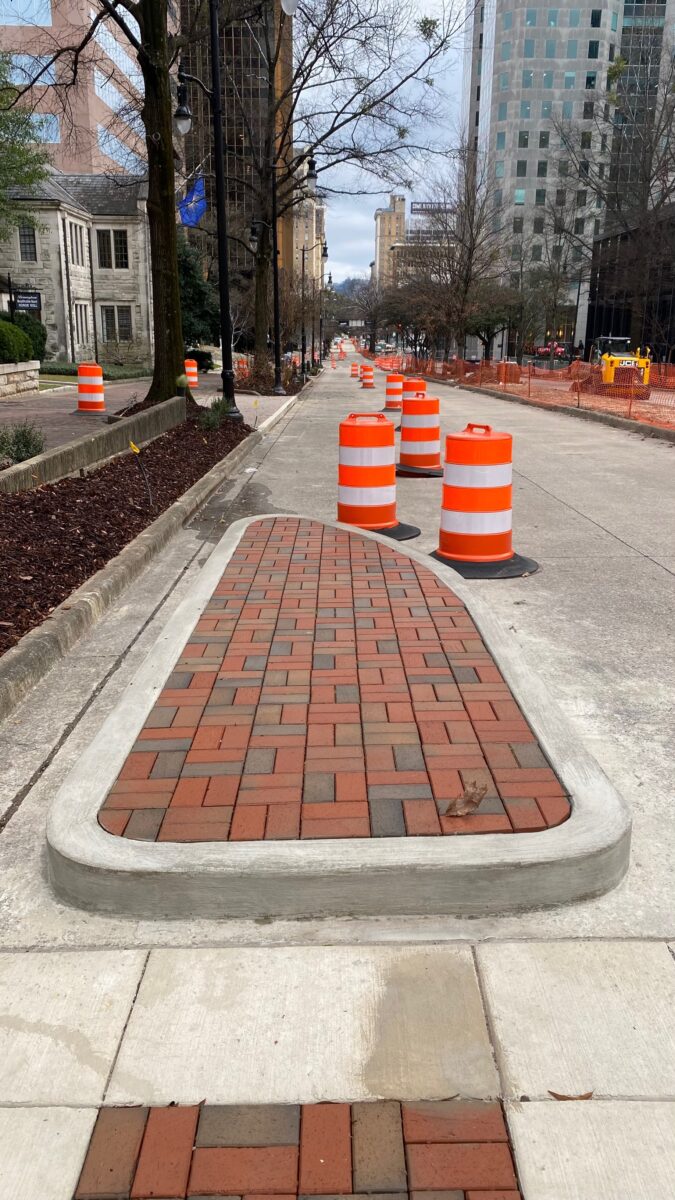 The biggest lift in each phase is the concrete work. Obsolete curbs and knee walls are being removed and replaced to give the street a more open and uniform look. Brand new curbs are being poured to straighten curb lines where old loading zones will be made redundant by the new flex lanes. The resulting newly created sidewalk level space is being filled with a permeable crushed gravel surface that will create more room for outdoor café seating similar to what you already see in front of ZaZa. Bulb outs are being added at key intersections to shorten crossing distances for pedestrians and improve safety. Old concrete benches are being pulled out, and will be replaced with even more public seating (more on that later in this piece).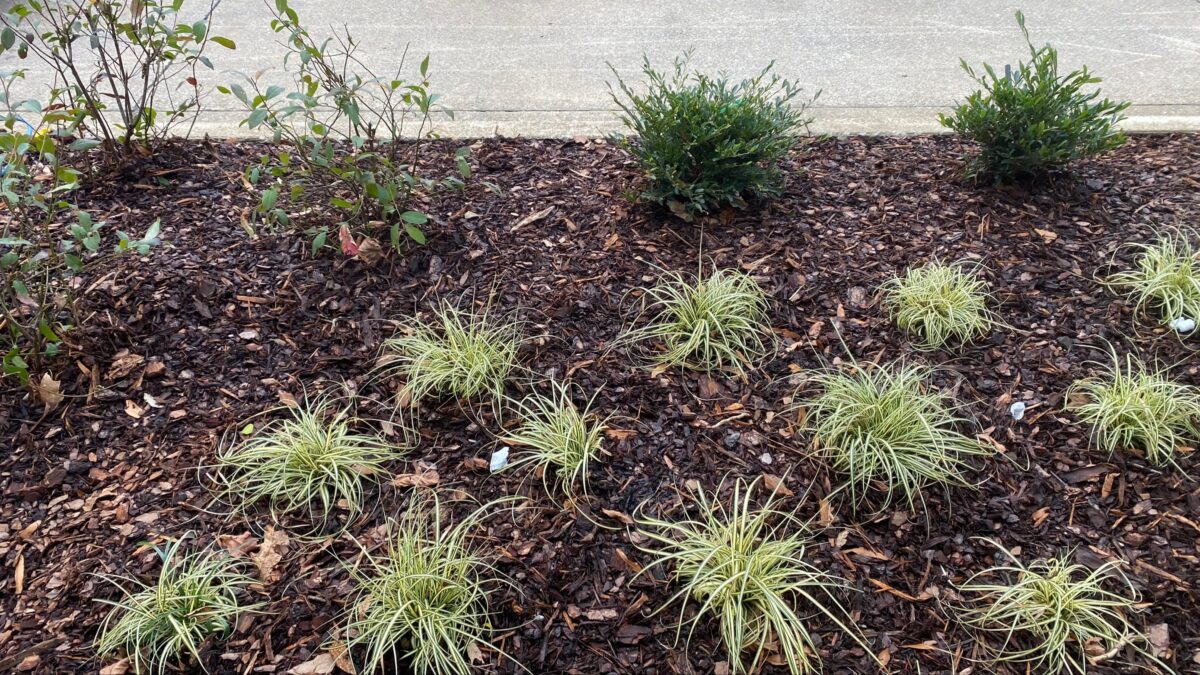 As part of each phase, the planting beds are being refreshed with new native and lower maintenance plants. These new plantings incorporate some of the same elements found in other popular public spaces like Railroad Park and Rotary Trail. While you'll see lots of new plants on the completed northbound lane of 20th Street from 3rd Avenue North to Linn Park phase, there is even more to come! Some of the plantings spec'd for this project need to be planted in spring, and others will be placed in brand new planters which will be added after all the hardscape work has been completed for the full project. 
The above are all things you see as each phase is completed. Here are all the phases as a reminder (we're currently in phase 2): 
Phase 1: Northbound lane of 20th Street from 3rd Avenue North to Linn Park
Phase 2: Southbound lane of 20th Street from Linn Park to 3rd Avenue North
Phase 3: Southbound lane of 20th Street from 3rd Avenue North to Morris Avenue
Phase 4: Northbound lane of 20th Street from Morris Avenue to 3rd Avenue North
Each phase should take about 50 days, meaning that this project is less than a year away from completion! 
After all four phases are complete, the final but most visible touches will go in all the way down 20th St. You'll see new plants and planters, bike lanes, colorful flex lane painting, and brand new seating go in all at once. The new seating will be the type of movable tables and chairs pioneered by Bryant Park in New York. The new bistro sets will vastly outnumber the concrete benches they're replacing while also being more useful and inviting. 
We hope you're as excited as we are for all the great things coming to 20th St this year! If you want more info about the progress as it happens, check out our 20th Street Refresh page HERE and you can even sign up for email updates on the project right to your inbox. 
Related News
Filed Under: Front Page, Get Involved, Historic Preservation, Residential

President and CEO of REV Birmingham David Fleming writes about the importance of historic preservation and highlights the advocacy efforts that saved the French Quarter in New Orleans and the Forest Park neighborhood in Birmingham. The article concludes with a call to action, urging for new leaders and the implementation of various strategies to protect and celebrate Birmingham's historic buildings and places.

Filed Under: Filling Vacant Spaces, Front Page, Small Business, Woodlawn, Yaysayers

Lights, Camera, Action! The rebirth of the Woodlawn Theater is happening this weekend in the heart of Woodlawn. The theater is opening its doors to the public with two extraordinary opening events that are FREE to the public. The 1400 square foot venue has a wide range of amenities and even has a full-service bar. Because of the Mason Music Foundation, this venue is filling a much needed resource for local musicians to perform. Keep reading to discover how the theater came back to life and its impact on the community.

Filed Under: Downtown Birmingham, Events, Front Page, Yaysayers

Brian Allen, a talented cornerback, has made the remarkable transition from a small town in Texas to the vibrant city of Birmingham. Choosing Birmingham for his football career for two consecutive seasons, Brian's unwavering dedication and exceptional skills have made him a standout figure in the world of football. To dive deeper into Brian's journey and discover his genuine appreciation for the city, watch this video with the link below!