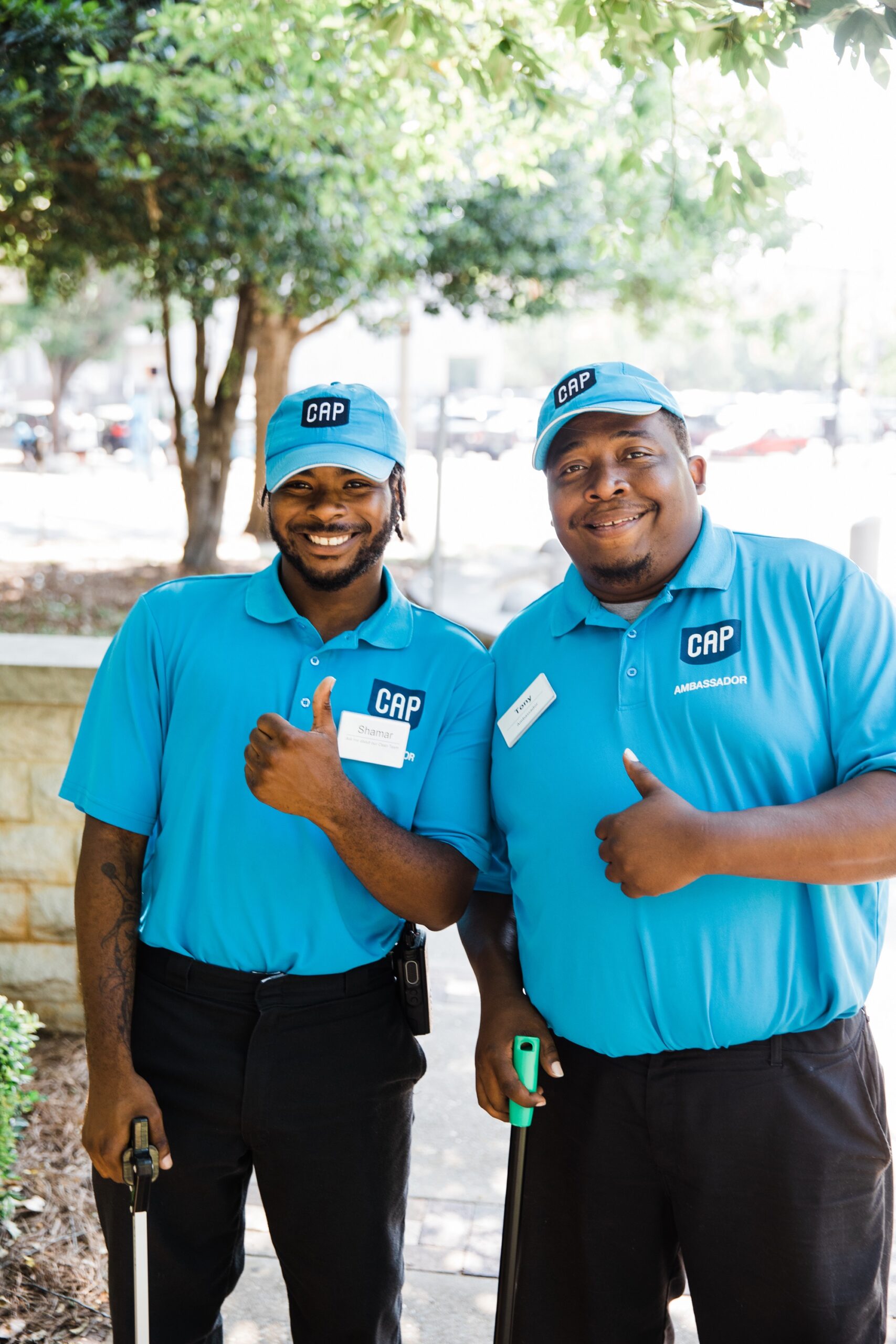 We're sure you've seen the CAP team out and about as they patrol downtown Birmingham! As they patrol on foot, Segways and bikes, their visibility and attention often deter bad behavior and activities. They are always looking for opportunities to help people and tidy up our district as they're out and about.
Where can you find CAP?
Look for the people in the bright blue polos across the district highlighted in the map below. Downtown Birmingham residents, workers and visitors are encouraged to call 205-251-0111 for assistance and to talk with any CAP ambassadors they encounter on foot, Segway or bike – if they don't talk to you first!
Here are a few ways the CAP team can brighten your day while keeping you safe!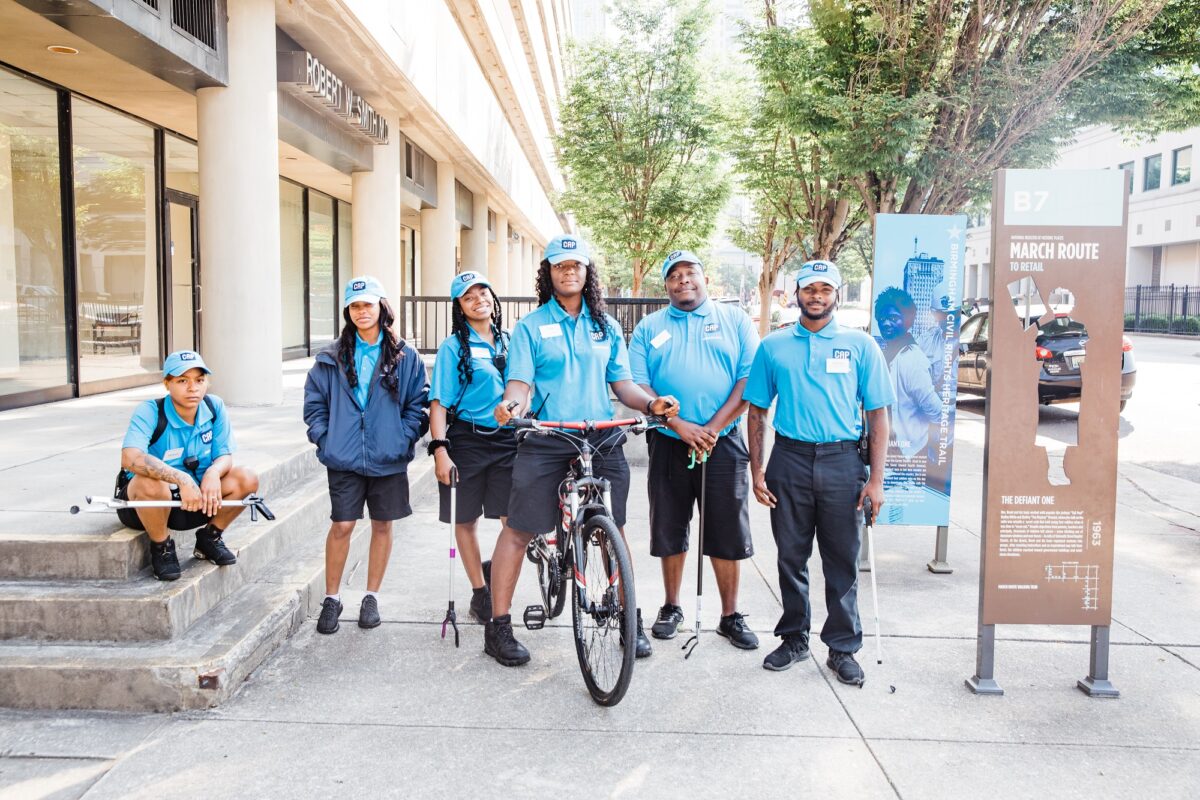 Being the ultimate downtown Birmingham tour guides
Whether you're looking for the best lunch spot downtown or trying to find parking during rush hour, the CAP team has got you covered! Don't hesitate to go up to one of our friendly faces in the bright blue polos and ask for help when navigating your way through downtown. They're always happy to lend a helping hand!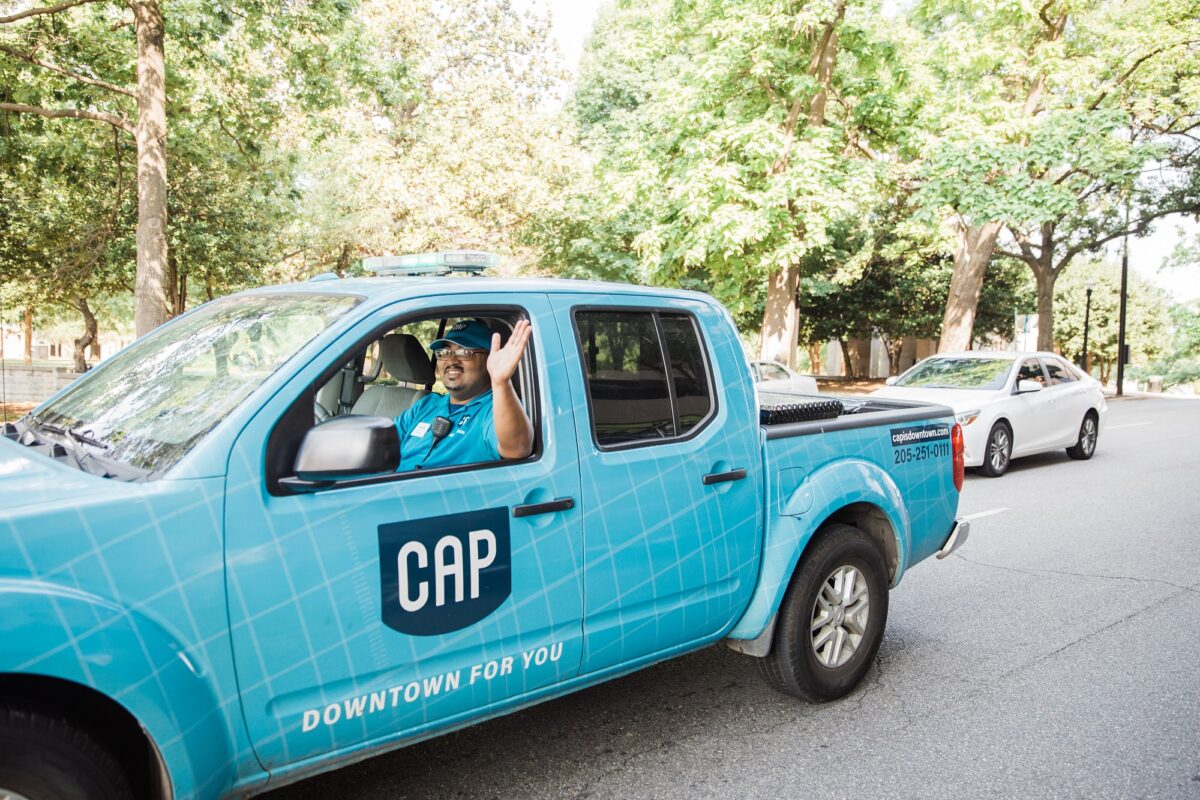 Brighten your day with their umbrella escorts
Mother nature sure does have a mind of her own and when it rains in Birmingham…it pours! Ever been stuck downtown without a raincoat or umbrella? Us too – and it stinks! But we know that our friends over at CAP are always there to give us a helping hand. Next time you get stuck in the middle of a downpour, call the CAP team and they'll show up with an umbrella in hand and a smile on their face ready to escort you to your destination!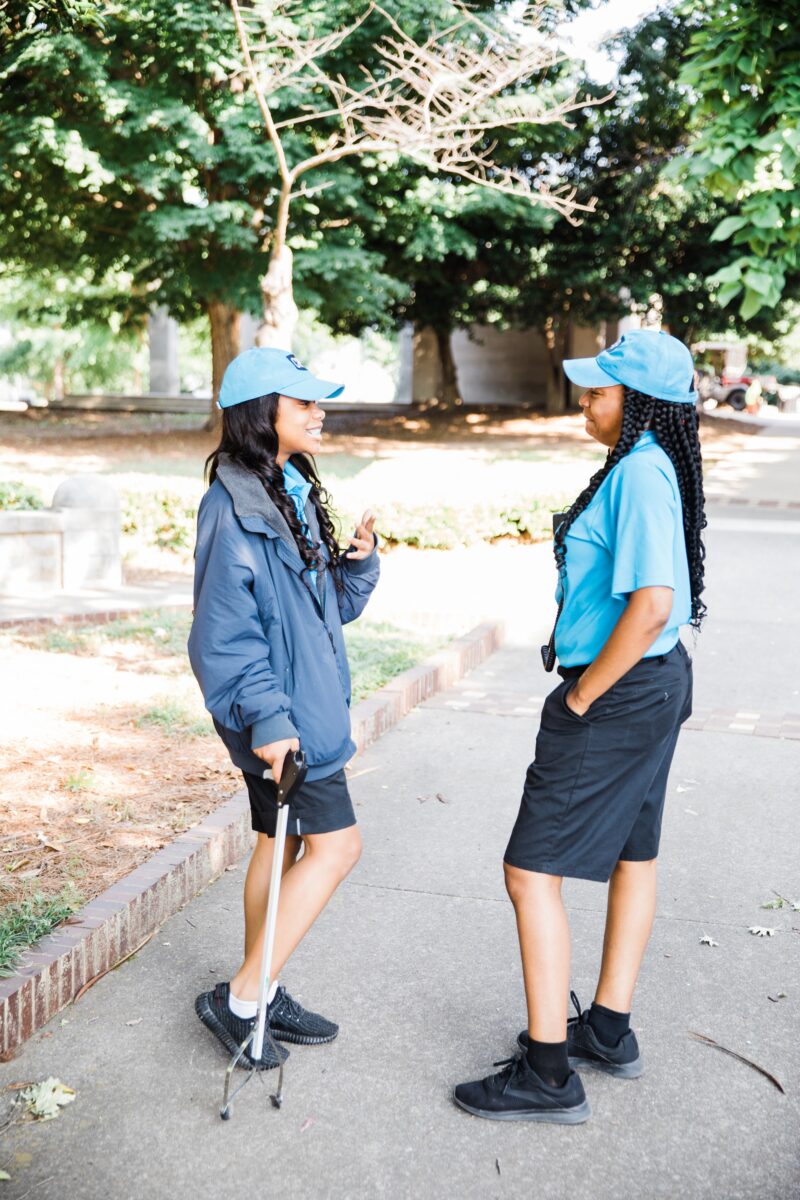 A watchful set of eyes and ears to help you feel safe
Whether you're a Birmingham native or just stopping by for a visit, your safety is our number one priority! We want you to feel as safe as possible while exploring the beautiful sights of downtown Birmingham. If you ever see something suspicious downtown or just want an escort to your car, call the CAP team and they'll send over an ambassador to help you out!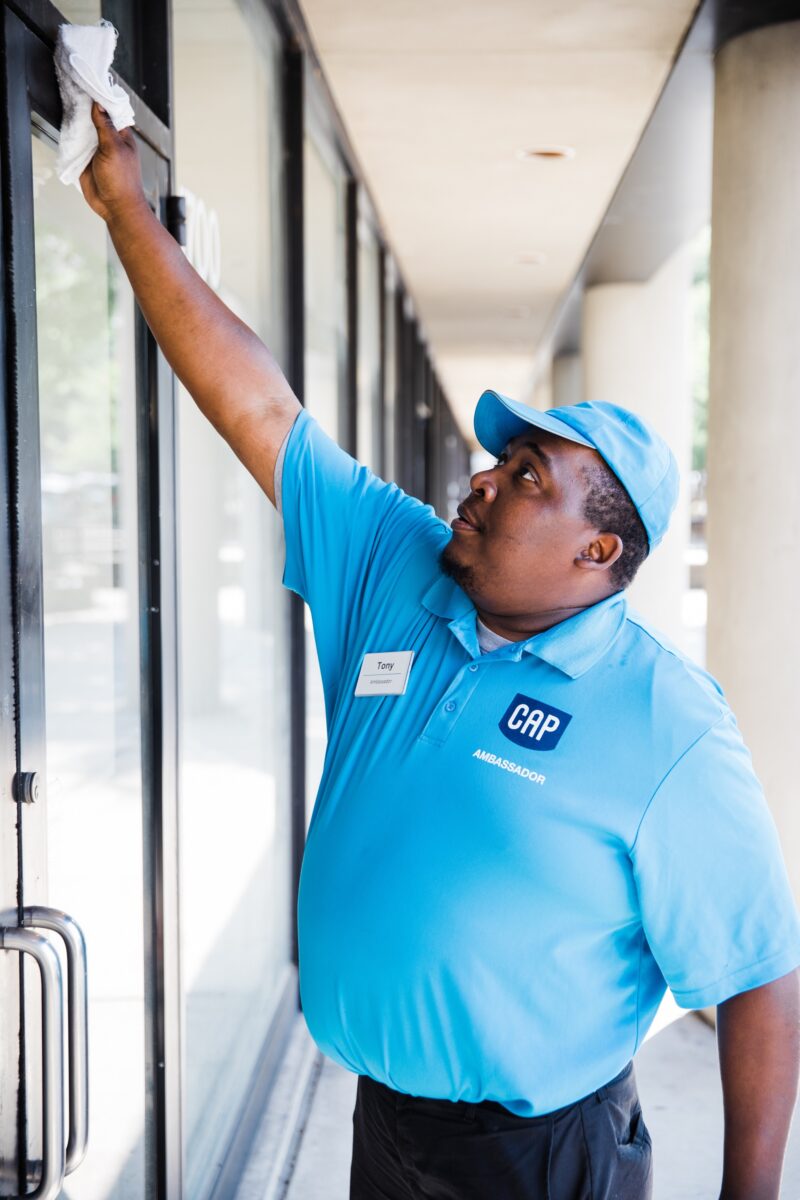 Preserving the beauty of downtown Birmingham
Downtown Birmingham has come such a long way over the years, and we are so proud of the progress we've made! Project by project, we have turned our downtown district into a fun and vibrant place to enjoy with family and friends – and we want to make sure it stays that way. The CAP team offers multiple services including graffiti removal, pressure watching, litter patrols, and just general beautification to keep downtown looking as good as ever!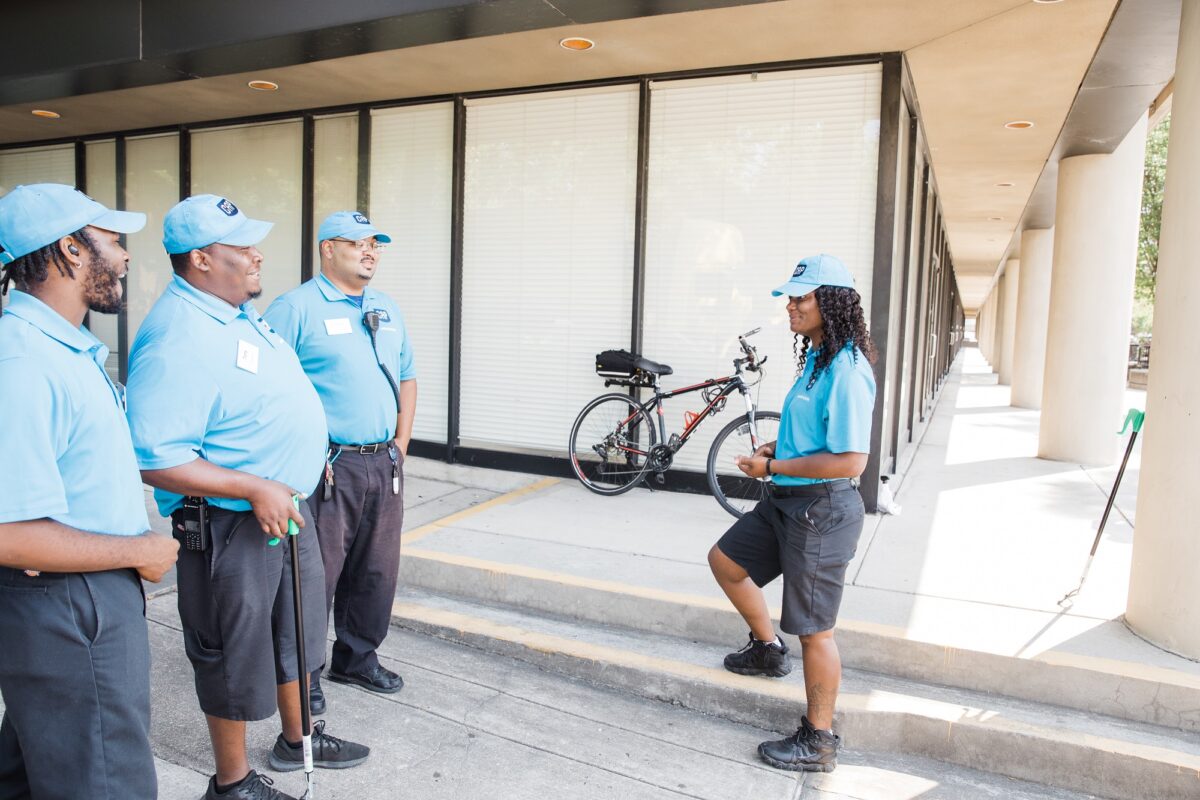 Some good ole fashioned southern hospitality
We guarantee that if you have ever walked past a CAP team member downtown, they've greeted you with a smile on their face – because that's just what they do! If you ever need directions or general downtown information, they're your go-to people. The CAP ambassadors take pride in their hospitality and they are happy to help you. So next time you need help or you're just in a chatty mood, don't hesitate to stop our friends in the blue polos!
Related News
Filed Under: Downtown Birmingham, Front Page, Get Involved

We've made it to the third and final public workshop for Re-vision Linn Park! Partners behind Re-Vision Linn Park will wrap up the community engagement process at the last public workshop on Tuesday, October 4, at Boutwell Auditorium. Community members can participate and provide feedback on a park design concept in the noon or 5:30 p.m. session – so come out one last time and let your voice be heard!

Filed Under: Big Pitch, Front Page, Small Business, Uncategorized

If you've been following REV for a while, you probably remember The Big Pitch Competitions we used to hold back in the day. The Big Pitch presented by PNC was essentially our own little version of Shark Tank. And a lot of your favorite local businesses that participated in this competition now have active retail storefronts that you can go check out. Let's start with some of our finalists that are based in the City of Birmingham and see what they've been up to!

Filed Under: Developer, Downtown Birmingham, Filling Vacant Spaces, Front Page, Potential-Proving, Uncategorized

Have you been to Downtown Birmingham's newest development located on 25th Street? If not, you need to head down there ASAP and check it out! This new single story development is a product of a collaboration between David Baker Architects (DBA) and Locke General Contractors, led by DBA's very own Amanda Loper. It is intended to be a "collaborative commercial space in a catalyst development area of Birmingham." Both DBA and Locke General Contractors will be tenants of the space, along with June Coffee Roasters, Zephyr Barber, and Last Call Baking Cooperative!