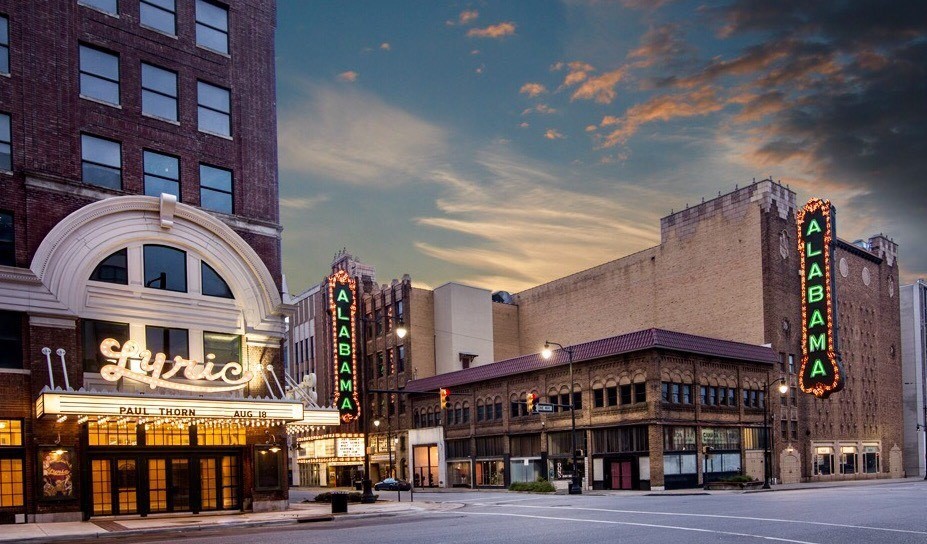 Thanks to Alabama Theatre supporters' diligent voting throughout October, the historic theater finished in the top 10 of the Partners in Preservation: Main Streets campaign and will receive a $120,000 grant to put toward their 18th Street sign restoration project. The Partners in Preservation grant will supplement sign replacement funds pledged by Birmingham's generous corporate community.  
"We are very appreciative of this grant from the National Trust which will be added to the contributions of major supporters such as Alabama Power, Compass BBVA, Regions, and our own Junior Board," said Brant Beene, President of Birmingham Landmarks, the nonprofit owner of the Alabama and Lyric Theatres. "We also want to thank REV Birmingham for nominating us and our project for the grant. Without the help of all these supporters, the sign replacement and other related historic preservation efforts would not be possible.  
"We received over 54,000 votes from our Facebook friends, customers, employees of our major contributors and customers.  We are very grateful for this because it took a very dedicated effort to vote every day during the contest. We have found that Alabama Theatre customers are a dedicated bunch, they love this theatre, have many great memories here and want to keep the Alabama preserved and operating so their children and grandchildren can enjoy it the way they did. That's what we want, too." 
Additional local donations for the sign have been made by Altec, Bradley Arant, Gray Construction, Cindy & Ken Rhoden, ServisFirst Bank, Southpace, Wells Fargo and Wiggins Child Pantazis.   
The local and national dollars combined will allow the theater to restore its second vertical Alabama sign that has been missing from 18th Street since 1957 – a project that will help push city development further west and complete the restoration of the theater to its original design. REV Birmingham nominated the theater for the national grant competition earlier this year, and the Alabama Theatre was announced as one of 25 finalists on September 25.  
"We are honored to partner with Birmingham Landmarks on leveraging this opportunity to bring national grant funding to a project that will quite literally shine a new light in Birmingham," said David Fleming, CEO of REV Birmingham. "The volume of local votes and, of course, local donations show strong support for historic preservation in our beautiful city with no shortage of historic charm in need of preserving. The Alabama Theatre has been a pillar of the city center throughout its seasons of change, and we look forward to seeing its exterior restoration projects return the theater to its fully original splendor."  
Sign fabrication has officially begun, and plans call for the new 18th Street sign to be unveiled and lit on the stroke of midnight this New Year's Eve, rounding out the Alabama Theatre's 90th birthday year. Tickets for the theater's New Year's Eve / 90th birthday celebration concert featuring Taylor Hicks and Sister Hazel will go on sale on the Alabama Theatre website in the coming weeks.   
The National Trust for Historic Preservation and Main Street America partnered with American Express, National Geographic, and Delta Airlines to bring the 2017 Vote Your Main Street grant competition to life. The national campaign received more than 920,000 votes, reflecting a broad level of support for Main Street revitalization projects across the country.  
Additional sponsors for the Alabama Theatre project are continuing to be sought. Interested prospective donors are encouraged to contact Tom Cosby at tom@alabamatheatre.com or 205-261-8848.  
Alabama Theatre history 
Built in 1927, the historic Alabama Theatre is a movie palace built in Birmingham by Paramount as its flagship theater for the Southeast. Seating 2,500 people, it was the largest in the Birmingham theater district, which was once home to a myriad of large theaters that featured vaudeville, performing arts, nickelodeons and large, first-run movie palaces. The Alabama still features its original Wurlitzer theater organ to accompany silent films. Both the Alabama and the nearby 1914 Lyric Theatre, the only vaudeville theater still standing in the district, were restored and are operated by the nonprofit organization Birmingham Landmarks, Inc. 
The Alabama and Lyric were added to the Alabama Register of Landmarks and Heritage on February 15, 1977 and to the National Register of Historic Places on November 13, 1979. 
Related News
Filed Under: Developer, Downtown Birmingham, Filling Vacant Spaces, Front Page, Potential-Proving, Uncategorized

Have you been to Downtown Birmingham's newest development located on 25th Street? If not, you need to head down there ASAP and check it out! This new single story development is a product of a collaboration between David Baker Architects (DBA) and Locke General Contractors, led by DBA's very own Amanda Loper. It is intended to be a "collaborative commercial space in a catalyst development area of Birmingham." Both DBA and Locke General Contractors will be tenants of the space, along with June Coffee Roasters, Zephyr Barber, and Last Call Baking Cooperative!

Filed Under: Downtown Birmingham, Events, Front Page, Uncategorized

One of Birmingham's many hidden treasures is the music scene downtown. The sheer volume of concert venues we have in downtown Birmingham is something most people aren't even aware of – but it really is remarkable! There is truly something for everyone, whether you're into the smaller, more intimate venues or the large-scale venues for those big name artists. Keep reading to check out some of the cool venues downtown Birmingham has to offer.

Filed Under: Downtown Birmingham, Front Page, Yaysayers

We are Live on 20th folks! Have you been downtown and checked out our busker performances yet? If not, you're seriously missing out! We have talent from all over The Magic City come out on Friday evenings from 4-6 p.m. and put on performances for the public to enjoy. Performances take place at the corner of 20th Street and 3rd Avenue North. Next time you're heading home after a long day at the office or on your way to dinner, stop by and check it out! Let's recap some of our awesome performers below!