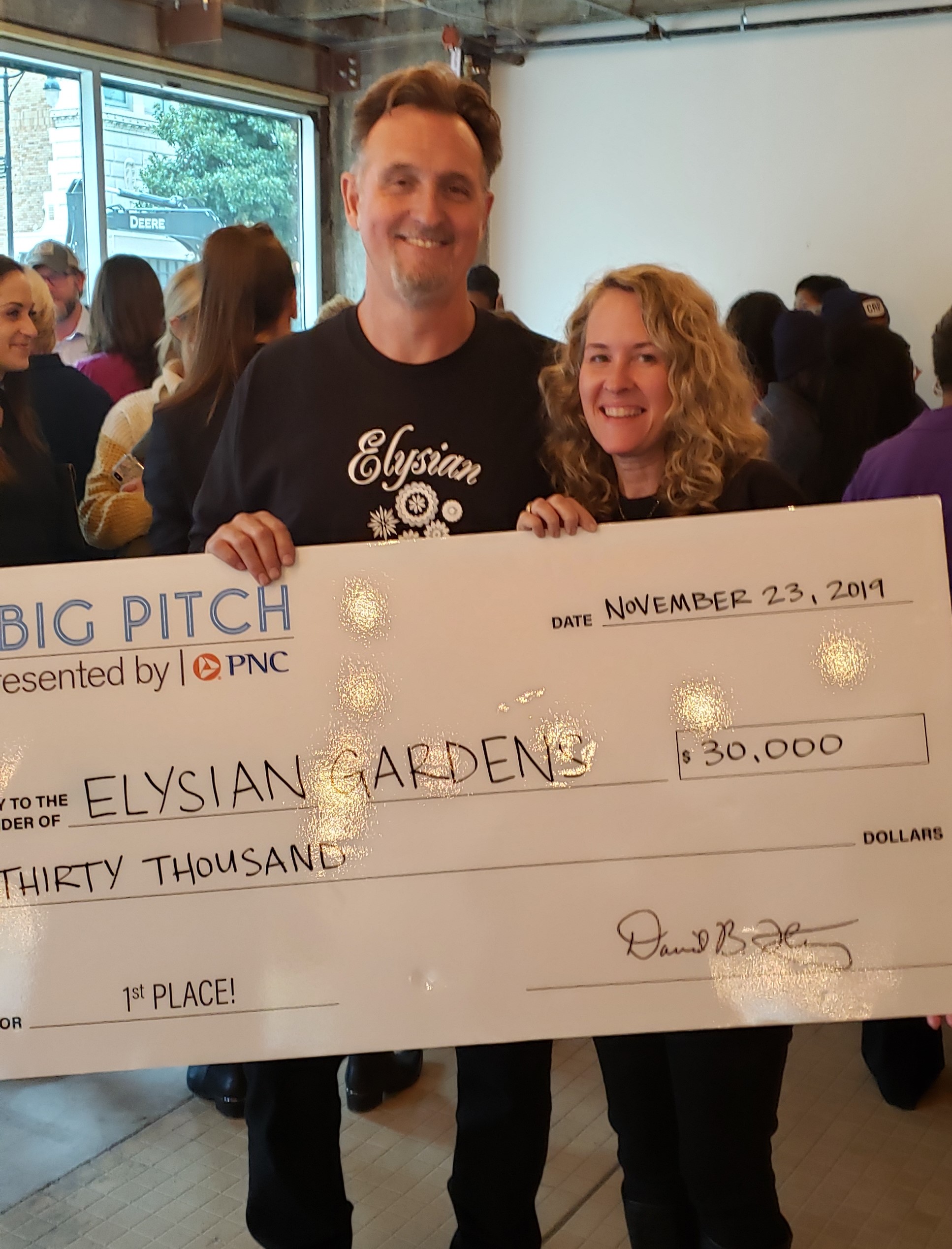 REV Birmingham is proud to reveal a few of Birmingham's next big things: the 2019 winning startup businesses from The Big Pitch presented by PNC Bank.  
Five finalists took the stage to vie for a share of $50,000 in cash and professional-services prize packages on Saturday, Nov. 23. The entrepreneurs described their up-and-coming businesses to judges and about 150 audience members at the annual competition organized by REV Birmingham.   
1ST PLACE ($30,000 + legal services from Gatehouse Law + advertising from Bham Now + accounting services from BMSS): Elysian Gardens, a community sculpture park in Avondale where William and Kelly Colburn of Iron Age Studio plan to bring together art, music, and food to connect neighbors. 
2ND PLACE ($10,000 + legal services from Gatehouse Law + advertising from Bham Now) 
and PEOPLE'S CHOICE ($5,000): Encore Rouge Antoinne and Shantale Davis are serving bold flavorful authentic Cajun fare from their food truck as they work toward growing into a more permanent location.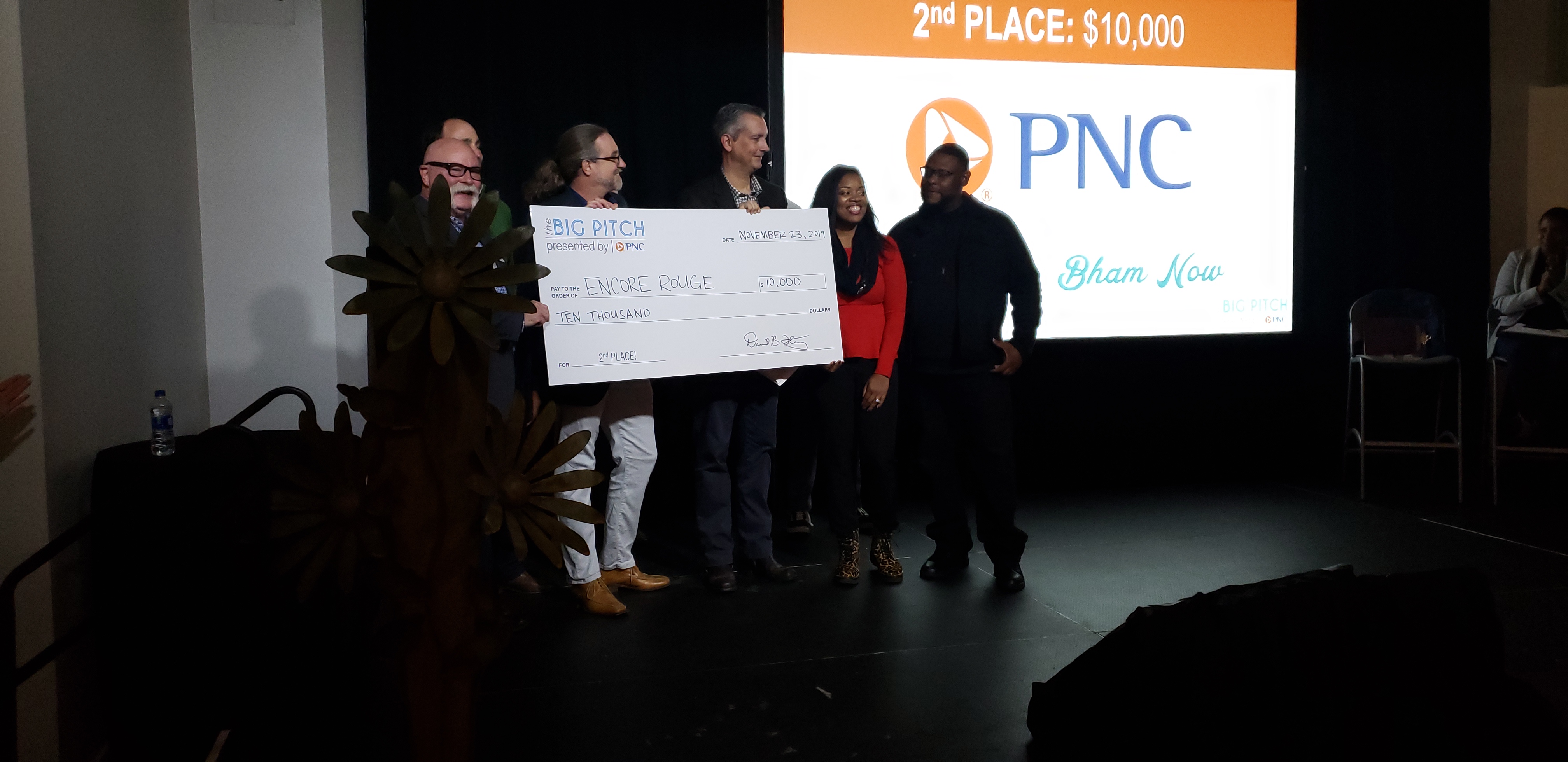 "One of the most notable differences we've seen between the competition's first year and now is the increase in brick and mortar shops that have successfully opened in our communities," said Nick Willis, PNC regional president for Greater Alabama. "In the past six years, previous Big Pitch winners have opened nearly 20 new retail locations, which speaks to the competition's ability to help local entrepreneurs create sustainable businesses within the city. We look forward to seeing Elysian Gardens and Encore Rouge transform their visions into businesses that will, hopefully become a part of this dynamic ecosystem."  
This year's additional finalists were Jennifer Ryan of The Blueroot Company, Adrian Ward of The Relaxation Room and Bonaventure Akinlosotu and Joseph Bradley of Sidekicks. The competition was held at The Gallery at The Pizitz, across the street from Upswing, REV's three-month demonstration project designed to prove and improve the market for retail in downtown Birmingham.  
"Authentic, local businesses are driving economic growth and job creation – and they make our city cool," said David Fleming, REV Birmingham President and CEO. "That's why we do projects like Upswing and The Big Pitch. We're really seeing our ecosystem come full circle this year, with former Big Pitch finalists giving back and playing new parts: Square One's Kate Hardy is a judge, Eugene's Hot Chicken's Zebbie Carney is mentoring a finalist, and Nathan and Michael Pocus are operating their Domestique Outpost at Upswing throughout the event." 
All Big Pitch finalists were paired with mentors and service providers to help them plan their pitches and prepare to successfully grow their businesses over time. Finalists also attended REV's three technical assistance workshops that covered telling a brand story, understanding commercial real estate and finding funding.  
Each mentor either started, built or sold successful ventures of their own and coached their assigned Big Pitch finalist throughout the six weeks leading up to the competition. This year's mentors were Zebbie Carney, Eugene's Hot Chicken; Jacqueline Fazekas, Bama Health Foods; Will Haver, Taco Mama; Ann Trondson, Vinegar; and Danny Winter, Brennan's Irish Pub. Judges were Nick Willis, PNC Bank, Tene Dolphin, City of Birmingham; Mickey Millsap, Alabama Futures Fund; Kate Hardy, Square One Goods Co.; and Kim Carter Evans, TruFund. For the first time in Big Pitch history, both a judge and a mentor are former Big Pitch finalists: Zebbie Carney competed in 2015 and Kate Hardy in 2017.  
This is the sixth year PNC Bank has sponsored the Big Pitch.  In addition to offering capital to the top competitors, PNC employees provide coaching and other support for all finalists.  Other sponsors include Poole & Company Architects, Bham Now and BMSS. In addition to sponsors who provided services, Gatehouse Law, LiftFund, TruFund, Rebecca Dobrinski of TedxBirmingham, and Bill Todd of o2 Ideas supported the entrepreneurs with one-on-one consultations. 
For more details on The Big Pitch, visit bigpitchbham.com. Follow @revbham on Facebook, Twitter and Instagram to see more from #REVBigPitch plus more of REV's vibrancy-driving work in Birmingham.  
Related News
Filed Under: Front Page, Get Involved, Historic Preservation, Residential

President and CEO of REV Birmingham David Fleming writes about the importance of historic preservation and highlights the advocacy efforts that saved the French Quarter in New Orleans and the Forest Park neighborhood in Birmingham. The article concludes with a call to action, urging for new leaders and the implementation of various strategies to protect and celebrate Birmingham's historic buildings and places.

Filed Under: Filling Vacant Spaces, Front Page, Small Business, Woodlawn, Yaysayers

Lights, Camera, Action! The rebirth of the Woodlawn Theater is happening this weekend in the heart of Woodlawn. The theater is opening its doors to the public with two extraordinary opening events that are FREE to the public. The 1400 square foot venue has a wide range of amenities and even has a full-service bar. Because of the Mason Music Foundation, this venue is filling a much needed resource for local musicians to perform. Keep reading to discover how the theater came back to life and its impact on the community.

Filed Under: Downtown Birmingham, Events, Front Page, Yaysayers

Brian Allen, a talented cornerback, has made the remarkable transition from a small town in Texas to the vibrant city of Birmingham. Choosing Birmingham for his football career for two consecutive seasons, Brian's unwavering dedication and exceptional skills have made him a standout figure in the world of football. To dive deeper into Brian's journey and discover his genuine appreciation for the city, watch this video with the link below!