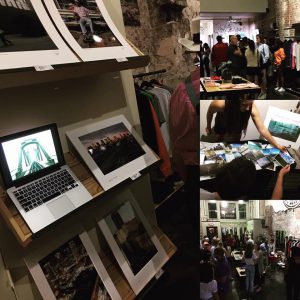 Artists and their works have long been recognized as important economic development catalysts. Art Crawl, downtown's monthly artist showcase, is celebrating its third birthday, joining long-established events like Magic City Art Connection and ArtWalk as important contributors to downtown's vibrancy.
Downtown loft residents Miranda McPherson and husband Richard Burton founded the event on 2nd Avenue North as a way to attract people downtown, highlight Birmingham's deep pool of creative talent, and give artists a cost-effective way to display and sell their work.
Artists are experiencing other benefits. Local artist Rhandie Weaver, who has participated in Art Crawl for two years, said "I was interviewed on 'Talk of Alabama' because of Art Crawl and was awarded one of the 'Vulcans on Parade' statues, thanks in part to an email passed on to me by Art Crawl."
For Jamie Harper and his wife Tammy, who work together from their home studio, Art Crawl is an incentive to "cultivate a disciplined approach. By participating in Art Crawl each month, we have a platform to show our work, which helped us through the bumps and bruises of developing and maintaining a daily creative routine… so important to all creatives!"  Art Crawl also provides the couple an opportunity to connect with other artists. "Those relationships are invaluable to us," says Jamie. "Art Crawl artists have shared other events and people to connect with, and that resulted in further exposure for our work."
In March, Art Crawl moved to its new home at The Pizitz Building. Director Lindsey Christina says "We love being at the epicenter of downtown's ongoing development. As Art Crawl continues to evolve, we see opportunities to grow the 'crawl' aspect that is designed to get people moving around to experience all the amazing amenities and energy that is downtown Birmingham."
Related News
Filed Under: Downtown Birmingham, Front Page, Get Involved

We've made it to the third and final public workshop for Re-vision Linn Park! Partners behind Re-Vision Linn Park will wrap up the community engagement process at the last public workshop on Tuesday, October 4, at Boutwell Auditorium. Community members can participate and provide feedback on a park design concept in the noon or 5:30 p.m. session – so come out one last time and let your voice be heard!

Filed Under: Developer, Downtown Birmingham, Filling Vacant Spaces, Front Page, Potential-Proving, Uncategorized

Have you been to Downtown Birmingham's newest development located on 25th Street? If not, you need to head down there ASAP and check it out! This new single story development is a product of a collaboration between David Baker Architects (DBA) and Locke General Contractors, led by DBA's very own Amanda Loper. It is intended to be a "collaborative commercial space in a catalyst development area of Birmingham." Both DBA and Locke General Contractors will be tenants of the space, along with June Coffee Roasters, Zephyr Barber, and Last Call Baking Cooperative!

Filed Under: Downtown Birmingham, Events, Front Page, Uncategorized

One of Birmingham's many hidden treasures is the music scene downtown. The sheer volume of concert venues we have in downtown Birmingham is something most people aren't even aware of – but it really is remarkable! There is truly something for everyone, whether you're into the smaller, more intimate venues or the large-scale venues for those big name artists. Keep reading to check out some of the cool venues downtown Birmingham has to offer.