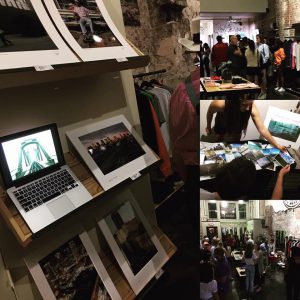 Artists and their works have long been recognized as important economic development catalysts. Art Crawl, downtown's monthly artist showcase, is celebrating its third birthday, joining long-established events like Magic City Art Connection and ArtWalk as important contributors to downtown's vibrancy.
Downtown loft residents Miranda McPherson and husband Richard Burton founded the event on 2nd Avenue North as a way to attract people downtown, highlight Birmingham's deep pool of creative talent, and give artists a cost-effective way to display and sell their work.
Artists are experiencing other benefits. Local artist Rhandie Weaver, who has participated in Art Crawl for two years, said "I was interviewed on 'Talk of Alabama' because of Art Crawl and was awarded one of the 'Vulcans on Parade' statues, thanks in part to an email passed on to me by Art Crawl."
For Jamie Harper and his wife Tammy, who work together from their home studio, Art Crawl is an incentive to "cultivate a disciplined approach. By participating in Art Crawl each month, we have a platform to show our work, which helped us through the bumps and bruises of developing and maintaining a daily creative routine… so important to all creatives!"  Art Crawl also provides the couple an opportunity to connect with other artists. "Those relationships are invaluable to us," says Jamie. "Art Crawl artists have shared other events and people to connect with, and that resulted in further exposure for our work."
In March, Art Crawl moved to its new home at The Pizitz Building. Director Lindsey Christina says "We love being at the epicenter of downtown's ongoing development. As Art Crawl continues to evolve, we see opportunities to grow the 'crawl' aspect that is designed to get people moving around to experience all the amazing amenities and energy that is downtown Birmingham."
Related News
Filed Under: Downtown Birmingham, Front Page, Uncategorized

We've talked about sports, but downtown has so much more to offer! Downtown Birmingham has so many experiences in store for you, which can also turn into life-long memories. And lucky for you, we've created a tool to make all that exploring so much easier!

Filed Under: Downtown Birmingham, Front Page, Potential-Proving

We are approaching the finish line for the 20th Street Refresh, which calls for a celebration – and you're invited! The City Center Business Improvement District (BID), funded by downtown property owners, is partnering with the City of Birmingham and REV Birmingham to celebrate a refreshed Birmingham Green. Come join the party on May 20th from 4 to 8 p.m (with a special celebration happening at 6 p.m.)!

Filed Under: Developer, Downtown Birmingham, Front Page, Potential-Proving, Uncategorized

If you've been paying close attention, you may have noticed that we've been hinting at a new Linn Park project coming soon – and we're finally ready to share it with you! A planning process to redesign and reactivate Linn Park kicked off recently when public and private organizational partners met on site with the nationally acclaimed park designers OJB Landscape Architecture (OJB) to begin an eight-month master plan development process to improve Linn Park.