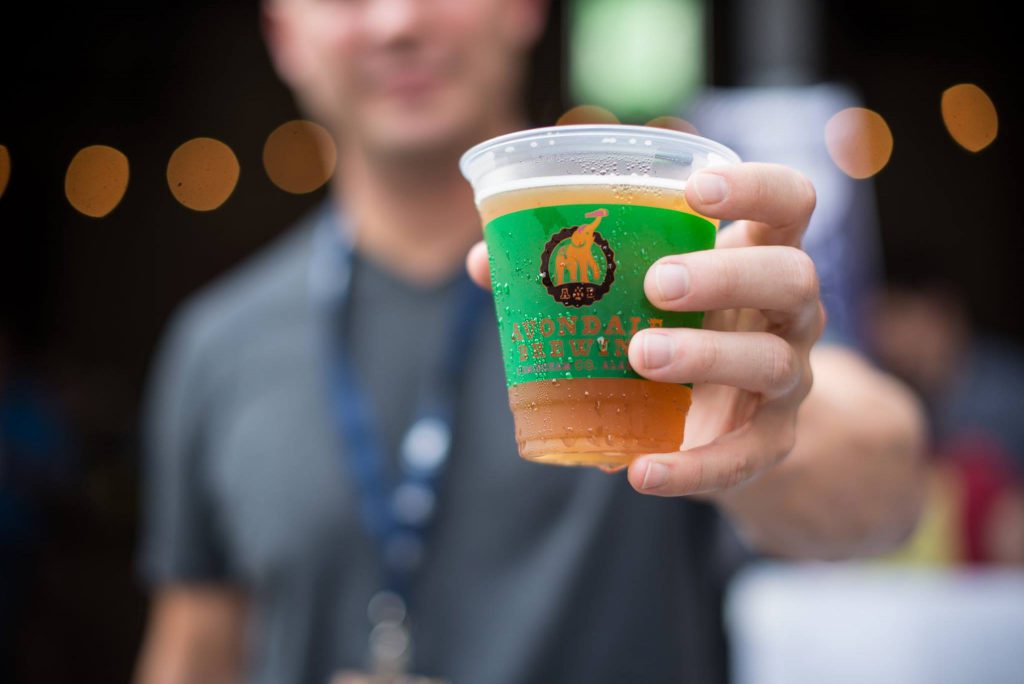 Sometimes unexpected combinations yield the best results. Enter the flavor of the summer from Avondale Brewing Company and Red Diamond Coffee and Tea: Mango Green Tea Saison.
The idea for the tea-beer partnership was sparked during a conversation at REV Birmingham's first meeting for 2017 Birmingham Restaurant Week participants. Red Diamond later brought tea samples to the brewery, and Avondale added each of the different flavors to their Saison. A panel of lucky taste testers chose the winner.
"The Mango Green Tea added a hint of flavor and really pulled some of the notes and unique flavors from the Saison," says Kristi MacWilliam of Red Diamond. "It was a light and refreshing beer that ended up being a great success this summer for the both of us."
Mango Green Tea Saison made its debut at the Birmingham Restaurant Week Preview Party in Five Points South's Pickwick Plaza on August 9. Shortly thereafter, restaurants across Birmingham began serving the new brew, with many reporting they couldn't keep it in stock due to its popularity.
"This was definitely a way for us to work with a great company here in the Birmingham area and show some of our great products in the process," MacWilliam says. "Avondale is a great partner to have and we look forward to working closely with them in the future. We all love Birmingham and strive to show it!"
This fall, Red Diamond and Avondale are partnering on the No Joka Mocha and will continue to collaborate on a beer every season with a new mix of flavors. Mango Green Tea Saison is slated to return next summer. We can't wait to see what other delicious flavor combinations are created through this partnership!
Related News
Filed Under: Big Pitch, Front Page, Small Business, Uncategorized

If you've been following REV for a while, you probably remember The Big Pitch Competitions we used to hold back in the day. The Big Pitch presented by PNC was essentially our own little version of Shark Tank. And a lot of your favorite local businesses that participated in this competition now have active retail storefronts that you can go check out. Let's start with some of our finalists that are based in the City of Birmingham and see what they've been up to!

Filed Under: Front Page, Small Business, Uncategorized, Woodlawn

We're so excited to welcome yet another new business to the Woodlawn Community! Thrive Wellness Lounge is a plant-based health and wellness store in the heart of Woodlawn owned by Tish Fletcher (a veteran Woodlawn Street Market vendor – whoop whoop)! You can swing by and check out Woodlawn's newest addition on Tuesday – Saturday from 11:00 a.m. – 5:30 p.m. It's always a good time to support a female, black-owned local business! We talked to Tish a little bit more about her journey to opening her very own brick and mortar store. Keep reading to learn more!

Filed Under: Business-Proving, Front Page, Small Business, Uncategorized, Woodlawn, Woodlawn Street Market

It's our favorite time of the month again – Woodlawn Street Market time! Woohoo! This month's market will be held on August 13, 2022, from 5-9 p.m. and it's a night market – because we all know how bad that Alabama heat can get! Keep reading to check out the vendors that will be featured at this month's market.