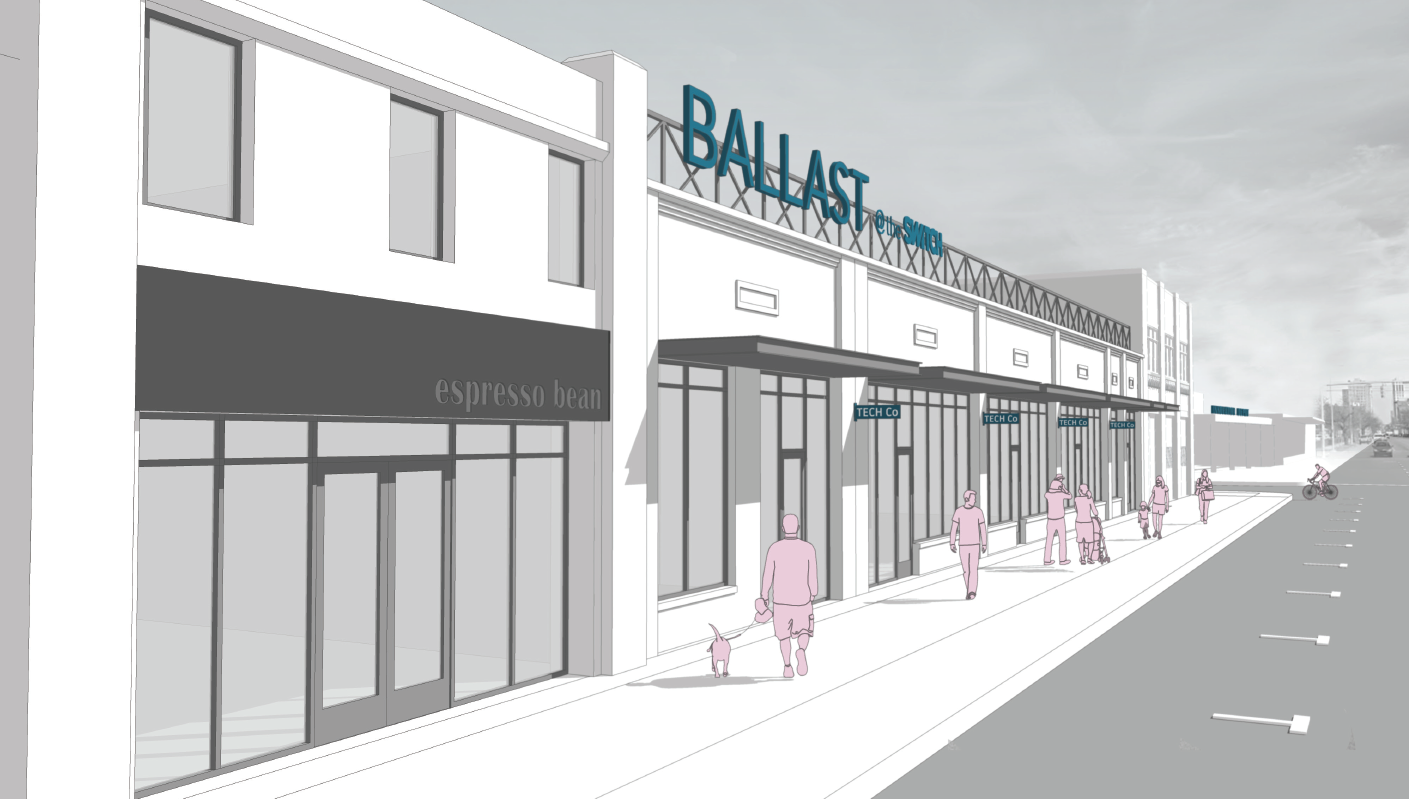 The future of the former Hibbett building at 1318 1st Avenue North is set to be the future of office space. Ironvest Partners is leasing build-to-suit space now in Ballast at The Switch, an innovative development intended to be a stabilizer and catalyst for further growth in Birmingham's innovation district.
The development's name comes from the ballast stone used to stabilize railroad tracks like those that, more than 100 years ago, ran throughout The Switch. Trains on spurs once snaked through alleys and streets all over the district.
Like its stone namesake, Ballast will also provide a solid foundation – for innovators who are growing their companies.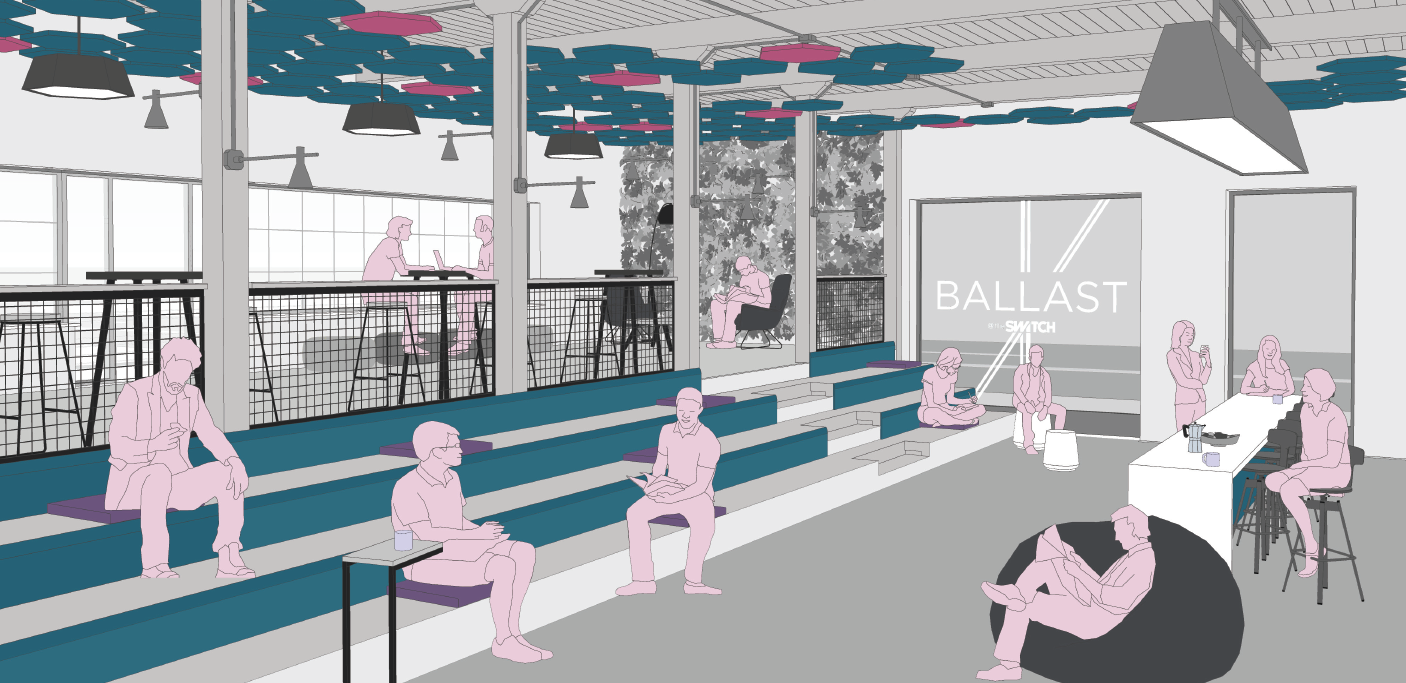 "Ballast will have no equal in Birmingham when it comes to office space," said Robert Crook of Ironvest Partners. "The community and opportunity tenants will find here will support the growth of innovative start-ups – and lead to successes that we hope will extend to the whole district, city and beyond."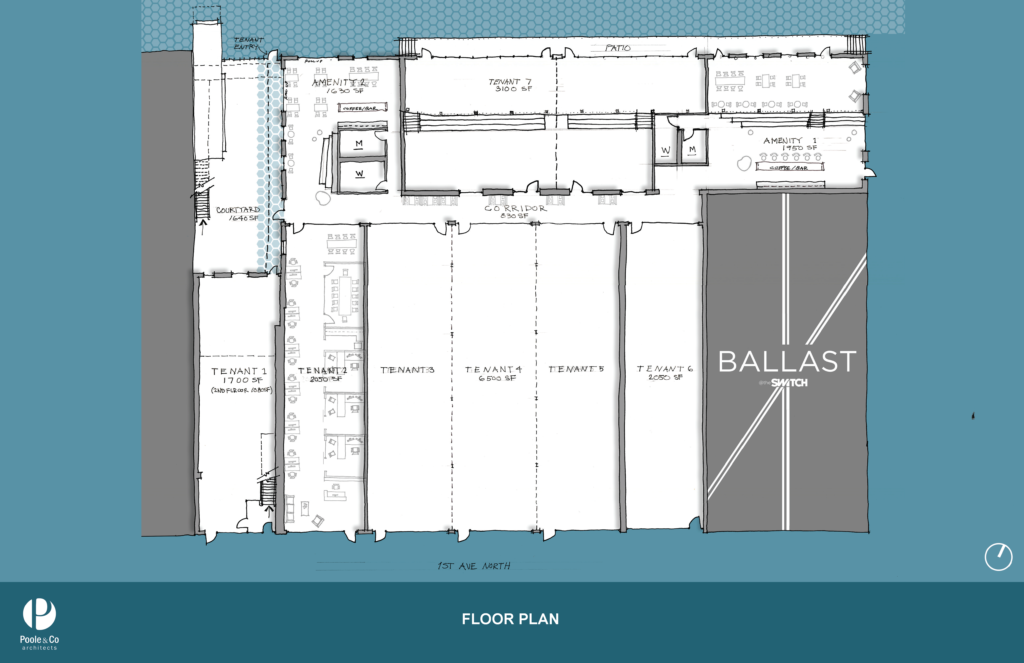 Ballast's floor plan is conducive for many small businesses, with spaces ranging from 1,000 to 20,000 square feet. Each private suite will be built to suit and will include access to four common areas – two indoor and two outdoor common areas. The outdoor amenities include a rooftop deck overlooking the city and a modern private courtyard. The indoor common areas is designed for optimum collaboration with wow factor in mind.
Situated across 14th Street from Innovation Depot, Ballast tenants will also have access to Innovation Depot and its amenities, such as programming and additional meeting spaces.
Dive deeper into Ballast's innovative office space by looking through the online brochure!
Ironvest's Robert Crook and David Carrigan have been working with REV Birmingham, as well as more Switch stakeholders like Innovation Depot, Biso Collective and Pack Health, to design this development to meet needs for more space and community building in the district. Then Poole and Company took that and designed the innovative space you see in the renderings.
"Start-ups and innovation companies at Innovation Depot and beyond have been saying for years that they need move-in-ready space to grow into," said David Fleming, REV Birmingham President and CEO. "Ballast will fill a need in the market that is essential for moving The Switch forward as a vibrant district and a community of innovators."
Interested tenants can contact Robert Crook with leasing questions at rc@ironvestpartners.com or 205-908-3760. 
Related News
Filed Under: Downtown Birmingham, Family Friendly, Front Page, Get Involved, Small Business, Yaysayers

With summer just around the corner, kids will soon be out of school and insisting on getting out of the house. Luckily, Downtown Birmingham has an abundance of family-friendly activities that will keep your kiddos entertained and create lifelong memories.

We know taking kids out for extended periods can be challenging; that's why we have curated a list of experiences designed to be enjoyable within a manageable 3 – 4 hour timeframe. This way, both children and parents can make the most of their time without feeling overwhelmed or exhausted. These four experiences include lunch options and are tailored to different ages and personalities.

Filed Under: Downtown Birmingham, Front Page, Get Involved, REV Team, Yaysayers

Meet Michael Symes, the new City Center District Manager for the Business Improvement District (BID). As a long-time resident of Birmingham, Michael brings a wealth of knowledge and experience to the role, having been an active member of the community since graduating from the University of Alabama. In this article, we will explore Michael's journey and learn about his "accidental roots" in the city, as well as his passion for working with the Business Improvement District (BID) of the Magic City. Follow along  as we get to know the person behind the job title and uncover the unique perspective he brings to the role.

Filed Under: Front Page, Get Involved, Historic Preservation, Residential

President and CEO of REV Birmingham David Fleming writes about the importance of historic preservation and highlights the advocacy efforts that saved the French Quarter in New Orleans and the Forest Park neighborhood in Birmingham. The article concludes with a call to action, urging for new leaders and the implementation of various strategies to protect and celebrate Birmingham's historic buildings and places.