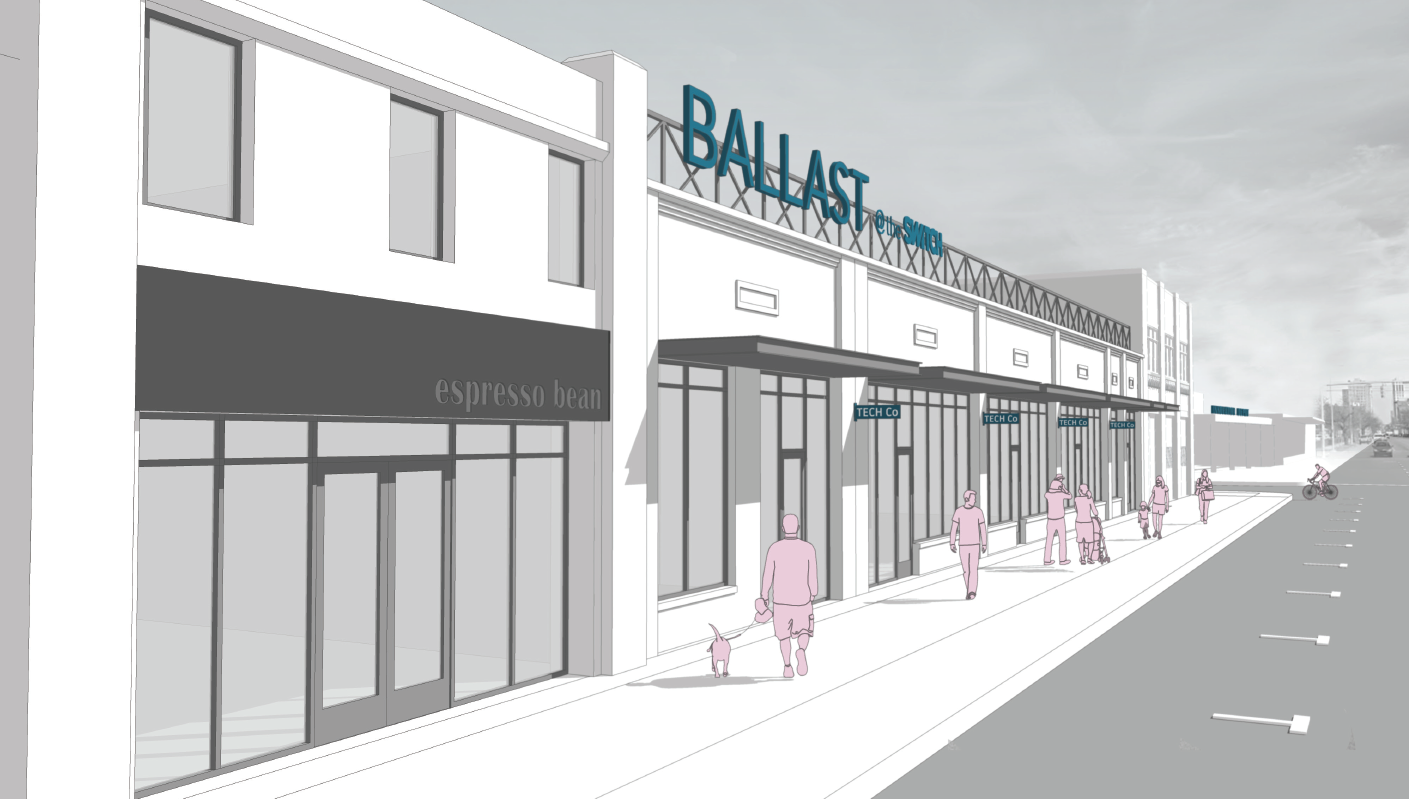 The future of the former Hibbett building at 1318 1st Avenue North is set to be the future of office space. Ironvest Partners is leasing build-to-suit space now in Ballast at The Switch, an innovative development intended to be a stabilizer and catalyst for further growth in Birmingham's innovation district.
The development's name comes from the ballast stone used to stabilize railroad tracks like those that, more than 100 years ago, ran throughout The Switch. Trains on spurs once snaked through alleys and streets all over the district.
Like its stone namesake, Ballast will also provide a solid foundation – for innovators who are growing their companies.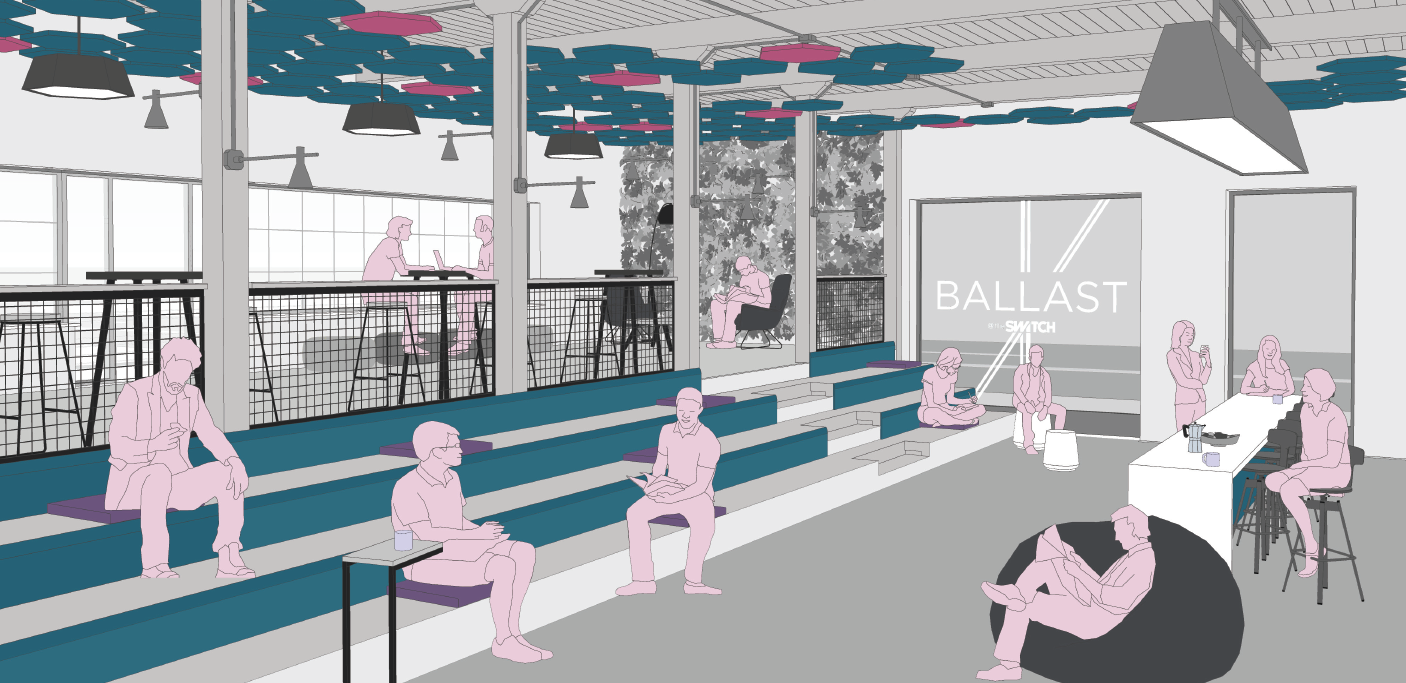 "Ballast will have no equal in Birmingham when it comes to office space," said Robert Crook of Ironvest Partners. "The community and opportunity tenants will find here will support the growth of innovative start-ups – and lead to successes that we hope will extend to the whole district, city and beyond."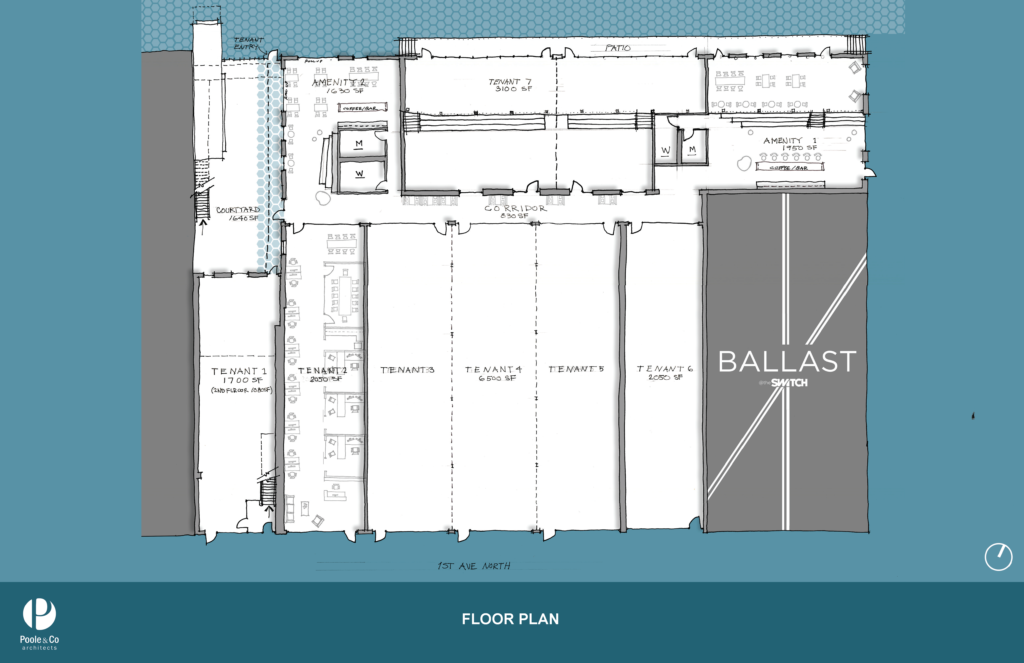 Ballast's floor plan is conducive for many small businesses, with spaces ranging from 1,000 to 20,000 square feet. Each private suite will be built to suit and will include access to four common areas – two indoor and two outdoor common areas. The outdoor amenities include a rooftop deck overlooking the city and a modern private courtyard. The indoor common areas is designed for optimum collaboration with wow factor in mind.
Situated across 14th Street from Innovation Depot, Ballast tenants will also have access to Innovation Depot and its amenities, such as programming and additional meeting spaces.
Dive deeper into Ballast's innovative office space by looking through the online brochure!
Ironvest's Robert Crook and David Carrigan have been working with REV Birmingham, as well as more Switch stakeholders like Innovation Depot, Biso Collective and Pack Health, to design this development to meet needs for more space and community building in the district. Then Poole and Company took that and designed the innovative space you see in the renderings.
"Start-ups and innovation companies at Innovation Depot and beyond have been saying for years that they need move-in-ready space to grow into," said David Fleming, REV Birmingham President and CEO. "Ballast will fill a need in the market that is essential for moving The Switch forward as a vibrant district and a community of innovators."
Interested tenants can contact Robert Crook with leasing questions at rc@ironvestpartners.com or 205-908-3760. 
Related News
Filed Under: Big Pitch, Front Page, Small Business, Uncategorized

If you've been following REV for a while, you probably remember The Big Pitch Competitions we used to hold back in the day. The Big Pitch presented by PNC was essentially our own little version of Shark Tank. And a lot of your favorite local businesses that participated in this competition now have active retail storefronts that you can go check out. Let's start with some of our finalists that are based in the City of Birmingham and see what they've been up to!

Filed Under: Developer, Downtown Birmingham, Filling Vacant Spaces, Front Page, Potential-Proving, Uncategorized

Have you been to Downtown Birmingham's newest development located on 25th Street? If not, you need to head down there ASAP and check it out! This new single story development is a product of a collaboration between David Baker Architects (DBA) and Locke General Contractors, led by DBA's very own Amanda Loper. It is intended to be a "collaborative commercial space in a catalyst development area of Birmingham." Both DBA and Locke General Contractors will be tenants of the space, along with June Coffee Roasters, Zephyr Barber, and Last Call Baking Cooperative!

Filed Under: Downtown Birmingham, Events, Front Page, Uncategorized

One of Birmingham's many hidden treasures is the music scene downtown. The sheer volume of concert venues we have in downtown Birmingham is something most people aren't even aware of – but it really is remarkable! There is truly something for everyone, whether you're into the smaller, more intimate venues or the large-scale venues for those big name artists. Keep reading to check out some of the cool venues downtown Birmingham has to offer.