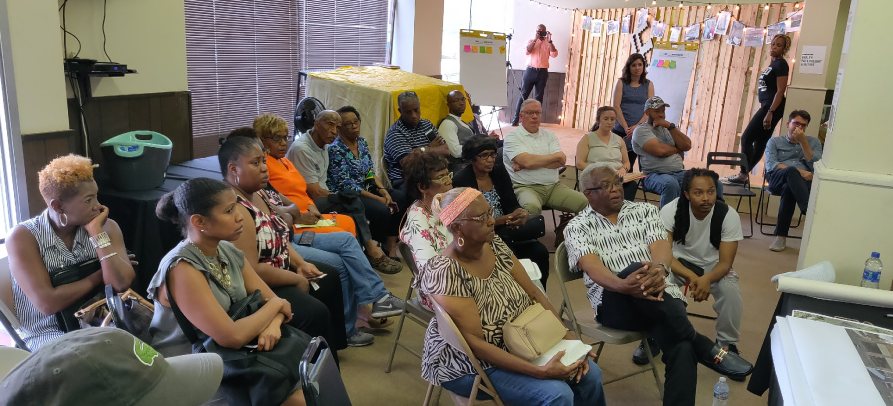 Completed in 1929, Ramsay McCormack housed the Bank of Ensley on the ground floor and a mix of offices on the upper floors. It was vacated in 1979 and the City of Birmingham has owned the iconic building in downtown Ensley since 1983. REV has been a longtime advocate of preserving & re-using the building.  
Historic preservation rarely moves quickly; it takes patience, resolve and thick skin. Although it has long been vacant, Ramsay McCormack has survived calls for demolition over the years, and we have more exciting options for redevelopment because the historic building is still standing. (A refreshed and repurposed 10-story art deco building is much more valuable to a community than an empty lot.) Now, REV is serving as a consultant to the City as they select a development team and transform the building into a renewed Ensley icon, full of activity at the heart of a thriving commercial district. 
The multi-phased redevelopment of city-owned properties in Ensley – Ramsay McCormack plus the former Western Police Precinct, the Western Health Center and other nearby parcels – has tremendous potential to be a catalyst for increased vibrancy and further development throughout downtown Ensley. Properties and existing businesses along 19th Street will be especially affected – which makes those people's voices essential to this conversation. 
This week, REV, with help from activist and 95.7 JAMZ radio personality Dana "Lady Woo" Woodruff and architects Roman Gary and Charles Williams II, led 19th Street business owners and property owners in a half-day visioning and planning session in A.G. Callins' space and Brian Rice's space.  
Woodruff interviewed 19th Street stakeholders on video (watch above!) about what they value most about Ensley, its commercial district and the 19th Street corridor as well as their concerns and their hopes for the future. Another exercise challenged participants to think about what they've loved about other places they've been, and the group called out the practices in urban commercial design from which Ensley developers could draw inspiration. Check out the collaborative pinboard from our session!
Finally, participants were asked to consider goods and services needed by current residents as well as new markets they would seek to attract to bolster commerce in the district, while our architect friends talked the group through how strategy could meet design. 
Big ideas and a steadfast belief in downtown Ensley emanated from 19th Street Ensley on Wednesday. REV's team is compiling feedback in a report to share with development partners and the City of Birmingham. 
Related News
Filed Under: Downtown Birmingham, Family Friendly, Front Page, Get Involved, Small Business, Yaysayers

With summer just around the corner, kids will soon be out of school and insisting on getting out of the house. Luckily, Downtown Birmingham has an abundance of family-friendly activities that will keep your kiddos entertained and create lifelong memories.

We know taking kids out for extended periods can be challenging; that's why we have curated a list of experiences designed to be enjoyable within a manageable 3 – 4 hour timeframe. This way, both children and parents can make the most of their time without feeling overwhelmed or exhausted. These four experiences include lunch options and are tailored to different ages and personalities.

Filed Under: Downtown Birmingham, Front Page, Get Involved, REV Team, Yaysayers

Meet Michael Symes, the new City Center District Manager for the Business Improvement District (BID). As a long-time resident of Birmingham, Michael brings a wealth of knowledge and experience to the role, having been an active member of the community since graduating from the University of Alabama. In this article, we will explore Michael's journey and learn about his "accidental roots" in the city, as well as his passion for working with the Business Improvement District (BID) of the Magic City. Follow along  as we get to know the person behind the job title and uncover the unique perspective he brings to the role.

Filed Under: Front Page, Get Involved, Historic Preservation, Residential

President and CEO of REV Birmingham David Fleming writes about the importance of historic preservation and highlights the advocacy efforts that saved the French Quarter in New Orleans and the Forest Park neighborhood in Birmingham. The article concludes with a call to action, urging for new leaders and the implementation of various strategies to protect and celebrate Birmingham's historic buildings and places.