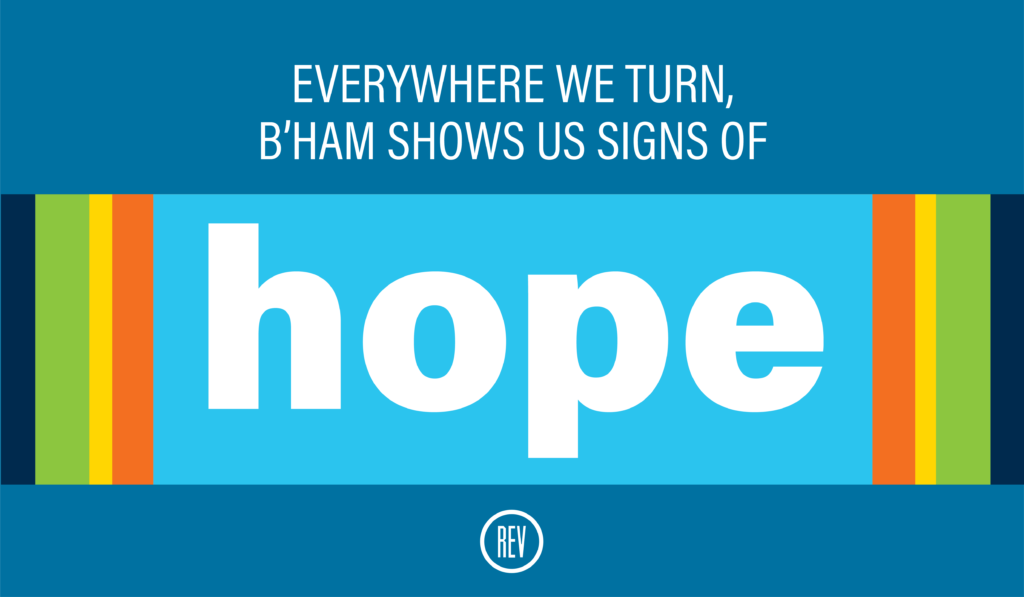 By Taylor Clark Jacobson
REV Birmingham Director of Business Recruitment & Growth
As we enter month two of what the Federal Government has declared a National Emergency, the headlines are thick. They swim and sway through my day—daring to unearth the foundation that grounds REV's team, the mission of creating vibrancy through the growth of sustainable businesses. The plight of our small business community could shake our confidence in our ability to achieve the mission, to penetrate the passion that fuels our every waking effort.
I won't sugar coat it: There are those moments. We are human and we adore our small business community, but those moments are just that. They are temporary.
And then there's a text, a phone call, a Zoom meeting, a virtual workshop—and we are filled with hope.
Going into month two and hope overshadows the angst, squelching the impending doubt—because everywhere we turn, our entrepreneurs are casting hope in the face of COVID-19. Together we are persevering through this unique moment in time and here's what we see.
We are a comeback city. It's who we were, who we are and who we will be.
Transparency + Urgency 
From City Hall to Main Street, COVID-19 has humbled and empowered unlikely leaders to meet the needs of the community we proudly call home. With a sense of transparency and urgency, leaders courageously embarked without a roadmap into the unknown. This is new territory. Questions are abundant and answers are not, but our community urgently searches for solutions and humbly acknowledges the journey of figuring it out—together.
Abundant Resources + Collaboration 
Nearly overnight, COVID-19 darkened the doors of our favorite restaurants and retail shops. In the days that followed, the small business support network we internally refer to as the entrepreneurial ecosystem convened to collaborate. Geographic and work plan boundaries dissolved to combine forces in the creation of more resources than our community can possibly consume. In the face of COVID-19, we've shifted the way our community will address the needs of Birmingham's small business community forever.
Community + Faith + a Comeback Spirit 
Collectively our team has already spent more than 500 hours engaging with Birmingham business owners since COVID-19's descent. We've absorbed hundreds of hours of uplifting conversations backed by a genuine love of Birmingham, a spirit of resiliency and faith that we will emerge from this stronger. Birmingham, know that your small business community is made of steel—literally and figuratively. We are a comeback city. It's who we were, who we are and who we will be. Collectively we embody a drive to not just survive but thrive and that spirit envelopes every, single conversation we have with our entrepreneurial community. 
We are all unexpected leaders. As a community we are responding with urgency, deploying countless resources and embracing one another in the process, extending hope as a reminder of what we are made of – individually and collectively. We are #BhamStrong.
How can REV help you?
REV has been engaged with our partners to ensure we are being as collaborative and clear as possible in messaging to our community the resources available to Birmingham entrepreneurs during the COVID-19 pandemic.
Related News
Filed Under: Events, Front Page

It's officially spooky season and the Innovation Depot is wasting no time getting into the Halloween spirit! They are hosting their first ever "Tech or Treat" event on Thursday, October 28 from 3:30 to 6:00 p.m. The event is free and open to the public – what better way to kick off Hallo-weekend?!

Filed Under: Downtown Birmingham, Front Page, Yaysayers

Downtown Birmingham is full of beautiful buildings, both new and old! A good portion of those buildings consist of churches, and while many of them are beautiful to look at, they also have a rich history that often gets overlooked.