By Taylor Clark Jacobson
REV Birmingham Director of Business Recruitment & Growth
I moved to Birmingham in 2010. It was on the heels of the 2008 recession and Birmingham was slowly emerging as the vibrant version of itself that I now call home. 
As you talk to people, you hear so many stories of folks who landed in Birmingham for an opportunity. I was no different. I came for a purpose but I've remained here on purpose. Birmingham helped me rebound from the depths of 2008, showing me the authenticity of community and enrapturing me in the comeback spirit of the Magic City. 
2010 on 20th Street was ghostly. I recall dining on the sidewalk at Café Dupont at dusk and observing with a mix of emotions – curiosity and reverence for the peaceful calm. It sparked an ember of anticipation of what Birmingham would become. Because at that time, the entrepreneurial spirit birthed by the recession, was percolating. It was palpable. Passion, good ideas and brave new beginnings were popping up and you could feel greatness just beyond on the horizon. 
I came for a purpose, but I've remained here on purpose.
Since 2010, downtown Birmingham has experienced significant investment and growth with more than $2.5 billion invested in more than 75 development projects. Just prior to the onslaught of COVID-19, more than 5 million square feet of retail, office and residential space including 10,500 housing units were built or under construction. Birmingham's culinary community drove much of downtown's vibrancy, offering an attractive urban lifestyle.  
Birmingham is on the map for all that we are becoming — a culinary destination, a tech launchpad, a city of pleasant surprise, a small pond with some really big fish. As we grapple with this historic moment in time, it's unclear what the future holds. Our small businesses are struggling — both in isolation and publicly. Their struggle is exposed. Their run is one of endurance as they pivot their models and daily operations to simply survive. 
Last week, the REV team released a report titled The State of Small Business in Downtown Birmingham. Within that report, we shared both what we're anticipating and what we're recommending to help Birmingham rebound from this pandemic.  
Know this: we have your back, Birmingham. Just like you had mine.  
You won't find a team more passionate about Birmingham's revitalization than REV. It's what we wake every, single day to think about, talk about, worry about and do something about. 
This Thursday, we launch Rebound Birmingham – a collaborative collective of more than 15 organizations with a common passion: small businesses. We'll spend the next eight weeks digging deep through virtual workshops, social media events, coaching sessions and resources to help entrepreneurs rebound. Rebound Birmingham will empower, uplift, encourage and connect us all. It's about community and harnessing that comeback city spirit that permeates our historic fabric. Sign up for the kickoff event happening at 3:30 p.m.
The future may be uncertain, but of this I am certain: we will come back from this. We must. Opportunity is the only option because small businesses are what make a place you want to call home. It's the people, the goods, the authentic experiences that make us want to stay. We need you, Birmingham. We need your idea, your passion, your perseverance and your fortitude. We need your support, your dollars spent with local businesses and your voice in encouraging one another.  
Harness your comeback spirit and let's rebound from this corona-crazy moment in time together.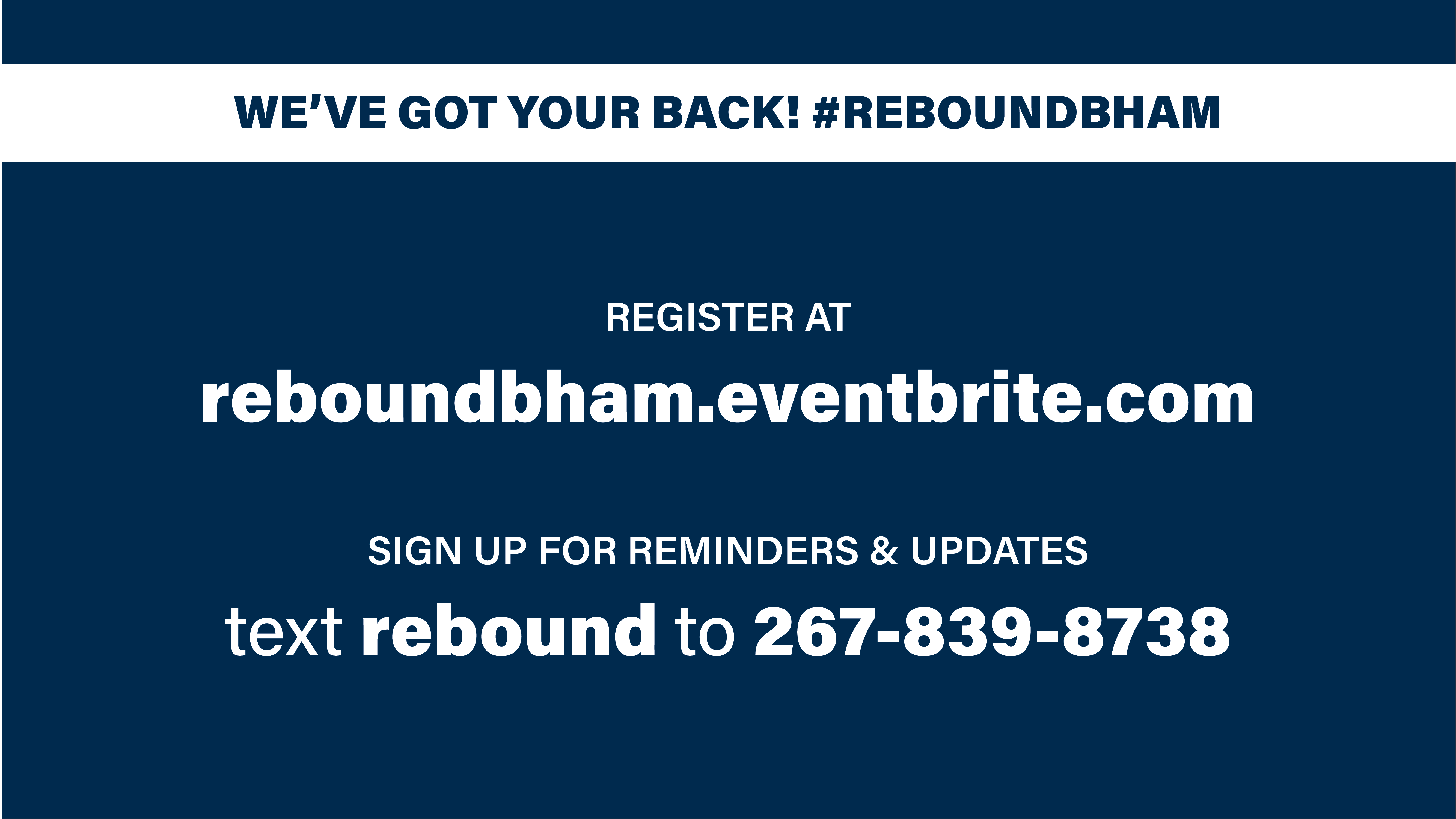 Related News
Filed Under: Events, Front Page

It's officially spooky season and the Innovation Depot is wasting no time getting into the Halloween spirit! They are hosting their first ever "Tech or Treat" event on Thursday, October 28 from 3:30 to 6:00 p.m. The event is free and open to the public – what better way to kick off Hallo-weekend?!

Filed Under: Downtown Birmingham, Front Page, Yaysayers

Downtown Birmingham is full of beautiful buildings, both new and old! A good portion of those buildings consist of churches, and while many of them are beautiful to look at, they also have a rich history that often gets overlooked.