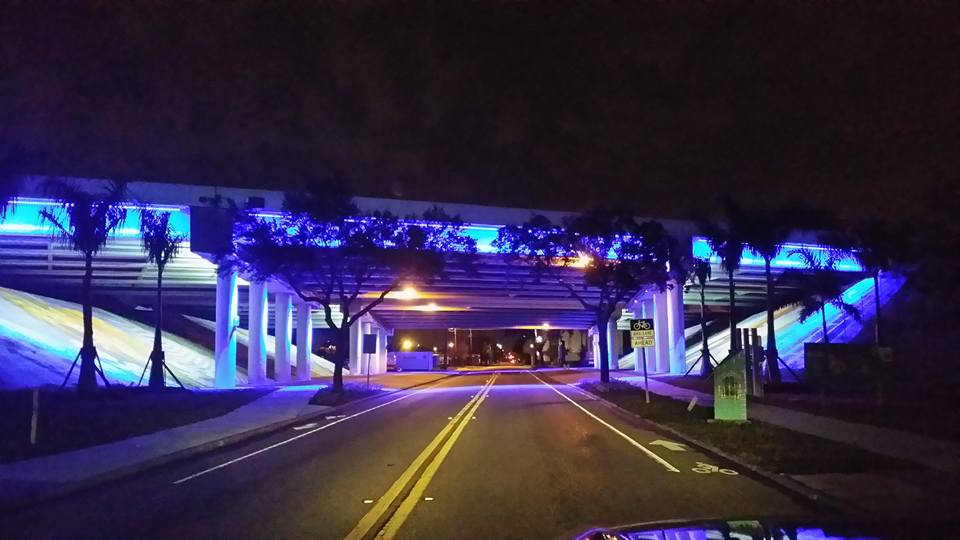 Don't you think the world could use a few more rainbows? Lucky for St. Petersburg, neighborhood revitalization agency Deuces Live has created an artistic LED lighting installation inspired in part by REV's Birmingham Lights project on 14th, 18th, 19th and 20th streets downtown.  
The new Florida lighting installation is part of the Deuces Interstate-275 Lighting and Landscape Improvement Project, which was unveiled last year. In addition to the LED lighting, the project also introduced column lighting, landscaping, and murals by the St. Petersburg Arts Alliance and St. Petersburg Public Arts Commission to the I-275 underpass at 22nd Street South. The project also involves relocation of the limited access fence, removal of broken sidewalk and removal of asphalt from the parkway.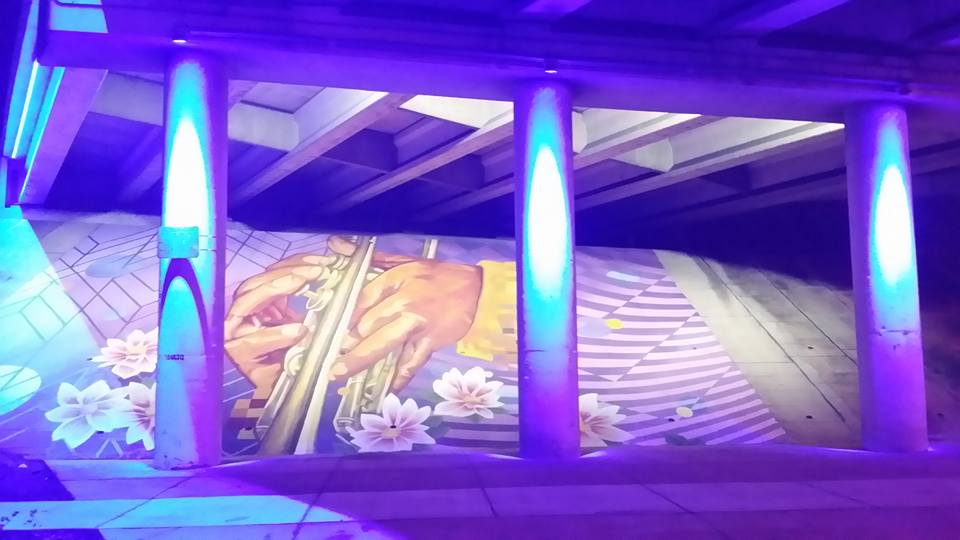 Organizers for the St. Petersburg project contacted REV early in their exploration. REV shared project information that helped inform their final plan. The REV team is often asked where we get ideas for projects like Birmingham Lights – a project that, thanks to Community Foundation of Greater Birmingham's Community Catalyst Fund donors, transformed dark historic train underpasses from pedestrian barriers into attractive, accessible paths that are now a draw to downtown. The answer is simple: we are inspired by the best practices and innovations in other cities and often adapt them for use in Birmingham. We're always glad when we can offer case studies, advice or even just inspiration to other cities to reciprocate.  
The Deuces Lighting and Landscape Improvement Project is part of the economic revitalization plan for the Deuces, which once thrived with 100 local businesses but saw a decline in the late 1970s when the interstate cut through the neighborhood. The project is intended to help achieve the goal of growth and revitalization while preserving the Deuces' rich history. Deuces Live spokeswoman Veatrice Farrell told the Tampa Bay Times that improving how the area looks is one of the main focuses of the project. 
Deuces Live is non-profit organization and certified Florida Main Street organization aimed to create an atmosphere within St. Petersburg's historic 22nd Street South business district, known as the Deuces, that both stimulates new growth and enhances the current commercial and residential population.   
Related News
Filed Under: Downtown Birmingham, Front Page, Get Involved

We've made it to the third and final public workshop for Re-vision Linn Park! Partners behind Re-Vision Linn Park will wrap up the community engagement process at the last public workshop on Tuesday, October 4, at Boutwell Auditorium. Community members can participate and provide feedback on a park design concept in the noon or 5:30 p.m. session – so come out one last time and let your voice be heard!

Filed Under: Developer, Downtown Birmingham, Filling Vacant Spaces, Front Page, Potential-Proving, Uncategorized

Have you been to Downtown Birmingham's newest development located on 25th Street? If not, you need to head down there ASAP and check it out! This new single story development is a product of a collaboration between David Baker Architects (DBA) and Locke General Contractors, led by DBA's very own Amanda Loper. It is intended to be a "collaborative commercial space in a catalyst development area of Birmingham." Both DBA and Locke General Contractors will be tenants of the space, along with June Coffee Roasters, Zephyr Barber, and Last Call Baking Cooperative!

Filed Under: Downtown Birmingham, Events, Front Page, Uncategorized

One of Birmingham's many hidden treasures is the music scene downtown. The sheer volume of concert venues we have in downtown Birmingham is something most people aren't even aware of – but it really is remarkable! There is truly something for everyone, whether you're into the smaller, more intimate venues or the large-scale venues for those big name artists. Keep reading to check out some of the cool venues downtown Birmingham has to offer.