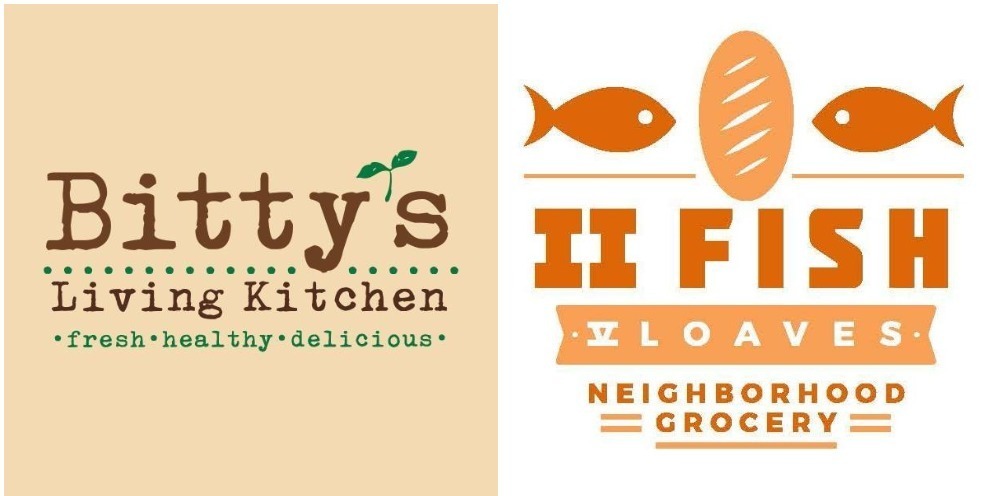 Two REV clients are partnering to bring healthier options to the Norwood community. Your favorite Bitty's Living Kitchen salads are now available in convenient grab-and-go form at II Fish V Loaves Neighborhood Market.
Bitty's owner and chef Kimberly Brock, who has shared her food with Birmingham through popups and a six-month stint in REV's REVeal Kitchen in The Pizitz Food Hall that finished up in January, has created healthy food fans across the city. Two of those fans just happened to be the couple who owns II Fish V Loaves (pronounced "Two Fish, Five Loaves"). Together the CO.STARTERS grads hatched a plan for a collaboration to sell Chef Brock's undressed salads as a grab-and-go option at II Fish V Loaves. 
Chef Brock aims to provide healthier options for the surrounding community through a healthy and "living food" concept, complete with vegan and vegetarian-friendly options. She believes the collaboration with II Fish V Loaves is essential to not only continue sharing her products as she works toward a brick and mortar location, but also to fill the need for healthy lunch options in the Norwood area. 
As a REV Urban Food Project Farm to Corner Store client, II Fish V Loaves has fresh, Alabama-grown food delivered to their store, reducing the barrier for Norwood residents to access fresh produce. II Fish V Loaves Neighborhood Market is located at 3000 12th Avenue North, Birmingham, Alabama. 
Both Chef Brock and II Fish V Loaves owner Antonio Washington are graduates of CO.STARTERS, Create Birmingham's business development training program on which REV is proud to partner.  
Find Bitty's Living Kitchen online at bittyslivingkitchen.com and on Facebook and Instagram. Find II Fish V Loaves on Facebook and Instagram.
 
Related News
Filed Under: Small Business, Woodlawn, Woodlawn Street Market

We caught up with Element and Vibe owner Aisha Taylor to ask a few questions about selling t-shirts with a purpose and her experience thus far with the virtual Woodlawn Street Market.

Filed Under: Front Page, Small Business

REV's Director of Business Recruitment and Growth Taylor Clark Jacobson is teaming up with Reginald Smith of Sabre Finance to talk to business owners—both large and small—about how they can keep things as new and fresh as these times require on Monday, July 13.

Filed Under: Front Page, Small Business

REV kicks things off Monday, July 13 at noon with the Innovating Your Business For Future Growth workshop hosted by Taylor Clark-Jacobson, Director of Business Recruitment and Growth.