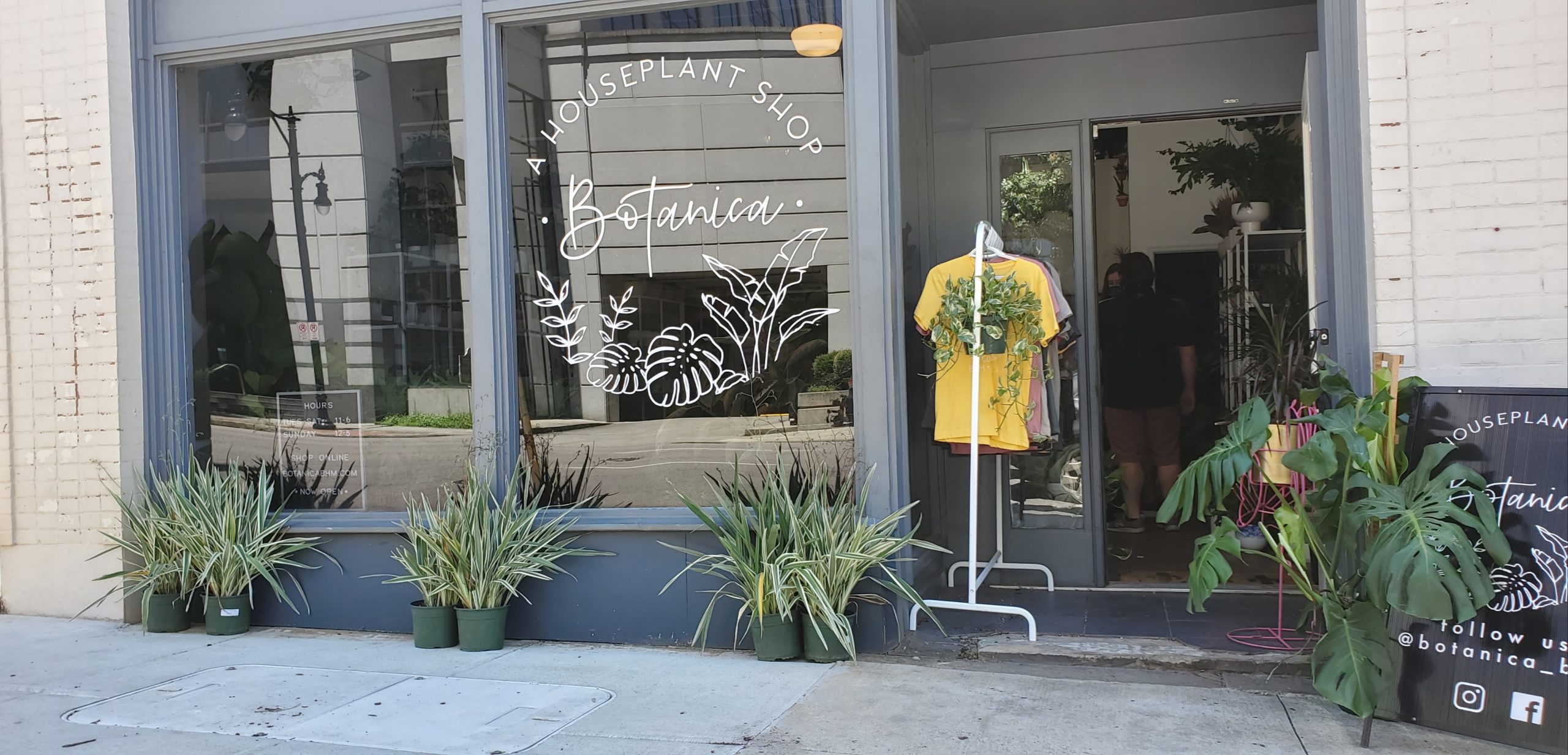 A furlough—a devastating side effect of the global Coronavirus pandemic—turned out to be what Botanica owner Caitlin Hastings needed to send her downtown plant shop into full bloom.
"It presented a unique opportunity," she said of the pandemic. "I wouldn't have taken the leap own and just quit my job, but this kind of allowed me to see that I'd gone without a paycheck for a few months and that I can do this."
During the initial shutdown of the shop in the Spring, Hastings was able to move from her first location on 3rd Avenue North around the corner to 312 21st Street North. She said the new location was welcomed with open arms once doors reopened.
"I was nervous about people not following us to the new shop," Hastings said. "I was afraid that people wouldn't come or they wouldn't be able to find us. Much to my surprise, we've had a wave of new followers, people following us on social media and people just finding out about us now. They're like, 'I didn't know you guys existed.' It's been kind of cool to see people finding out about us now at this stage."
Right now, no more than 10 people are allowed in the store at a time, and customers are required to wear a mask while visiting the store. Hand sanitizer is also available at the register.
Employees sanitize often. All plants, pots and pricing are visible to customers.
"We're just trying to make everything as contact-free as possible," Hastings said.
The new location also allowed Hastings to shift some of her focus to a new avenue of revenue— online sales and delivery.
So far, she's been able to ship coast to coast from New York to California. She's also offering curbside and local delivery with a $60 minimum for customers who might be uncomfortable shopping in-store.
"We just had to take everything online, like a lot of people have done," she said. "It expanded us outside of just Birmingham and Alabama. That has been awesome.
During the last few months, Hastings has learned that the plant industry is adaptable.
Quarantine and working from home motivated some people to fix up their spaces. She said plants are a big part of that process.
"I didn't think people would be interested in buying plants online, but I was proven wrong," she said. "Plants bring people more joy in trying times that I really appreciated. For us, we're selling plants and working, but I didn't realize how much joy the products that we sell were actually going to bring people during these crazy times."
Hastings said that she's thankful for the support so far.
According to her, it's important to support small businesses such as Botanica now more than ever because they're what makes the city magical.
"Birmingham is what it is because the small businesses that make it cool," she said. "I think that you just get such a different experience shopping small. It's a more intimate experience, you get to know locals and the people that are behind the business. You get to feel good about your purchase because it's actually helping someone in your community and not just stuffing the pockets of these big corporations."
Related News
Filed Under: Downtown Birmingham, Front Page, Uncategorized

We've talked about sports, but downtown has so much more to offer! Downtown Birmingham has so many experiences in store for you, which can also turn into life-long memories. And lucky for you, we've created a tool to make all that exploring so much easier!

Filed Under: Birmingham Food & Drink, Front Page, Get Involved

Ever host an event where you ordered way too much food and end up with more leftovers than you can even fathom? We've been there too – until we learned about Magic City Harvest! Magic City Harvest is an organization working towards ending food waste & hunger in the Magic City. They acquire perishable food from schools, wholesale food distributors, restaurants, caterers, churches, event venues and grocery stores to donate to 30 community partners on the frontlines feeding the city's hungry neighbors.

Filed Under: Downtown Birmingham, Front Page, Potential-Proving

We are approaching the finish line for the 20th Street Refresh, which calls for a celebration – and you're invited! The City Center Business Improvement District (BID), funded by downtown property owners, is partnering with the City of Birmingham and REV Birmingham to celebrate a refreshed Birmingham Green. Come join the party on May 20th from 4 to 8 p.m (with a special celebration happening at 6 p.m.)!