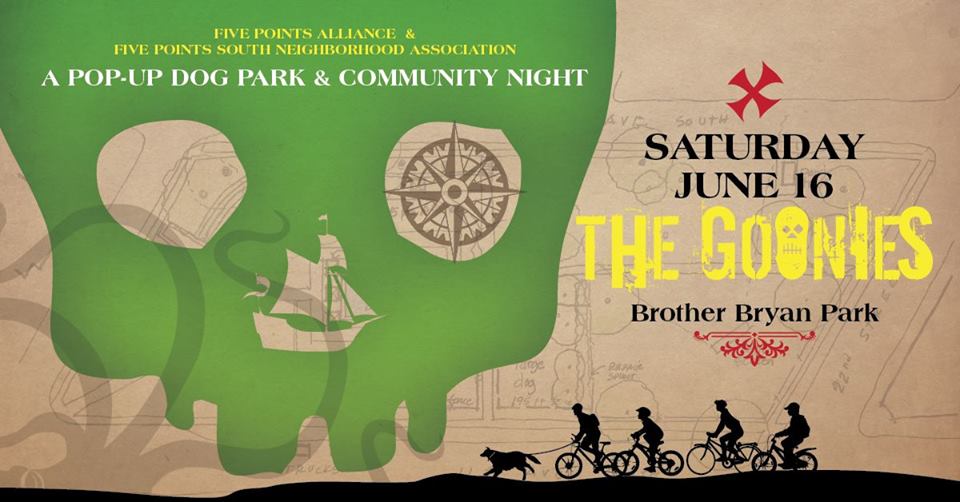 Looking for some summer fun with your pets? Come out to the "Pop-up Dog Park & Community Movie Night" on Saturday, June 16 at Brother Bryan Park. Hosted by The Five Points Alliance and Five Points South Neighborhood Association, the event is open for anybody to attend!
The Pop-up Dog Park is from 2 p.m. to 6 p.m. and features music, games, local vendors and the Two by Two Animal Rescue tent. Parking is available on the streets surrounding Brother Bryan, and security will be on hand. In addition, all dog owners are required to show proof of current rabies vaccinations before entering the park.
After the dog park is over, stick around for a showing of "The Goonies." Seating opens at 7 p.m. – while the movie starts at 8:15 p.m. Grab dinner before the show from one of the local food trucks set up around the park: Dreamland BBQ, Bendy's Cookies and Cream and Cheezin Gourmet Grilled Cheeses.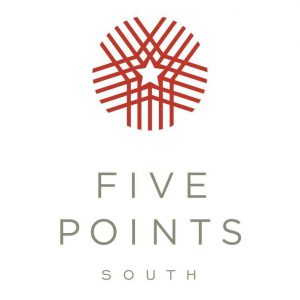 The idea for the Pop-up Dog Park & Movie Night originated from a community-planning meeting last year that proposed plans for revitalizing the area's green spaces. A committee of 11 neighborhood leaders was created to determine the best ways to redevelop the parks. Led by Five Points South fixture Stephen Foster, the committee sent a survey to 1,200 residents, which contained 57 questions on which parks needed what the most.
"We hope the community input will help drive a space that stays filled with residents throughout the week and year," Foster said. "We're also presenting ideas of concept for what the park can become."
The feedback the committee received suggested revamping Brother Bryan Park into a community event space. The pop-up dog park and movie night are meant to demonstrate that potential to the neighborhood. Furthermore, during the June 16 event, The Five Points Alliance Parks Committee will also present new improvements planned for the district's other two parks: Valley View and Phelan Park.
Also, you can sign up here to volunteer during the event!
Related News
Filed Under: Events, Front Page

It's officially spooky season and the Innovation Depot is wasting no time getting into the Halloween spirit! They are hosting their first ever "Tech or Treat" event on Thursday, October 28 from 3:30 to 6:00 p.m. The event is free and open to the public – what better way to kick off Hallo-weekend?!