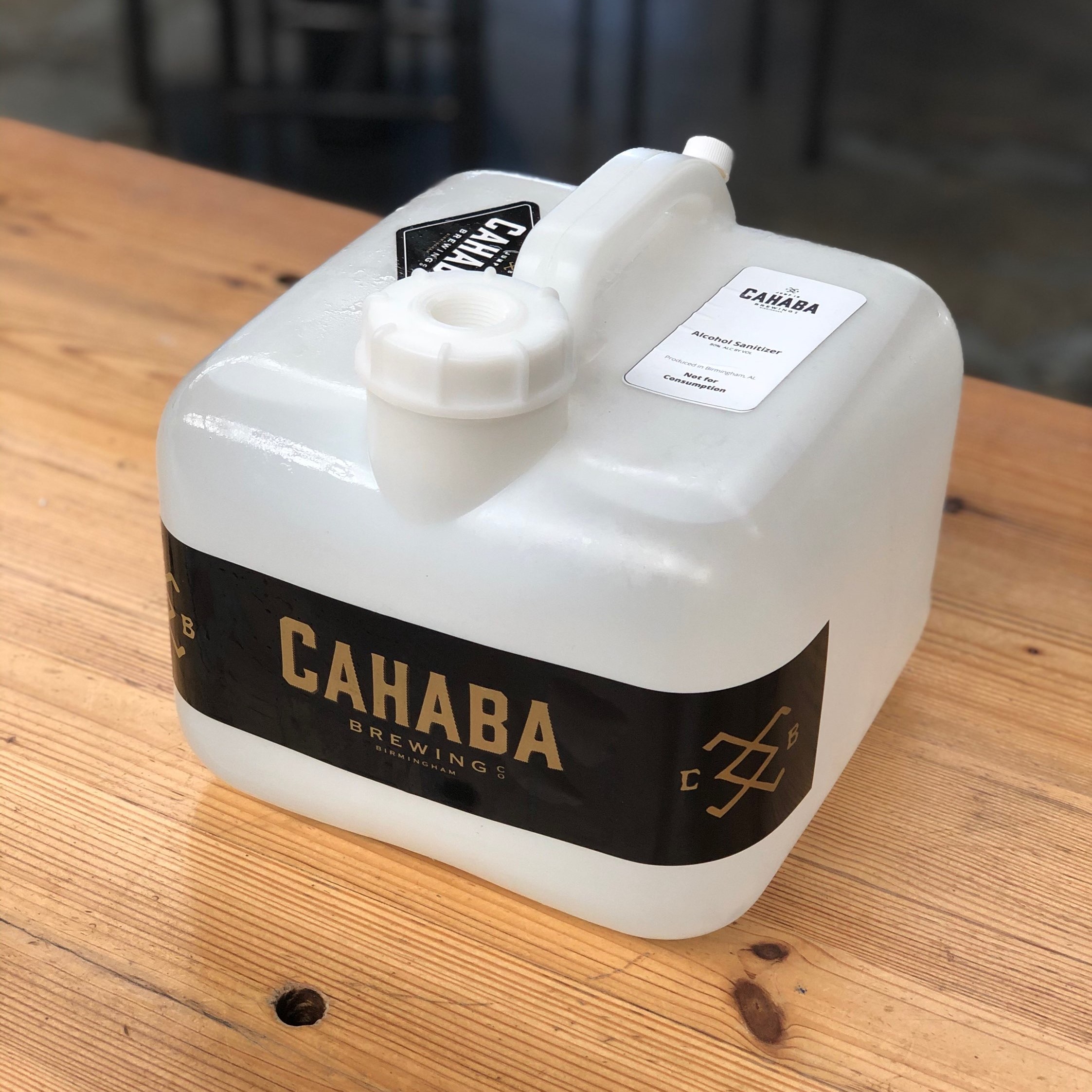 Eric Meyer says his decision to pivot to making hand sanitizer at Cahaba Brewing Co. was simple.   
"The amount of need in the community is not changing, but increasing," he said. "Why not utilize what we have here? Why not step out and help out those who are helping us."  
As a first responder himself, Meyer says he sees firsthand why making the switch is helpful. And, as a brewery and distillery, Cahaba already had the majority of ingredients on-hand needed for making sanitizer.  Once the ingredients arrived, the process was smooth sailing.    
Meyer, a REV partner and investor, says the brewery has made 30-gallons so far using the recipe issued by the World Health Organization (WHO). He donated most of it to fellow first responders and hospitals. And, he has plans to make and give out more.   
Not only does making sanitizer allow the brewery to give back, Meyer said that it's also serving as a way to continue to employ his full-time team members in this time of uncertainty. He's had to lay off part-time employees.   
"The tasting room is closed, and that's a significant part of our revenue," he said.   
Right now—in addition to making sanitizer— the 18 remaining employees are focusing on fulfilling pick-up orders and canning as much beer as possible.  
Cahaba was still able to launch its collaboration with Seasick Records, Record Session IPA as well as new spirits. 
Meyer said he's also looking for ways to collaborate with local food trucks and make pick-ups a one-stop-shop destination for customers to get food and beer.  
Despite challenges, Meyer said he's remaining hopeful. He's seeing the positive side of quarantine.   
"I'll always find the silver lining in what's going on here, even with the pandemic," he said. "I hope that from this that people can help prepare for another time like this. Hopefully, it will never happen, but we need to be prepared. Now is the time for us to do those deep cleans, analysis and all the things that we've talked about doing. While we'll here let's try to find ways that when we get the green light to go forward that we're able to rock and roll." 
Small business owners: How are you pivoting in the face of COVID-19?
These are unprecedented times for small business owners. Like Eric, REV's Biz Team encourages you to diversify your revenue streams, to solidify your financial foundation you to use this time wisely, to analyze your business model. How can we help you?
Related News
Filed Under: Downtown Birmingham, Front Page, Uncategorized

We've talked about sports, but downtown has so much more to offer! Downtown Birmingham has so many experiences in store for you, which can also turn into life-long memories. And lucky for you, we've created a tool to make all that exploring so much easier!

Filed Under: Birmingham Food & Drink, Front Page, Get Involved

Ever host an event where you ordered way too much food and end up with more leftovers than you can even fathom? We've been there too – until we learned about Magic City Harvest! Magic City Harvest is an organization working towards ending food waste & hunger in the Magic City. They acquire perishable food from schools, wholesale food distributors, restaurants, caterers, churches, event venues and grocery stores to donate to 30 community partners on the frontlines feeding the city's hungry neighbors.

Filed Under: Downtown Birmingham, Front Page, Potential-Proving

We are approaching the finish line for the 20th Street Refresh, which calls for a celebration – and you're invited! The City Center Business Improvement District (BID), funded by downtown property owners, is partnering with the City of Birmingham and REV Birmingham to celebrate a refreshed Birmingham Green. Come join the party on May 20th from 4 to 8 p.m (with a special celebration happening at 6 p.m.)!