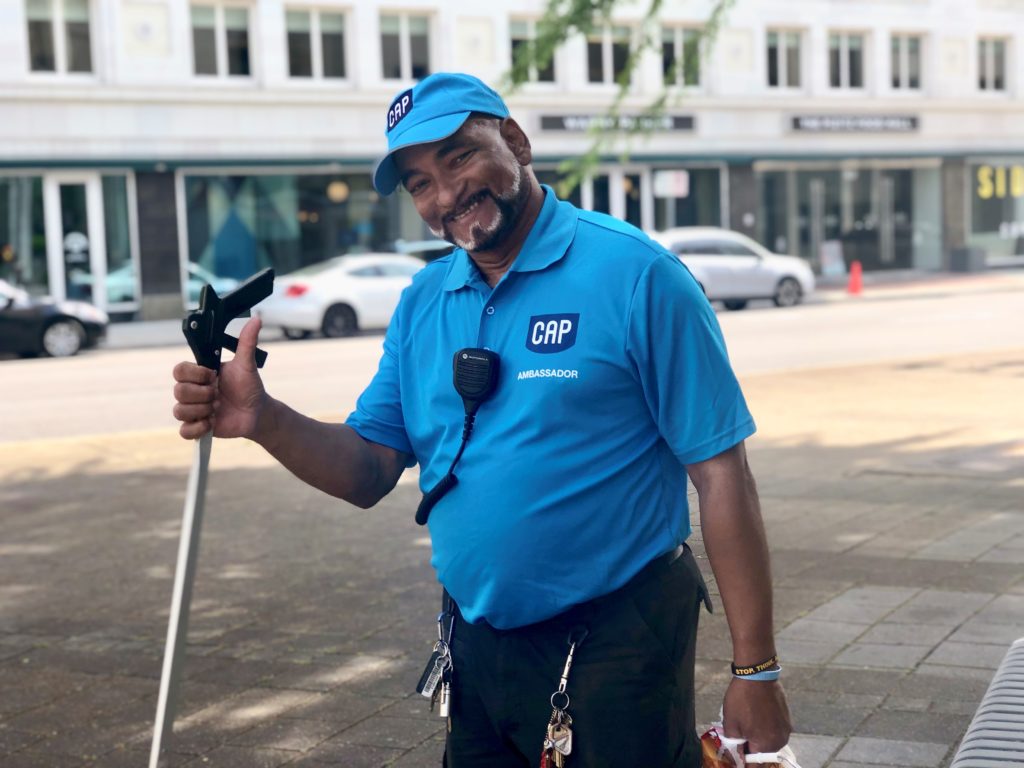 CAP's downtown safety ambassadors are now clad in a new color – vibrant blue topped with a friendly new logo – to communicate improvements to the program.
Keeping downtown Birmingham clean and safe is at the core of CAP's mission. In 2019, CAP has added new equipment (like Segways, an umbrella-topped info cart and a pressure-washing tricycle) for greater efficiency and, as of last week, new uniforms for better visibility and approachability. CAP Ambassadors actively look for opportunities to help people downtown – from providing directions and helpful information to picking up litter and removing graffiti to keep downtown beautiful.
"We have already made some shifts in strategy and tactics for the CAP program in 2019, and we wanted to reflect that with CAP's new logo and colors," said Sue Johnson, president of the board of the City Center District Management Corporation (CCDMC), which funds the CAP program. "CAP's new tagline is 'downtown for you' – and we intend to prove that over and over. The feedback so far has been that, in their new blue uniforms and with their new blue equipment, our ambassadors look friendlier and more approachable – and that's exactly what we hoped to achieve. When you see bright blue in downtown, we want you to know that CAP is downtown for you."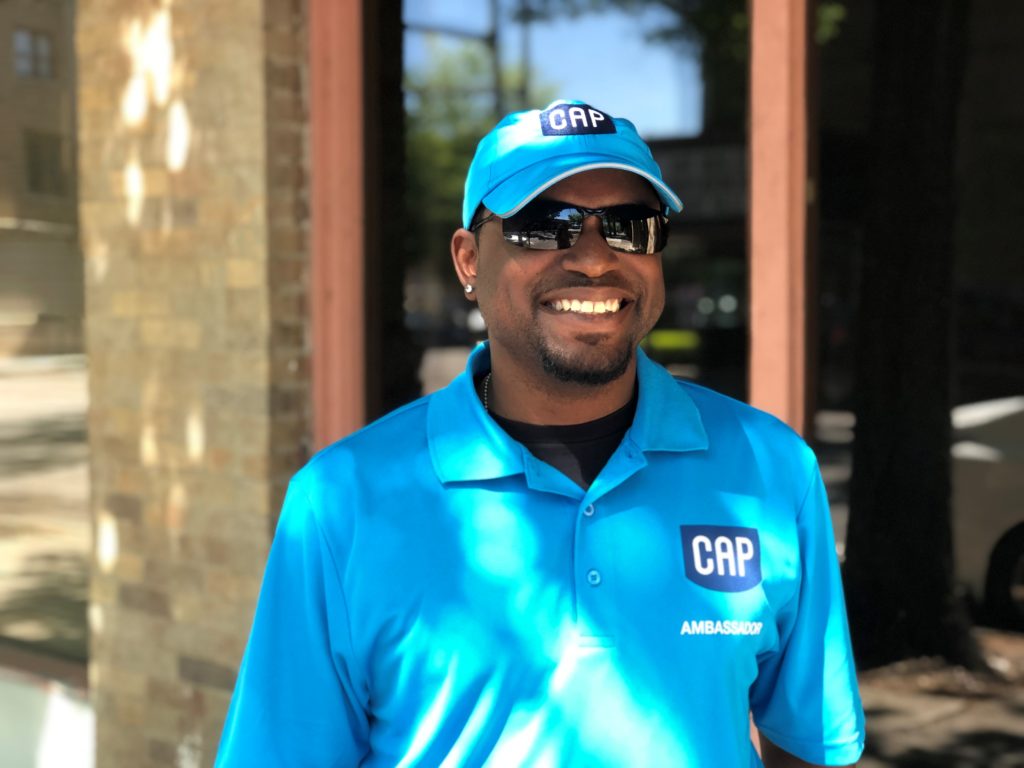 Based on community engagement with downtown property owners, who fund the vast majority of the program, the City Center District Management Corporation (CCDMC) worked with REV Birmingham to rebrand and revamp the CAP offering to put more hours into foot patrols, public space cleaning and homeless outreach than ever before – and now with more CAP team members than ever before.
Using new smartphone software, CAP tracks the time ambassadors spend in certain geographies as well as the services they provide. The organization uses the data to set performance goals and increase time in underserved areas of the City Center business improvement district.
For the first time, CAP has a full-time Street Outreach Coordinator to be a first point of contact with individuals experiencing homelessness. This team member is able to identify issues before they are reported, spot seasonal and other trends and connect individuals directly to social service providers.
Downtown stakeholders are encouraged to call 205-251-0111 for assistance and to talk with any CAP Ambassadors they encounter on foot, Segway or bike – if they don't talk to you first!
Related News
Filed Under: Downtown Birmingham, Family Friendly, Front Page, Get Involved, Small Business, Yaysayers

With summer just around the corner, kids will soon be out of school and insisting on getting out of the house. Luckily, Downtown Birmingham has an abundance of family-friendly activities that will keep your kiddos entertained and create lifelong memories.

We know taking kids out for extended periods can be challenging; that's why we have curated a list of experiences designed to be enjoyable within a manageable 3 – 4 hour timeframe. This way, both children and parents can make the most of their time without feeling overwhelmed or exhausted. These four experiences include lunch options and are tailored to different ages and personalities.

Filed Under: Downtown Birmingham, Front Page, Get Involved, REV Team, Yaysayers

Meet Michael Symes, the new City Center District Manager for the Business Improvement District (BID). As a long-time resident of Birmingham, Michael brings a wealth of knowledge and experience to the role, having been an active member of the community since graduating from the University of Alabama. In this article, we will explore Michael's journey and learn about his "accidental roots" in the city, as well as his passion for working with the Business Improvement District (BID) of the Magic City. Follow along  as we get to know the person behind the job title and uncover the unique perspective he brings to the role.

Filed Under: Front Page, Get Involved, Historic Preservation, Residential

President and CEO of REV Birmingham David Fleming writes about the importance of historic preservation and highlights the advocacy efforts that saved the French Quarter in New Orleans and the Forest Park neighborhood in Birmingham. The article concludes with a call to action, urging for new leaders and the implementation of various strategies to protect and celebrate Birmingham's historic buildings and places.