To protect one of Birmingham's most vulnerable populations, CAP and One Roof are coordinating education and sanitation services for people who are unsheltered.
State of area shelters
In order to stop or slow the spread of COVID-19, Birmingham homeless shelters are reducing movement in and out of overnight programs. Most area shelters are not accepting new overnight guests and are operating at full capacity. If a guest chooses to leave a shelter, they may not be able to return because of the high demand for shelter services.
That means many of those experiencing homelessness who are not currently sheltered will not be able to find many of the services they count on. Day shelters including Firehouse, Salvation Army, Faith Chapel Care Center and Pathways (for women and children) are still offering lunches, showers, and other day services as of March 18. One Roof, the continuum of care coordinator for federally funded homeless services in Birmingham, is discouraging any large public feeding efforts as these efforts go against local health officials' guidance.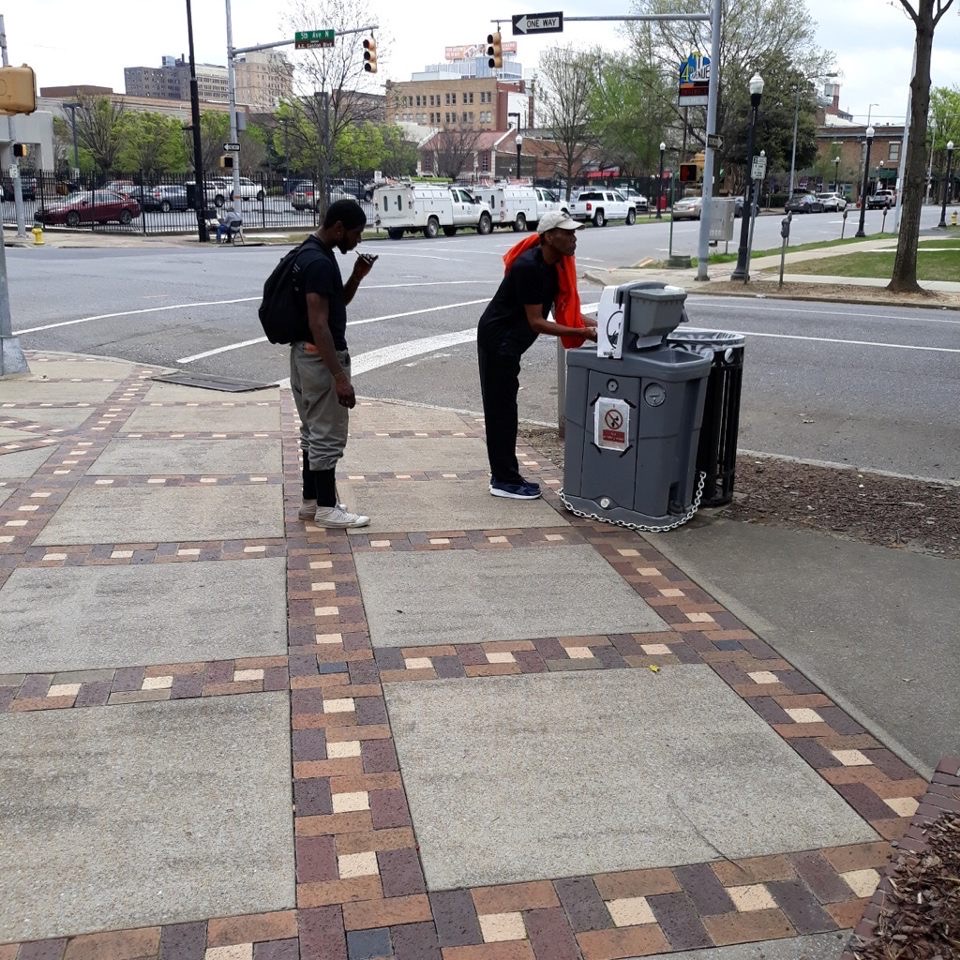 Street outreach for sanitation and education
One Roof along with CAP and REV have identified access to and education around handwashing as an unmet need for those experiencing street homelessness during the COVID-19 outbreak. CAP Ambassadors have placed handwashing stations in downtown's Kelly Ingram Park and Linn Park for those who do not have regular access to handwashing facilities.
One Roof and REV have also developed educational materials about coronavirus symptoms and how folks experiencing street homelessness can access health care. CAP ambassadors and One Roof's Street Outreach Team are sharing these materials with anyone in need.
"In these unprecedented times, CAP's and One Roof's teams are focused on serving those most at risk in the interest of keeping people who are living on the streets right now, as well as the wider community, safe from this threat," said David Fleming, President and CEO of REV Birmingham, which manages the CAP program and other City Center Business Improvement District services.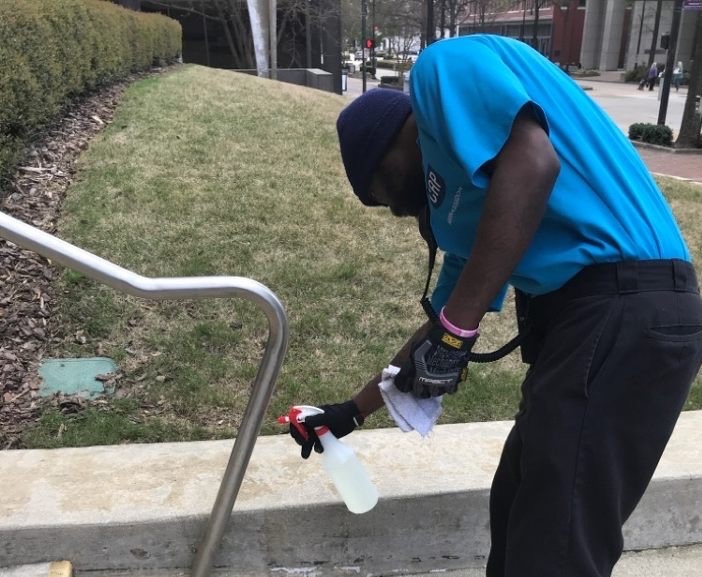 Cleaning and disinfecting downtown
With reduced traffic downtown, CAP and the Department of Public Works are working diligently to clean the downtown district. Public Works pressure washed all the viaducts and are clearing litter and leaves. CAP is outfitting their pressure-washing trike with chlorinated tablets to create a disinfectant-spraying machine. CAP's clean team will routinely spray high-traffic surfaces such as door handles to businesses, bike-locking stations, bus stops, crosswalk buttons, trashcan tops, railings around restaurant sidewalk patio areas, and other public surfaces in the district.
Note: CAP and area shelter operations are subject to change based on new information that may impact the teams' health and safety.
Related News
Filed Under: Downtown Birmingham, Front Page, Get Involved

We've made it to the third and final public workshop for Re-vision Linn Park! Partners behind Re-Vision Linn Park will wrap up the community engagement process at the last public workshop on Tuesday, October 4, at Boutwell Auditorium. Community members can participate and provide feedback on a park design concept in the noon or 5:30 p.m. session – so come out one last time and let your voice be heard!

Filed Under: Developer, Downtown Birmingham, Filling Vacant Spaces, Front Page, Potential-Proving, Uncategorized

Have you been to Downtown Birmingham's newest development located on 25th Street? If not, you need to head down there ASAP and check it out! This new single story development is a product of a collaboration between David Baker Architects (DBA) and Locke General Contractors, led by DBA's very own Amanda Loper. It is intended to be a "collaborative commercial space in a catalyst development area of Birmingham." Both DBA and Locke General Contractors will be tenants of the space, along with June Coffee Roasters, Zephyr Barber, and Last Call Baking Cooperative!

Filed Under: Downtown Birmingham, Events, Front Page, Uncategorized

One of Birmingham's many hidden treasures is the music scene downtown. The sheer volume of concert venues we have in downtown Birmingham is something most people aren't even aware of – but it really is remarkable! There is truly something for everyone, whether you're into the smaller, more intimate venues or the large-scale venues for those big name artists. Keep reading to check out some of the cool venues downtown Birmingham has to offer.