To protect one of Birmingham's most vulnerable populations, CAP and One Roof are coordinating education and sanitation services for people who are unsheltered.
State of area shelters
In order to stop or slow the spread of COVID-19, Birmingham homeless shelters are reducing movement in and out of overnight programs. Most area shelters are not accepting new overnight guests and are operating at full capacity. If a guest chooses to leave a shelter, they may not be able to return because of the high demand for shelter services.
That means many of those experiencing homelessness who are not currently sheltered will not be able to find many of the services they count on. Day shelters including Firehouse, Salvation Army, Faith Chapel Care Center and Pathways (for women and children) are still offering lunches, showers, and other day services as of March 18. One Roof, the continuum of care coordinator for federally funded homeless services in Birmingham, is discouraging any large public feeding efforts as these efforts go against local health officials' guidance.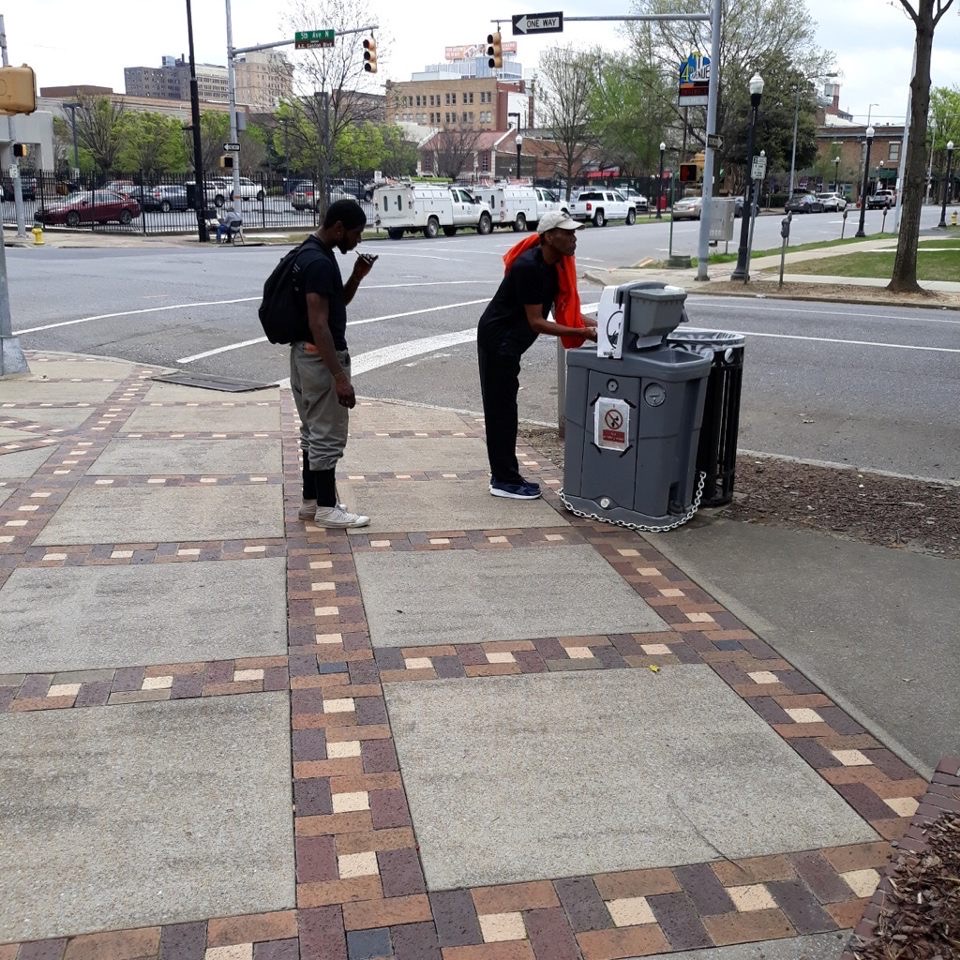 Street outreach for sanitation and education
One Roof along with CAP and REV have identified access to and education around handwashing as an unmet need for those experiencing street homelessness during the COVID-19 outbreak. CAP Ambassadors have placed handwashing stations in downtown's Kelly Ingram Park and Linn Park for those who do not have regular access to handwashing facilities.
One Roof and REV have also developed educational materials about coronavirus symptoms and how folks experiencing street homelessness can access health care. CAP ambassadors and One Roof's Street Outreach Team are sharing these materials with anyone in need.
"In these unprecedented times, CAP's and One Roof's teams are focused on serving those most at risk in the interest of keeping people who are living on the streets right now, as well as the wider community, safe from this threat," said David Fleming, President and CEO of REV Birmingham, which manages the CAP program and other City Center Business Improvement District services.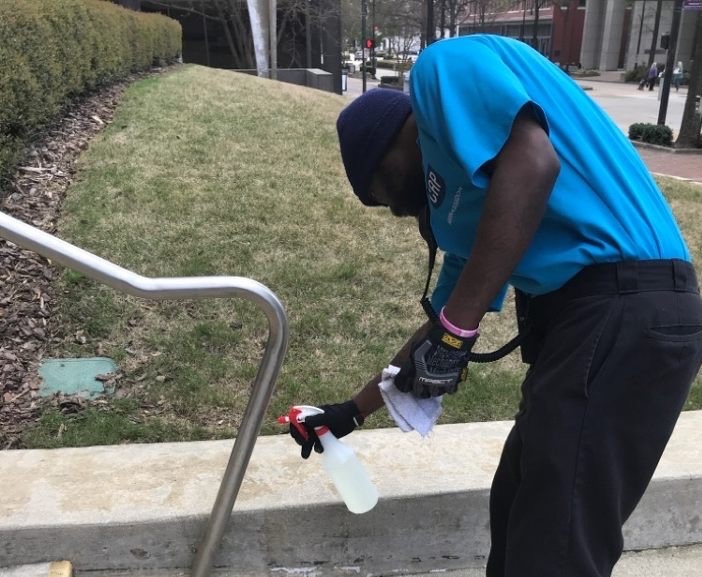 Cleaning and disinfecting downtown
With reduced traffic downtown, CAP and the Department of Public Works are working diligently to clean the downtown district. Public Works pressure washed all the viaducts and are clearing litter and leaves. CAP is outfitting their pressure-washing trike with chlorinated tablets to create a disinfectant-spraying machine. CAP's clean team will routinely spray high-traffic surfaces such as door handles to businesses, bike-locking stations, bus stops, crosswalk buttons, trashcan tops, railings around restaurant sidewalk patio areas, and other public surfaces in the district.
Note: CAP and area shelter operations are subject to change based on new information that may impact the teams' health and safety.
Related News
Filed Under: Downtown Birmingham, Family Friendly, Front Page, Get Involved, Small Business, Yaysayers

With summer just around the corner, kids will soon be out of school and insisting on getting out of the house. Luckily, Downtown Birmingham has an abundance of family-friendly activities that will keep your kiddos entertained and create lifelong memories.

We know taking kids out for extended periods can be challenging; that's why we have curated a list of experiences designed to be enjoyable within a manageable 3 – 4 hour timeframe. This way, both children and parents can make the most of their time without feeling overwhelmed or exhausted. These four experiences include lunch options and are tailored to different ages and personalities.

Filed Under: Downtown Birmingham, Front Page, Get Involved, REV Team, Yaysayers

Meet Michael Symes, the new City Center District Manager for the Business Improvement District (BID). As a long-time resident of Birmingham, Michael brings a wealth of knowledge and experience to the role, having been an active member of the community since graduating from the University of Alabama. In this article, we will explore Michael's journey and learn about his "accidental roots" in the city, as well as his passion for working with the Business Improvement District (BID) of the Magic City. Follow along  as we get to know the person behind the job title and uncover the unique perspective he brings to the role.

Filed Under: Downtown Birmingham, Events, Front Page, Yaysayers

Brian Allen, a talented cornerback, has made the remarkable transition from a small town in Texas to the vibrant city of Birmingham. Choosing Birmingham for his football career for two consecutive seasons, Brian's unwavering dedication and exceptional skills have made him a standout figure in the world of football. To dive deeper into Brian's journey and discover his genuine appreciation for the city, watch this video with the link below!