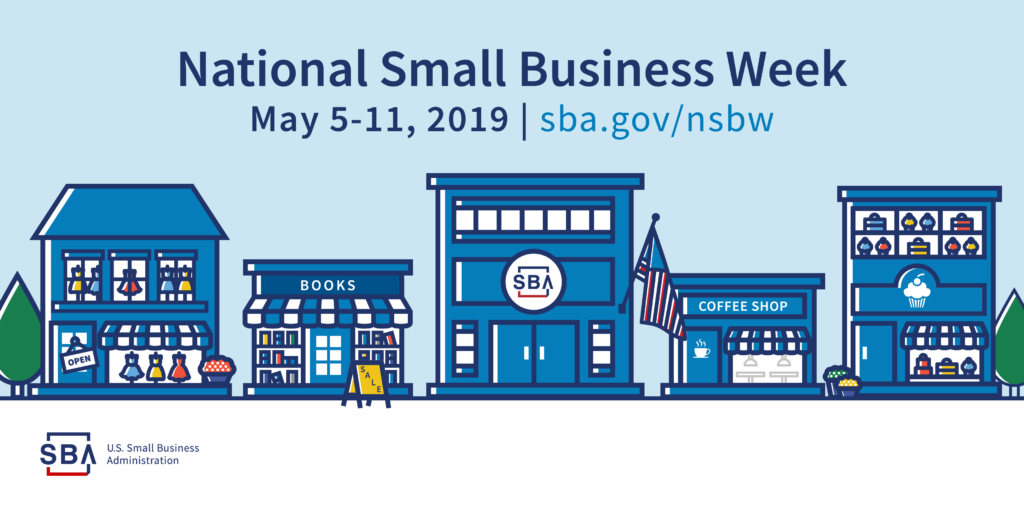 Small Business Week is next week and the City of Birmingham, REV and its partners are celebrating with three fantastic events to help grow your business. Monday – Wednesday next week, join our partners as we, as a community, cover critical topics to support your entrepreneurial journey. Descriptions and registration links below. We hope to see you there!
Paid In Full: Quickbooks, Tax Filing & Business Financials
Mon, May 6, 2019 | 11 a.m. – 1 p.m.
REV's Social Venture | 5529 1st Avenue South | Birmingham, AL 35212
Workshop Audience: Aspiring business owners, business owners in operations for less than 3 years.
Certified QuickBooks® ProAdvisor, Talibah M. Bayles is the Founder & CEO of TMB Tax & Financial Services, LLC here in Birmingham, AL. In this workshop, Ms. Bayles will provide an intro to the next steps after your business launch from a tax and bookkeeping perspective. Topics covered include:
The QuickBooks® Advantage
• Navigating Tax Filing with that State of Alabama & the City of Birmingham
• Leveraging your business financials to plan, manage, and grow your business
About Our Co-host
Talibah M. Bayles is the driving force behind TMB Tax & Financial Services, a full-service tax, and revenue planning firm on a mission to help small businesses thrive with airtight financial strategies that enable and maintain growth. Ms. Bayles was recently appointed to serve on the City of Birmingham's Inaugural Small Business Council (SBC).
A Real Boss Practices Self Care! A workshop for entrepreneurs
Tue, May 7, 2019 | 8:30 a.m. – 10 a.m.
Practice Works |3613 6th Avenue South | Birmingham, AL 35222
Mayor Woodfin has often said that small business owners do more by 9 a.m. than most of us do all day. It's no surprise that entrepreneurs are stretched and overwhelmed with a myriad of things and they often don't get an opportunity to stop and take care of their primary employee…themselves. So here's a chance to learn a few techniques on how to practice self-care in your fast paced ever changing lives. You can't take care of your businesses, employees and customers if you don't take care of YOU!
8:30 – 9:00 networking/coffee/snacks
9:00 – 9:30 tricks to introducing a self-care practice into your busy day
9:30 – 10:00 reset and rejuvenate – a short meditation and chair yoga practice (option to remove shoes but work clothes are appropriate)
Come tour Birmingham's first coworking community for wellness practitioners!
Facilitators
Sheri Bagwell, Meditation Coach
Meredith Calhoun, RYT200
Valerie Thompson, LPC
Snacks to be provided by blueroot co. – A locally sourced healthy/whole food start-up!
About Our Co-host
At Practice Works our vision is to provide wellness professionals with the ideal setting to effectively and successfully practice through flexibility, support and community. And in so doing, we provide their clients and other wellness seekers an accessible, integrated setting to receive support for healing and mindful living.
PitcHER Perfect- Pitch Practice & Java
Wed, May 8, 2019 | 8:45 a.m. – 10:15 a.m.
TruFund Financial Services | 1927 1st Avenue North, Suite 602 | Birmingham, Alabama
Having the right pitch is critically important. Whether you are on Shark Tank or asking your friends for seed funding it's important to hit the right points and make a compelling case for investors. During National Small Business week we wanted to create a space for startups to practice their pitch in front of a panel of experts. Participants will receive critical recommendations and take their pitch to the next level. For this event, we will be partnering with TruFund's Women In Business: An EmpowHERment training cohort. Come and join the community of startups and ecosystems builders and learn how to make the perfect pitch. Networking and coffee will be in full effect!
Related News
Filed Under: Downtown Birmingham, Family Friendly, Front Page, Get Involved, Small Business, Yaysayers

With summer just around the corner, kids will soon be out of school and insisting on getting out of the house. Luckily, Downtown Birmingham has an abundance of family-friendly activities that will keep your kiddos entertained and create lifelong memories.

We know taking kids out for extended periods can be challenging; that's why we have curated a list of experiences designed to be enjoyable within a manageable 3 – 4 hour timeframe. This way, both children and parents can make the most of their time without feeling overwhelmed or exhausted. These four experiences include lunch options and are tailored to different ages and personalities.

Filed Under: Downtown Birmingham, Front Page, Get Involved, REV Team, Yaysayers

Meet Michael Symes, the new City Center District Manager for the Business Improvement District (BID). As a long-time resident of Birmingham, Michael brings a wealth of knowledge and experience to the role, having been an active member of the community since graduating from the University of Alabama. In this article, we will explore Michael's journey and learn about his "accidental roots" in the city, as well as his passion for working with the Business Improvement District (BID) of the Magic City. Follow along  as we get to know the person behind the job title and uncover the unique perspective he brings to the role.

Filed Under: Front Page, Get Involved, Historic Preservation, Residential

President and CEO of REV Birmingham David Fleming writes about the importance of historic preservation and highlights the advocacy efforts that saved the French Quarter in New Orleans and the Forest Park neighborhood in Birmingham. The article concludes with a call to action, urging for new leaders and the implementation of various strategies to protect and celebrate Birmingham's historic buildings and places.