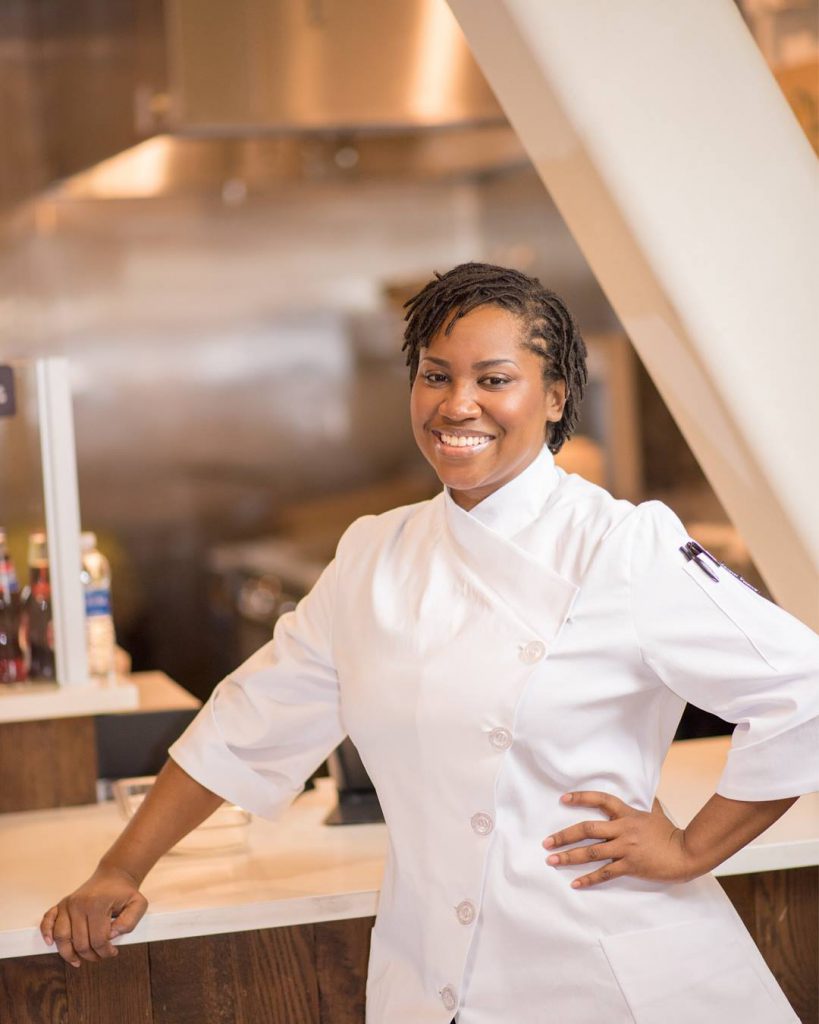 The Preservery, an elevated soul food restaurant owned and operated by CO.STARTERS graduate and 2017 Big Pitch Finalist Chef Andrea Foster, will soon open its doors in Five Points South. In the first half of 2018, The Preservery and all its delicious eats could be found in REVeal Kitchen, REV Birmingham's restaurant accelerator space in the Pizitz Food Hall.
REV Birmingham sat down with Chef Dre to discuss her lessons learned throughout her Big Pitch and REVeal Kitchen experiences as well as her plans for The Preservery's new location.
"After deciding that moving directly into a brick and mortar space might be too large of a first step, I decided to apply for the REVeal Kitchen space," said Foster.
Foster's residency at REVeal Kitchen began in February, and she recalls opening day as being the most memorable experience from the entire six months.
"It was a great feeling to finally be in business full time and to realize my dream," said Foster.
Even the best of experiences can have challenges, and Chef Dre's time at REVeal Kitchen was no exception. Every step was a learning experience that has helped her move toward her dream of putting The Preservery in a brick-and-mortar space.
Foster said setting operation hours and effectively managing payroll expenses and food waste are important to successfully run a restaurant. Foster will now apply this lesson to her business in its new location.
"[Before signing a lease] I made sure I had freedom to run my business in a way that makes sense for the market that I operate in," said Foster.
With challenges faced and lessons learned, Chef Dre still took with her many great memories from her time in REVeal Kitchen. The opportunity afforded her more face-to-face interactions with her customers, which helped to build her brand.
"It's important to me that my customers know that once I feed them they are now family," said Foster. "I pay close attention to our conversation or their order. The next time they visit I may remember their name or what their favorite dish on the menu is or I can ask for updates on the last topic we talked about. They love it and so do I."
The decision to open her brick and mortar location in Five Points South came after viewing the space, meeting with landlords and attending Five Points Alliance community meetings.
It just felt right," she said. "I knew that a community where the business owners and residents came together to collectively decide what was best for them as a whole was a perfect home for a restaurant that desires to use food to unite people from all walks of life around a common meal table."
Chef Dre's vision for The Preservery in its new Five Points South home is simple. She wants the restaurant to be part of a family of other restaurants in the area that encompass other diverse food concepts, to help the area flourish and to become a well-known staple in Birmingham.
As for Chef Dre's personal vision, she hopes to one day be featured on the Food Network showing off her skills as she whips up savory soul food for all her viewers to try.
The Preservery will open in its new location in early 2019. In addition to the well-loved entrées and desserts, like jambalaya fried rice and banana pudding, the menu will now include appetizers, soups and salads. The restaurant will also feature a bar centered around vintage and prohibition era cocktails and locally-sourced wines and beer.
Related News
Filed Under: Downtown Birmingham, Front Page, Uncategorized

We've talked about sports, but downtown has so much more to offer! Downtown Birmingham has so many experiences in store for you, which can also turn into life-long memories. And lucky for you, we've created a tool to make all that exploring so much easier!

Filed Under: Birmingham Food & Drink, Front Page, Get Involved

Ever host an event where you ordered way too much food and end up with more leftovers than you can even fathom? We've been there too – until we learned about Magic City Harvest! Magic City Harvest is an organization working towards ending food waste & hunger in the Magic City. They acquire perishable food from schools, wholesale food distributors, restaurants, caterers, churches, event venues and grocery stores to donate to 30 community partners on the frontlines feeding the city's hungry neighbors.

Filed Under: Downtown Birmingham, Front Page, Potential-Proving

We are approaching the finish line for the 20th Street Refresh, which calls for a celebration – and you're invited! The City Center Business Improvement District (BID), funded by downtown property owners, is partnering with the City of Birmingham and REV Birmingham to celebrate a refreshed Birmingham Green. Come join the party on May 20th from 4 to 8 p.m (with a special celebration happening at 6 p.m.)!