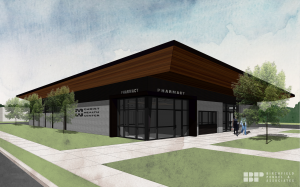 Get ready for some discouraging facts. 
Alabama is ranked 48 out of 50 in access to mental health care. One in four children between age 13-18 struggling with an anxiety disorder, and 67.9 percent of children between age 12-17 not receiving treatment after major depressive episodes. 
To see a psychiatrist, in many cases patients need a referral from a primary care doctor which takes time. The patient is then added to a waitlist that could be 6-8 months to see psychiatrist. 
Several primary schools have a rule that says if a child has suicidal thoughts or tendencies they are not allowed to return to school until they have visited a psychiatrist. Therefore, a child could be kept out of school for 6 months, removing the child from a potentially helpful environment with built in supervision.  
Residents in areas of poverty are close to three times more likely to experience mental illness. In communities like Woodlawn that lack accessible professional health care services, there is a higher prevalence of serious mental illness.  
Enter Christ Health.   
After starting a clinic in Woodlawn to provide quality health care, Christ Health CEO Dr. Robert Record quickly saw proof of an additional need: accessible mental health care in the neighborhood. In the past year, Christ Health Center diagnosed about 8,400 cases of mental illness after seeing over 15,000 patients. 
"We definitely see how these statistics resonate in the community in a real way and want to offer that treatment to our patients," Shannon Massey from Christ Health Center said. 
Since the doors of Christ Health Center opened at 5720 1st Avenue South Birmingham, AL, in 2009, the team has strived to be a blessing and service to the community. 
Doctors know that patients who have a physical illness are more likely to have or develop a mental illness – and a positive attitude speeds healing of physical ailments. Christ Health's next step in their mission is the April 2019 opening of their Behavioral Health Center.  
"We think this is going to be really crucial in helping our patients get healthy," Massey said.  
The new building will be staffed with two psychiatrists and four licensed counselors or social workers.  In addition to their professional mental health training, clinicians are undergoing training to amplify Christ Health's holistic approach.  
"We have been focusing on getting better before getting bigger, focusing on how we can continuously try to improve our services," Massey said.  
Having Christ Health's physical and mental health services under one umbrella will allow primary care providers, with patient's approval and understanding, to collaborate with mental health professionals on care. Christ Health says patients who receive integrated care will have better overall health outcomes. 
Christ Health also wanted the building itself to promote wellness in the Woodlawn community. Local architecture and interior design firm Birchfield Penuel & Associates designed the new center to foster a comforting and peaceful environment.   
"We spend our time here, we drive these streets, we eat at these restaurants, we didn't want to put something up that was going to be an eyesore," said Massey. 
Christ Health also worked with REV Birmingham, whose offices are right down the street, on the project. REV consulted on the design and placement of the building in its context to the neighborhood. They also discussed parking and security issues and developed strategies to achieve the safest solution.  
The 6,300 square foot building will include 10 exam rooms, two lobbies, therapy/meeting rooms and nurses' stations. 
Starting at the door, the facility is split resulting in separate lobbies for adults and children. Certain illnesses adults may be battling could prove unsettling or confusing for children to encounter at certain ages. 
Knowing the process can be scary for a child, the children's lobby was designed to put parents and their little ones at ease. The space will feature contributed pieces of art from talented local artists and large windows that usher in natural light. 
With guidance from Birchfield Penuel & Associates, the perfect compromise between sunlight and privacy was reached. A row of windows at the top of each exam room lets in maximum natural light while still maintaining privacy. 
The relocated and expanded pharmacy – the only full-service pharmacy in Woodlawn – will also be housed in the new building. Pharmacy patrons will also have easy access with designated parking and a separate entrance. 
The new facility will be adding at least 11 new jobs and $1.5 million in revenue to Woodlawn by its third year. 
Christ Health is proud to provide new services that will enhance growth and wellness in the community by giving the most supportive care possible. 
"We are excited to be a point of mental health access to our patients as well as opening our doors to the area of Woodlawn and Birmingham," Massey said. 
The team at Christ Health welcomes anyone interested in volunteering with them to visit their website. 
Related News
Filed Under: Developer, Downtown Birmingham, Filling Vacant Spaces, Front Page, Potential-Proving, Uncategorized

Have you been to Downtown Birmingham's newest development located on 25th Street? If not, you need to head down there ASAP and check it out! This new single story development is a product of a collaboration between David Baker Architects (DBA) and Locke General Contractors, led by DBA's very own Amanda Loper. It is intended to be a "collaborative commercial space in a catalyst development area of Birmingham." Both DBA and Locke General Contractors will be tenants of the space, along with June Coffee Roasters, Zephyr Barber, and Last Call Baking Cooperative!

Filed Under: Front Page, Small Business, Uncategorized, Woodlawn

We're so excited to welcome yet another new business to the Woodlawn Community! Thrive Wellness Lounge is a plant-based health and wellness store in the heart of Woodlawn owned by Tish Fletcher (a veteran Woodlawn Street Market vendor – whoop whoop)! You can swing by and check out Woodlawn's newest addition on Tuesday – Saturday from 11:00 a.m. – 5:30 p.m. It's always a good time to support a female, black-owned local business! We talked to Tish a little bit more about her journey to opening her very own brick and mortar store. Keep reading to learn more!

Filed Under: Developer, Downtown Birmingham, Front Page, Get Involved

The second community workshop held at Boutwell Auditorium on July 26th was another opportunity for the public to weigh in on the future of Linn Park. The project consultant team shared insight about the people engaged so far, the place-based assessment of Linn Park, and the preliminary park concept solutions. Keep reading to see the results and how you can play a part in this re-vision!