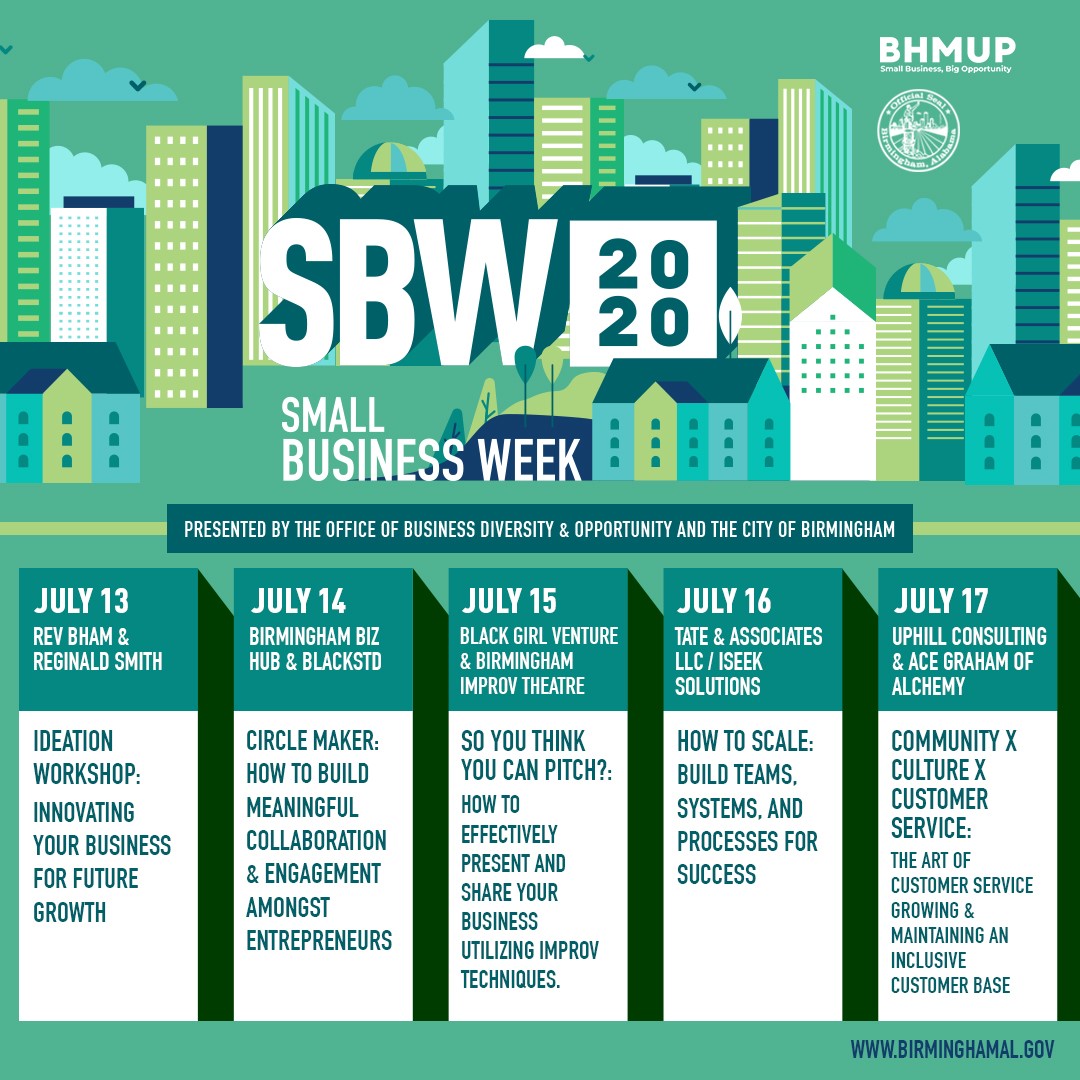 Small Business Week kicks off July 13 with a host of programs to celebrate the entrepreneurial spirit of Birmingham. 
Small Business Week, presented by The City of Birmingham and the Office of Business Diversity and Opportunity (OBDO,) consists of daily workshops with topics including how to build meaningful collaboration amongst entrepreneurs, innovating business for future growth and building an inclusive customer base. The programs seek to create a collaborative think tank in which ideas for scale and business growth can be exchanged. 
REV kicks things off Monday, July 13 at noon with the Innovating Your Business For Future Growth workshop hosted by Taylor Clark-Jacobson, Director of Business Recruitment and Growth and Reginald Smith of Sabre Finance. They will explore how innovation helps business owners get comfortable with change and ways to help you innovate your business for future growth. 
All events are free to the public, but space is limited. Attendees are encouraged to register for this virtual experience online at bw2020.eventbrite.com. 
National Small Business Week has been celebrated for 50 years. This year's events in Birmingham were slated to take place May 3- 9 but pivoted to focusing on sustaining small businesses hit hard by the COVID-19 pandemic through resources, programs, and loans. 
The goal of Small Business Week is to support small businesses where they are and where they desire to go. It also serves as an opportunity to encourage shopping and support of local small businesses through online purchases, curbside orders or patronizing businesses by following guidelines from the Centers for Disease Control and Prevention. Birmingham consumers are encouraged to shop local and share photos of products and goods on social media using #bhamstrong as a sign of support for the small business community. 
The vision of Mayor Randall Woodfin and the Department of Innovation and Economic Opportunity is that by 2021, Birmingham will be a hub of qualified and diverse talent and a premier destination for small businesses, startups and businesses looking to expand. 
Visit www.birminghamal.gov/sbw2020 for a full calendar of events.