Clean & Clear is Five Points South's bi-annual cleanup event in partnership with UAB's Into the Streets student program. From trash collection to clearing sidewalks and greenery efforts, last weekend was an opportunity to give back to Five Points South.
"We hope volunteering for Clean & Clear will become a regular event for residents, visitors and business owners," said James Little, District Manager for REV Birmingham. "There are always many projects and needs to tackle, and we hope to see our community get a lot done during these events."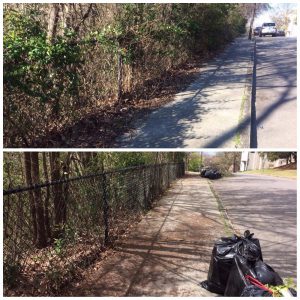 "It's a great opportunity for area residents, visitors and businesses to explore the area while giving some TLC," Little said. "Also, if anyone in the community notices a troublesome spot—litter, graffiti, etc.—we can add it to the list to address during the next Clean & Clear, later in 2017."
We hope beautification efforts like this will help create a higher quality of life by attracting visitors and residents, reducing crime and creating pride in the neighborhood where we live, work, play and worship.
Clean & Clear's Impact
38 Volunteers
114 Volunteer Hours
Cleaned & Cleared more than 1400 feet of sidewalks/alleys
Collected more than 100 bags (1500 pounds) of trash
Thank you to everyone who participated!
Related News
Filed Under: Uncategorized

Get to know our team better by learning more about what we do and hearing some fun facts about each team member. This week we are introducing Ben Wieseman, our Director of Catalytic Development!

Filed Under: Front Page, Uncategorized

Public parks play a vital role in how we experience the communities, neighborhoods, and cities that we live in. Inclusive, well-designed public spaces provide access to recreational activities, spurs local investment opportunities, and combats environmental impacts.