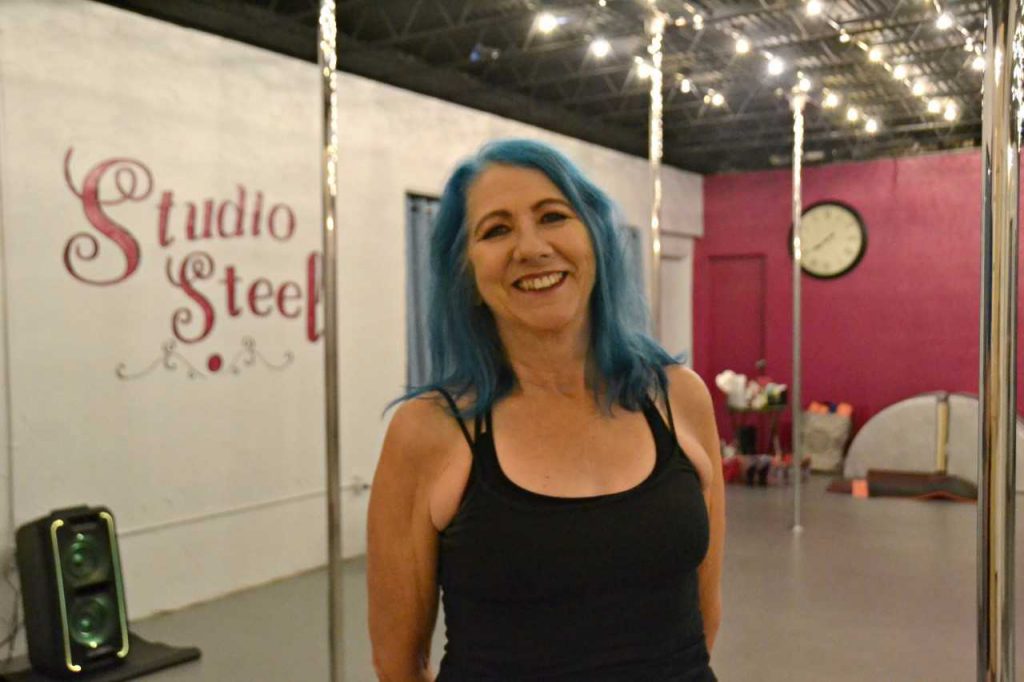 Elle Nelson, an alumna of Create Birmingham's CO.STARTERS program and REV's The Big Pitch presented by PNC, opened her pole fitness studio in Vestavia in July.
What's pole fitness, you ask? It's a workout that engages the entire body, Elle says, using low impact techniques that challenge both the body and brain. Elle's Studio Steel houses seven floor-to-ceiling steel poles where an instructor will lead you through a unique, aerial-arts-inspired workout.
Elle became interested in pole fitness three years ago, after attending a class in Austin on a dare. She immediately fell in love with the sport, and on a trip to Alabama not long after, she fell in love with our state. Elle's newfound interest coupled with her business-owning dreams eventually led her to Birmingham, a city she had heard offered the CO.STARTERS program. She moved a few days before classes started in spring 2016 and jumped right in.
Elle hopes to make Studio Steel Birmingham's destination for the aerial arts, and a place where everyone can come to get a workout that boosts not only their health but also their confidence.
"Pole is for everybody," said Elle, "Studio Steel is a welcoming space for all body types, ages, and gender affiliations."
Studio Steel has daily course offerings and a $10 "Taste of Pole" first-timers class, which is a 30-minute sample to provide a taste of what pole is all about. Each course is led by an instructor who works one-on-one with the students and strives to make sure everyone is having a good time.
"Anyone of any age or size can pole; it is an emerging sport without limitations," said Elle. "Challenge your preconceptions and try pole!"
Learn more about Studio Steel at studiosteelbham.com.
Related News
Filed Under: Filling Vacant Spaces, Front Page, Get Involved, Small Business

In less than a year after arriving in the United States, the Vyshyvanyuk family, who recently fled from Ukraine, is now launching NiEl' Bridal Atelier, a custom wedding dress and alterations business in Forest Park. Olena and Mykola Vyshyvanyuk, along with their three children – Viktoriia Vyshyvanyuk, Eva Vyshyvanyuk, and Loanna Vyshyvanyuk – made the courageous decision to leave Ukraine on November 7, 2022. This family's inspiring story serves as a testament to the boundless opportunities that small businesses can achieve in Birmingham.

Filed Under: Business-Proving, Downtown Birmingham, Filling Vacant Spaces, Front Page, Small Business

Are you a startup looking for a foot in the door? Did you know we have an accelerator program that helps founders begin their entrepreneurial journey right here in the Switch district? TechStars is a dynamic three-month program that empowers entrepreneurs in their quest to discover product-market fit, gain traction, and access both capital and global mentorship. Operating in more than 30 cities worldwide, Techstars added Birmingham as a host for their energy-focused cohort.

Filed Under: Front Page, Small Business, Woodlawn, Woodlawn Street Market

The Woodlawn Street Market is a platform for small businesses to showcase their talents and products. From handmade jewelry to locally sourced produce, you can find a wide variety of items that highlight the creativity and craftsmanship of the Birmingham community Among the talented individuals who have found a home in this vibrant marketplace is none other than Johnathan Westbrook, fondly known as Jon Jon, and the majority owner of the Broncho Food Truck. This new food truck made its debut back in August and will be back again for this week's market.