Many business owners fail to start simply because they lack funds. Now for CO.STARTERS alumni, three new financial opportunities exist to help overcome the challenge.
Thanks to the efforts of our friends at Create, as well as the support of community partners and organizations, program graduates will now have access to seed/startup capital in addition to traditional revolving loans. Follow the link to find out more.
This is just one more reason — on a list of many — to join the upcoming CO.STARTERS cohort. If you'd like to know more about the program first, just click HERE!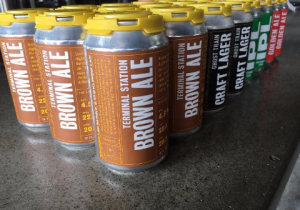 In case you missed it, Ghost Train Brewing Co. (who, might we mention, is a CO.STARTERS alum) is hitting restaurants and stores shelves in a new form. This time, these delicious brews will be packaged in cans, AND they'll be sporting cool new branding!
If that's not enough to get you excited, keep an eye on Ghost Train's 3rd Avenue South location – hammers will soon be swinging to make way for private event space and an additional bar. Visit the AL.com article to learn more, and visit Ghost Train's Facebook page for future updates.
Related News
Filed Under: Big Pitch, Front Page, Small Business, Uncategorized

If you've been following REV for a while, you probably remember The Big Pitch Competitions we used to hold back in the day. The Big Pitch presented by PNC was essentially our own little version of Shark Tank. And a lot of your favorite local businesses that participated in this competition now have active retail storefronts that you can go check out. Let's start with some of our finalists that are based in the City of Birmingham and see what they've been up to!

Filed Under: Front Page, Small Business, Uncategorized, Woodlawn

We're so excited to welcome yet another new business to the Woodlawn Community! Thrive Wellness Lounge is a plant-based health and wellness store in the heart of Woodlawn owned by Tish Fletcher (a veteran Woodlawn Street Market vendor – whoop whoop)! You can swing by and check out Woodlawn's newest addition on Tuesday – Saturday from 11:00 a.m. – 5:30 p.m. It's always a good time to support a female, black-owned local business! We talked to Tish a little bit more about her journey to opening her very own brick and mortar store. Keep reading to learn more!

Filed Under: Business-Proving, Front Page, Small Business, Uncategorized, Woodlawn, Woodlawn Street Market

It's our favorite time of the month again – Woodlawn Street Market time! Woohoo! This month's market will be held on August 13, 2022, from 5-9 p.m. and it's a night market – because we all know how bad that Alabama heat can get! Keep reading to check out the vendors that will be featured at this month's market.