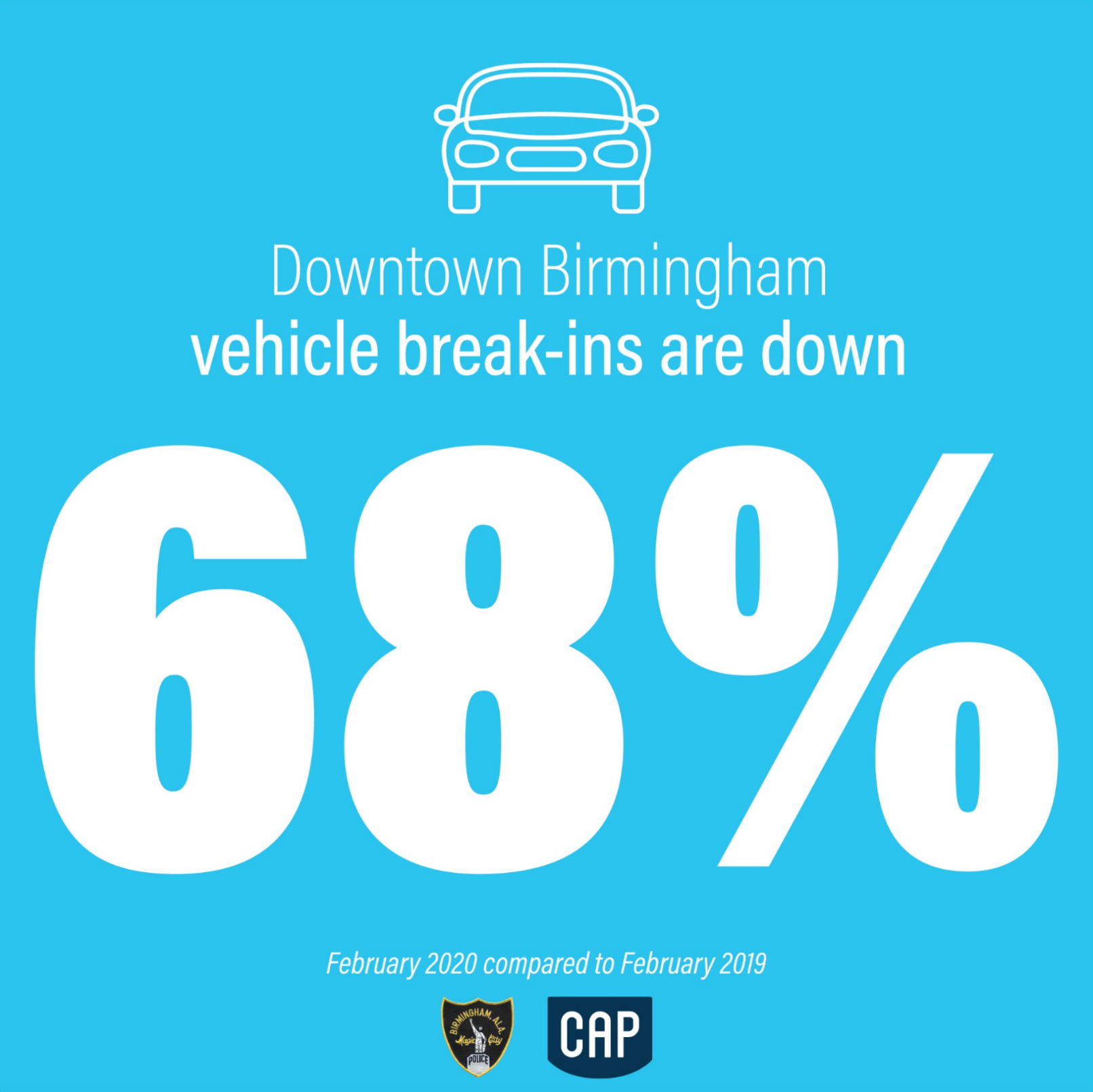 Downtown Birmingham is a little safer, thanks to a partnership between police and CAP ambassadors.  
According to the Birmingham Police Department, car break-ins have decreased by 68.8 percent in North Birmingham since this time last year.    
Cpt. Edmond Hanks of the North Precinct says increased communication between officers and CAP ambassadors is one of the reasons for the dramatic decrease.    
"Our partnership is fantastic," he said. "We're trying to strengthen that relationship with CAP downtown, they are a key part to what we're doing."   
REV City Center District Manager Rob Buddo, who works closely with the CAP team, says that because CAP focuses on a smaller area than the police, it makes them the ideal partner for patrolling officers.   
"More often than not, CAP is going to be the first group to identify or respond to an issue," he said.   
With improved communication channels and changes to how officers are scheduled in North Precinct, police officers can now respond to an incident within minutes of talking to an ambassador. Hanks said that the precinct also takes a proactive approach by monitoring maps and statistics every 24 hours in real-time to look for trends and crime hotspots and direct resources in that direction.    
Hanks said that between CAP's patrols on foot, Segways and bikes and an increased number of BPD officers in the City Center's Business Improvement District (BID), the perception of safety in the area is continuing to change.    
"I think the perception sometimes would be that downtown is unsafe, and nothing could be further from the truth," he said. "Downtown is incredibly safe whether you're going to Linn Park or Kelly Ingram Park or visiting the Civil Rights Institute. You'll probably see more officers than you've ever seen downtown. It's my hope that when spring comes, you'll see even more."   
A bicycle detail is also in the works, according to Hanks.    
"The goal is to improve the quality of life for the citizens, the business owners, and the visitors downtown and to keep everybody safe," Hanks said. 
REV Birmingham manages the CAP program for the City Center District Management Corporation, which is made up of property owners within Birmingham's City Center Business Improvement District (BID). Funding for CAP's clean and safe services is provided by property owners located inside the City Center BID who pay an assessment to CCDMC, the non-profit charged with impact.  
Related News
Filed Under: Front Page, Get Involved, Historic Preservation, Residential

President and CEO of REV Birmingham David Fleming writes about the importance of historic preservation and highlights the advocacy efforts that saved the French Quarter in New Orleans and the Forest Park neighborhood in Birmingham. The article concludes with a call to action, urging for new leaders and the implementation of various strategies to protect and celebrate Birmingham's historic buildings and places.

Filed Under: Filling Vacant Spaces, Front Page, Small Business, Woodlawn, Yaysayers

Lights, Camera, Action! The rebirth of the Woodlawn Theater is happening this weekend in the heart of Woodlawn. The theater is opening its doors to the public with two extraordinary opening events that are FREE to the public. The 1400 square foot venue has a wide range of amenities and even has a full-service bar. Because of the Mason Music Foundation, this venue is filling a much needed resource for local musicians to perform. Keep reading to discover how the theater came back to life and its impact on the community.

Filed Under: Downtown Birmingham, Events, Front Page, Yaysayers

Brian Allen, a talented cornerback, has made the remarkable transition from a small town in Texas to the vibrant city of Birmingham. Choosing Birmingham for his football career for two consecutive seasons, Brian's unwavering dedication and exceptional skills have made him a standout figure in the world of football. To dive deeper into Brian's journey and discover his genuine appreciation for the city, watch this video with the link below!