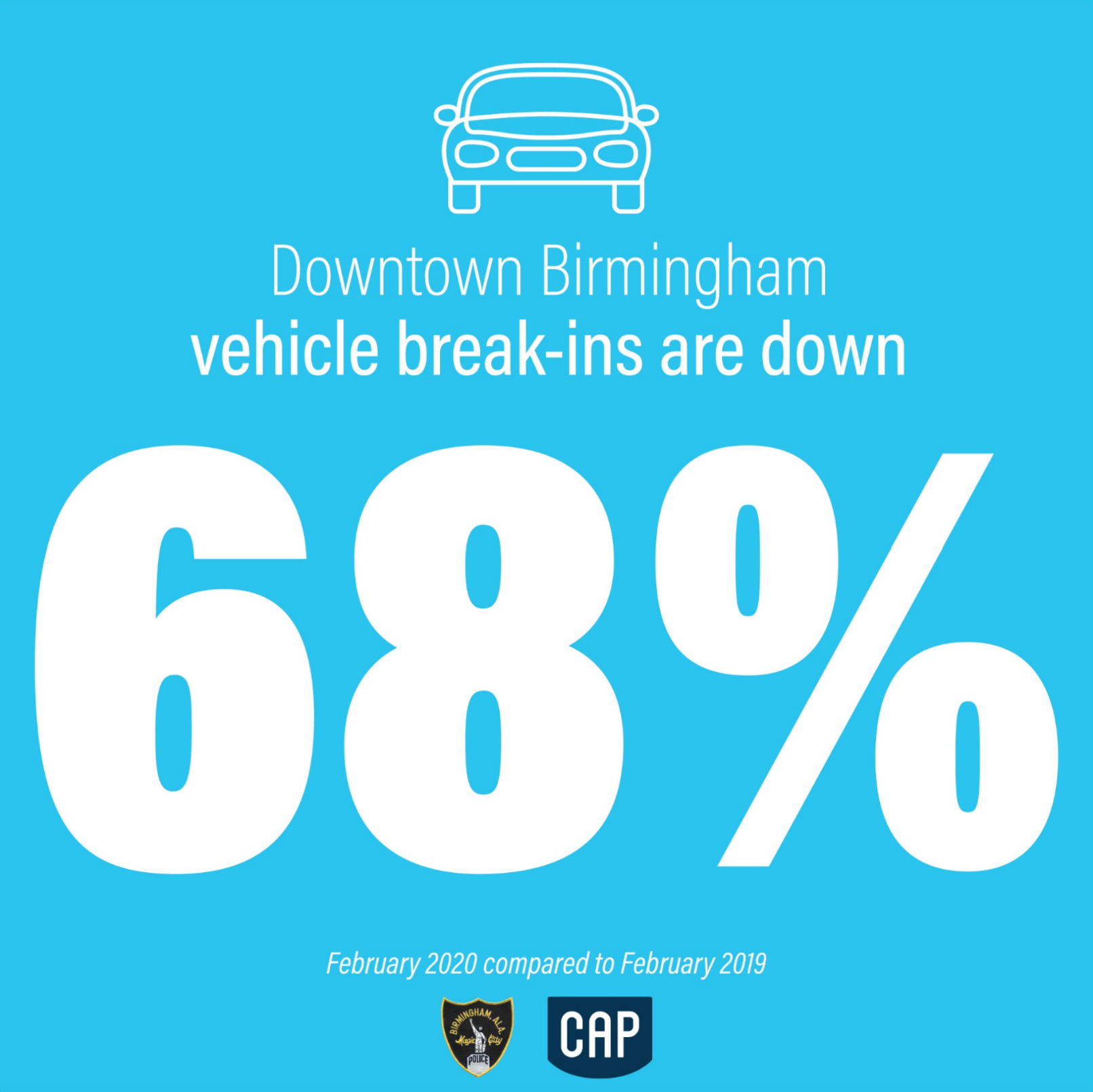 Downtown Birmingham is a little safer, thanks to a partnership between police and CAP ambassadors.  
According to the Birmingham Police Department, car break-ins have decreased by 68.8 percent in North Birmingham since this time last year.    
Cpt. Edmond Hanks of the North Precinct says increased communication between officers and CAP ambassadors is one of the reasons for the dramatic decrease.    
"Our partnership is fantastic," he said. "We're trying to strengthen that relationship with CAP downtown, they are a key part to what we're doing."   
REV City Center District Manager Rob Buddo, who works closely with the CAP team, says that because CAP focuses on a smaller area than the police, it makes them the ideal partner for patrolling officers.   
"More often than not, CAP is going to be the first group to identify or respond to an issue," he said.   
With improved communication channels and changes to how officers are scheduled in North Precinct, police officers can now respond to an incident within minutes of talking to an ambassador. Hanks said that the precinct also takes a proactive approach by monitoring maps and statistics every 24 hours in real-time to look for trends and crime hotspots and direct resources in that direction.    
Hanks said that between CAP's patrols on foot, Segways and bikes and an increased number of BPD officers in the City Center's Business Improvement District (BID), the perception of safety in the area is continuing to change.    
"I think the perception sometimes would be that downtown is unsafe, and nothing could be further from the truth," he said. "Downtown is incredibly safe whether you're going to Linn Park or Kelly Ingram Park or visiting the Civil Rights Institute. You'll probably see more officers than you've ever seen downtown. It's my hope that when spring comes, you'll see even more."   
A bicycle detail is also in the works, according to Hanks.    
"The goal is to improve the quality of life for the citizens, the business owners, and the visitors downtown and to keep everybody safe," Hanks said. 
REV Birmingham manages the CAP program for the City Center District Management Corporation, which is made up of property owners within Birmingham's City Center Business Improvement District (BID). Funding for CAP's clean and safe services is provided by property owners located inside the City Center BID who pay an assessment to CCDMC, the non-profit charged with impact.  
Related News
Filed Under: Downtown Birmingham, Front Page, Get Involved

We've made it to the third and final public workshop for Re-vision Linn Park! Partners behind Re-Vision Linn Park will wrap up the community engagement process at the last public workshop on Tuesday, October 4, at Boutwell Auditorium. Community members can participate and provide feedback on a park design concept in the noon or 5:30 p.m. session – so come out one last time and let your voice be heard!

Filed Under: Big Pitch, Front Page, Small Business, Uncategorized

If you've been following REV for a while, you probably remember The Big Pitch Competitions we used to hold back in the day. The Big Pitch presented by PNC was essentially our own little version of Shark Tank. And a lot of your favorite local businesses that participated in this competition now have active retail storefronts that you can go check out. Let's start with some of our finalists that are based in the City of Birmingham and see what they've been up to!

Filed Under: Developer, Downtown Birmingham, Filling Vacant Spaces, Front Page, Potential-Proving, Uncategorized

Have you been to Downtown Birmingham's newest development located on 25th Street? If not, you need to head down there ASAP and check it out! This new single story development is a product of a collaboration between David Baker Architects (DBA) and Locke General Contractors, led by DBA's very own Amanda Loper. It is intended to be a "collaborative commercial space in a catalyst development area of Birmingham." Both DBA and Locke General Contractors will be tenants of the space, along with June Coffee Roasters, Zephyr Barber, and Last Call Baking Cooperative!