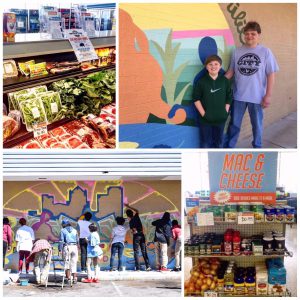 At REV, our strategies begin with community-led ideas. Then we feed those great ideas with good design – strategy design, physical design, graphic design, etc. We seek partners who share those values. One of the Urban Food Project's clients, City Meats & Vegetables, couldn't be more on point these days. Last fall, the UFP team helped owner Randy Newell conduct a focus group to better understand his customers' needs. That customer intel has formed the basis for strategies we've been implementing with Randy since.
Based on feedback from the community, Randy has committed to improving his store with support from UFP. He purchased a new cooler to offer more fresh meat and produce, making it easier for customers to put together fresh meals every day. He commissioned artist Andy Jordon and Woodlawn High School art students to create a mural and hired customer David Todd of Spartan Creative to create a new logo and signage. With support from UFP, he's launched monthly specials and in-store marketing to inspire meal planning and increase sales. He even sponsored an Easter Egg Dying Contest at April's Woodlawn Street Market! Check out the winner on his newly-launched Facebook Page. We are excited about all of the progress that's been made, and we can't wait to share more updates in the future.  Thank you, Randy and City Meats, for your partnership and commitment to serving the Woodlawn community!
Related News
Filed Under: Business-Proving, Downtown Birmingham, Events, Front Page, Small Business, Uncategorized

So So Spiffy, a local staging and interior design company, is proud to announce its new retail endeavor, Shopping Shindig. This once-a-month sale will take place at their new warehouse downtown and provide curated collections of designer furniture, art, and home accessories up to 60% off.