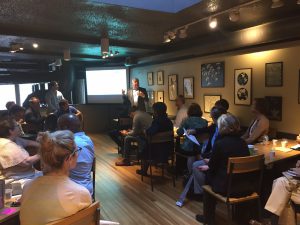 Five Points South needs you! Join the Five Points Alliance (formerly The Five Points South Merchant group) for a discussion about what Five Points priorities should be. Led by community volunteers, the group is developing a plan to revitalize the area in a manner that respects the area's 130 year history, cultural and urban character. REV Birmingham is supporting their efforts by facilitating their work, providing data and spreading the word.
Want to get involved? Here are the upcoming community involvement meetings dates!
March 29th – Civic Community Meeting
April 24th – Residential Community Meeting
May 17th – Business Community Meeting
June 13th – Faith Community Meeting
Purpose
To inform community members about the Five Points Alliance;
To bring the community up to date on where Five Points South stands from a market perspective; and
To engage community members in discussion about the master planning process, priorities and issues to be addressed in the plan over the next 18 months.
Your input is needed!
Give Five Points South some feedback via this survey and you'll be entered to win a #5ptsbham prize package. Click HERE for the survey! #5pts130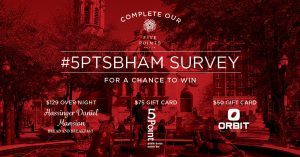 Related News
Filed Under: Downtown Birmingham, Filling Vacant Spaces, Front Page, Uncategorized

Whether you're planning on visiting Birmingham for The World Games 2022 in just a few weeks, or you're a local looking to explore your city and find some hidden gems, we've got an awesome list of public spaces for you to check out! We've put together a short list of some of the places we think you should check out, but we encourage you to get out and see what else you can find.

Filed Under: Downtown Birmingham, Front Page, Get Involved, Uncategorized, Yaysayers

We are almost one month out from The World Games 2022! This vibrant event will be transformative for Downtown, and we want you to be a part of it! If you consider yourself a lover of Downtown Birmingham and are the friend that always knows where to go or what to do Downtown, this might be the perfect fit for you. We invite you to become a Downtown Ambassador Volunteer and help Birmingham put its best foot forward!

Filed Under: Downtown Birmingham, Front Page, Potential-Proving, Uncategorized, Yaysayers

This Friday, May 20th, we will be having a (20th) Street Party (which you can read more about here) to celebrate the end of our Birmingham Green Refresh! While this certainly calls for a celebration, the party doesn't stop there. We will still be adding some finishing touches to the street after the (20th) Street Party. These additional touches will help make Birmingham's main street more vibrant, interactive, and efficient! Additions will include smart trash cans, free libraries, street performers, and more!