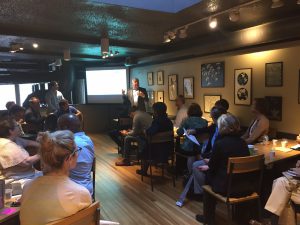 Five Points South needs you! Join the Five Points Alliance (formerly The Five Points South Merchant group) for a discussion about what Five Points priorities should be. Led by community volunteers, the group is developing a plan to revitalize the area in a manner that respects the area's 130 year history, cultural and urban character. REV Birmingham is supporting their efforts by facilitating their work, providing data and spreading the word.
Want to get involved? Here are the upcoming community involvement meetings dates!
March 29th – Civic Community Meeting
April 24th – Residential Community Meeting
May 17th – Business Community Meeting
June 13th – Faith Community Meeting
Purpose
To inform community members about the Five Points Alliance;
To bring the community up to date on where Five Points South stands from a market perspective; and
To engage community members in discussion about the master planning process, priorities and issues to be addressed in the plan over the next 18 months.
Your input is needed!
Give Five Points South some feedback via this survey and you'll be entered to win a #5ptsbham prize package. Click HERE for the survey! #5pts130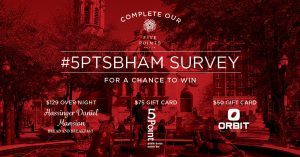 Related News
Filed Under: Front Page, Potential-Proving, Uncategorized, Yaysayers

TODAY IS THE DAY! REV Birmingham is celebrating 10 years of creating vibrant commercial districts in the City of Birmingham. Today is all about celebrating the past decade of success and all that we have accomplished. It all started ten years ago when two organizations – Operation New Birmingham and Main Street Birmingham – merged to create the one and only REV Birmingham. We have covered so much ground since then, from historic building rehab consulting all the way to our refresh of 20th Street North – and we are looking forward to seeing what the future holds for us here at REV.

Filed Under: Business-Proving, Front Page, Uncategorized, Yaysayers

REV is turning TEN! Our birthday is swiftly approaching (it's on November 15th in case you want to give us a happy birthday shoutout!) and we are spending the week leading up to it reflecting on the past 10 years. We have accomplished so much in just a decade, and we can't wait to see what the next 10 years have in store for us. But for now, let's take a trip down memory lane and look back at some of our favorite projects.

Filed Under: Downtown Birmingham, Front Page, Residential, Uncategorized

From Austin, Texas to New Orleans, Louisiana, learn why this family choose to move into the city center of Birmingham. We are interviewing people from all around the city and learning why they chose to move into Birmingham.