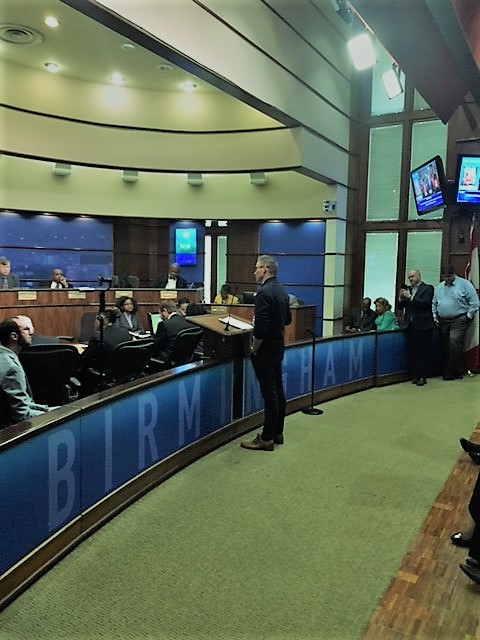 A policy designed to transform Birmingham's infrastructure by creating safer, more accessible streets is now officially in effect.The Birmingham Complete Streets Ordinance was approved unanimously by City Council on Tuesday, March 6.  
District 5 Councilor Darrell O'Quinn, who submitted the ordinance to the council, called the vote a "historic moment" for the City of Birmingham. O'Quinn also serves as chairman of the council's transportation and communication committee. 
Complete Streets is an initiative led by a growing number of organizations and individuals who seek to create a network throughout Birmingham of streets that are safe and comfortable for everyone – whether they are walking, riding the bus, using a wheelchair, cycling or driving. The city's new ordinance requires the City of Birmingham to consider all modes of transportation when roadway projects are being completed within the city. 
Complete Streets increase access and create connectivity critical to the revitalization of neighborhood commercial districts and enhance safety for everyone, but perhaps most noticeably for people who choose healthier and greener ways to travel like walking or biking. The measures for new roadway projects should ultimately encourage more people get out and about in a variety of ways, which gives Birmingham more vibrant districts.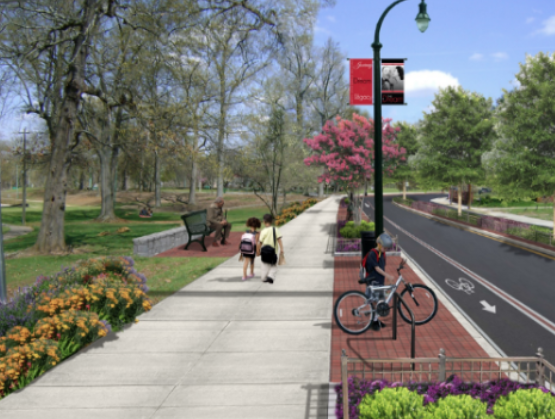 A Complete Streets depiction courtesy of the City of Birmingham
Among those in strong support of the ordinance was AARP State Director Candi Williams, who is an active member of the Complete Streets task force. AARP funded the grant that allowed a tactical urbanism project to take place in Woodlawn, modeling how a Complete Streets system would impact the area. 
Birmingham joins more than 1,000 other communities nationally in formally recognizing the importance of Complete Streets. Next, committees will be established to ensure policy implementation. Read a draft of the Complete Streets Ordinance here. 
Related News
Filed Under: Developer, Downtown Birmingham, Filling Vacant Spaces, Front Page, Potential-Proving, Uncategorized

Have you been to Downtown Birmingham's newest development located on 25th Street? If not, you need to head down there ASAP and check it out! This new single story development is a product of a collaboration between David Baker Architects (DBA) and Locke General Contractors, led by DBA's very own Amanda Loper. It is intended to be a "collaborative commercial space in a catalyst development area of Birmingham." Both DBA and Locke General Contractors will be tenants of the space, along with June Coffee Roasters, Zephyr Barber, and Last Call Baking Cooperative!

Filed Under: Downtown Birmingham, Events, Front Page, Uncategorized

One of Birmingham's many hidden treasures is the music scene downtown. The sheer volume of concert venues we have in downtown Birmingham is something most people aren't even aware of – but it really is remarkable! There is truly something for everyone, whether you're into the smaller, more intimate venues or the large-scale venues for those big name artists. Keep reading to check out some of the cool venues downtown Birmingham has to offer.

Filed Under: Downtown Birmingham, Front Page, Yaysayers

We are Live on 20th folks! Have you been downtown and checked out our busker performances yet? If not, you're seriously missing out! We have talent from all over The Magic City come out on Friday evenings from 4-6 p.m. and put on performances for the public to enjoy. Performances take place at the corner of 20th Street and 3rd Avenue North. Next time you're heading home after a long day at the office or on your way to dinner, stop by and check it out! Let's recap some of our awesome performers below!