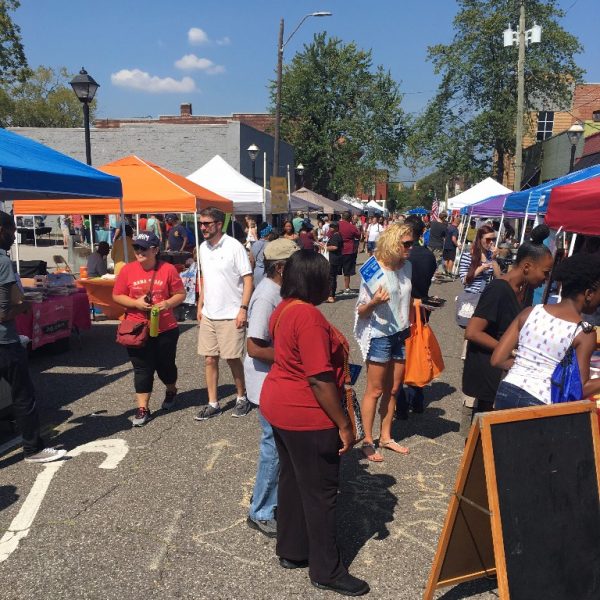 Woodlawn Business Association and REV Birmingham will host the final Woodlawn Street Market of 2017 on Saturday, Dec. 2 from 10 a.m. to 4 p.m. at 55th Place South in historic Woodlawn. More than 65 local businesses will participate.  Here's a peek at a few of the participants:
Flowers' Teapot Herbal Teas 
Serving up hand-crafted teas grown locally by Yolanda Flowers! The teas are medicinal and pleasurable. Flowers' Teapot also sells face and body scrubs as well as hair oils and rinses to promote scalp wellness and healthy hair growth.

Magic City T-shirt
Highlighting the cultural renaissance occurring right here in Birmingham is the goal of Magic City T-shirt. A portion of each sale goes to benefit a free basketball camp and tournament that the company hosts each summer.

Nelchie's Cajun
Nelchie's Cajun is a New Orleans inspired food trailer specializing in Cajun and Creole dishes. Good luck choosing just one dish from their menu of gumbo, jambalaya, red beans, shrimp and fries, chicken tenders and po boys!
Woodlawn Street Market continues to be a testing ground for entrepreneurs as they refine their concepts and grow their business. Woodlawn Street Market community partners include Communicating Vessels, Woodlawn United, Dream Center, Imperial Formal Wear and Woodlawn United Methodist Church. We expect to see Woodlawn Street Market continue to grow in 2018. Stay tuned for an announcement about the schedule for the new year!
Related News
Filed Under: Big Pitch, Front Page, Small Business, Uncategorized

If you've been following REV for a while, you probably remember The Big Pitch Competitions we used to hold back in the day. The Big Pitch presented by PNC was essentially our own little version of Shark Tank. And a lot of your favorite local businesses that participated in this competition now have active retail storefronts that you can go check out. Let's start with some of our finalists that are based in the City of Birmingham and see what they've been up to!

Filed Under: Front Page, Small Business, Uncategorized, Woodlawn

We're so excited to welcome yet another new business to the Woodlawn Community! Thrive Wellness Lounge is a plant-based health and wellness store in the heart of Woodlawn owned by Tish Fletcher (a veteran Woodlawn Street Market vendor – whoop whoop)! You can swing by and check out Woodlawn's newest addition on Tuesday – Saturday from 11:00 a.m. – 5:30 p.m. It's always a good time to support a female, black-owned local business! We talked to Tish a little bit more about her journey to opening her very own brick and mortar store. Keep reading to learn more!

Filed Under: Business-Proving, Front Page, Small Business, Uncategorized, Woodlawn, Woodlawn Street Market

It's our favorite time of the month again – Woodlawn Street Market time! Woohoo! This month's market will be held on August 13, 2022, from 5-9 p.m. and it's a night market – because we all know how bad that Alabama heat can get! Keep reading to check out the vendors that will be featured at this month's market.