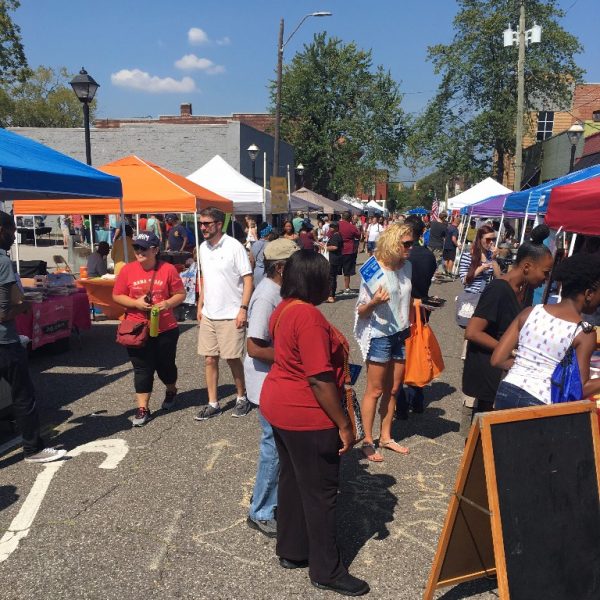 Woodlawn Business Association and REV Birmingham will host the final Woodlawn Street Market of 2017 on Saturday, Dec. 2 from 10 a.m. to 4 p.m. at 55th Place South in historic Woodlawn. More than 65 local businesses will participate.  Here's a peek at a few of the participants:
Flowers' Teapot Herbal Teas 
Serving up hand-crafted teas grown locally by Yolanda Flowers! The teas are medicinal and pleasurable. Flowers' Teapot also sells face and body scrubs as well as hair oils and rinses to promote scalp wellness and healthy hair growth.

Magic City T-shirt
Highlighting the cultural renaissance occurring right here in Birmingham is the goal of Magic City T-shirt. A portion of each sale goes to benefit a free basketball camp and tournament that the company hosts each summer.

Nelchie's Cajun
Nelchie's Cajun is a New Orleans inspired food trailer specializing in Cajun and Creole dishes. Good luck choosing just one dish from their menu of gumbo, jambalaya, red beans, shrimp and fries, chicken tenders and po boys!
Woodlawn Street Market continues to be a testing ground for entrepreneurs as they refine their concepts and grow their business. Woodlawn Street Market community partners include Communicating Vessels, Woodlawn United, Dream Center, Imperial Formal Wear and Woodlawn United Methodist Church. We expect to see Woodlawn Street Market continue to grow in 2018. Stay tuned for an announcement about the schedule for the new year!
Related News
Filed Under: Business-Proving, Downtown Birmingham, Events, Front Page, Small Business, Uncategorized

So So Spiffy, a local staging and interior design company, is proud to announce its new retail endeavor, Shopping Shindig. This once-a-month sale will take place at their new warehouse downtown and provide curated collections of designer furniture, art, and home accessories up to 60% off.