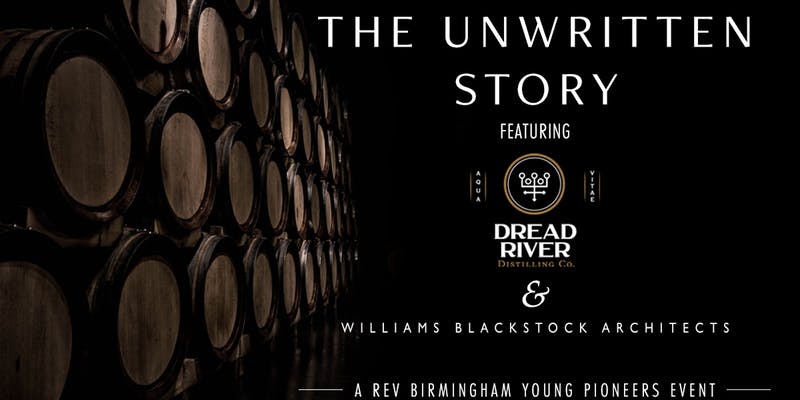 Birmingham keeps getting more and more cool stuff, and we are here for it. The state's largest distillery opened its doors in Lakeview in July, and an upcoming event Young Pioneers event called "The Unwritten Story" will share the story behind the business and its awesome space straight from the sources.
Join Young Pioneers in support of REV Birmingham for a panel discussion featuring Dread River Distilling Co. and Williams Blackstock Architects at the Dread River Tasting Room & Car on Thursday, October 3 at 6:30 p.m. The event is limited 55 attendees, so snag your free ticket today!
Insider tip: you can also take an optional tours, which include tastings, beginning at 5:30pm. Tour tickets are sold separately and may be purchased here.
Light food will be provided by Dread River and cocktails will be available for purchase. Valet will be on duty.
Panelists for the evening include:
Jeff Dugas – Founder, Dread River Distilling Company
John Cubelic – Founder, Dread River Distilling Company
Carl White – Head Distiller
Michelle Piechowicz – Brewmaster
Cyd Quick – Event Director
Stephen Suitts – Beverage Director
Lauren Gwaltney – Architect
Mary Gentle -Interior Designer
Dread River Distilling Co. is a new distillery in downtown Birmingham that draws on the centuries-old craft of creating, curating and distilling quality spirits. The distillery is attached to a 4,000-square-foot venue that functions as both a bar and event space, servicing cocktails, beer and food on a nightly basis. The name Dread River comes from a legend of a river flowing beneath downtown Birmingham. This myth encompasses the spirit behind Dread River, symbolizing the journey it took to bring this business to life, the challenges we all face in our own lives and the chance to celebrate our accomplishments with a toast.
Williams Blackstock Architects has been creating spaces that enhance the human experience – through innovation and creativity – for people to live, learn, work and play. The firm was founded in 1994 to provide inspiring, yet cost efficient design solutions through a collaborative relationship with our clients. More than two decades later, having designed millions of square feet, the firm remains committed to this simple but powerful approach. The principals of Williams Blackstock Architects manage a team of talented, driven professionals committed to the core value of our practice– to make our clients successful.
REV Birmingham creates vibrant commercial districts. In support of that mission, Young Pioneers of Birmingham helps create advocates for the city of Birmingham by connecting young professionals with the influences, risk-takers and business owners who have been and will be instrumental in our city's successes.
Related News
Filed Under: Downtown Birmingham, Family Friendly, Front Page, Get Involved, Small Business, Yaysayers

With summer just around the corner, kids will soon be out of school and insisting on getting out of the house. Luckily, Downtown Birmingham has an abundance of family-friendly activities that will keep your kiddos entertained and create lifelong memories.

We know taking kids out for extended periods can be challenging; that's why we have curated a list of experiences designed to be enjoyable within a manageable 3 – 4 hour timeframe. This way, both children and parents can make the most of their time without feeling overwhelmed or exhausted. These four experiences include lunch options and are tailored to different ages and personalities.

Filed Under: Downtown Birmingham, Front Page, Get Involved, REV Team, Yaysayers

Meet Michael Symes, the new City Center District Manager for the Business Improvement District (BID). As a long-time resident of Birmingham, Michael brings a wealth of knowledge and experience to the role, having been an active member of the community since graduating from the University of Alabama. In this article, we will explore Michael's journey and learn about his "accidental roots" in the city, as well as his passion for working with the Business Improvement District (BID) of the Magic City. Follow along  as we get to know the person behind the job title and uncover the unique perspective he brings to the role.

Filed Under: Filling Vacant Spaces, Front Page, Small Business, Woodlawn, Yaysayers

Lights, Camera, Action! The rebirth of the Woodlawn Theater is happening this weekend in the heart of Woodlawn. The theater is opening its doors to the public with two extraordinary opening events that are FREE to the public. The 1400 square foot venue has a wide range of amenities and even has a full-service bar. Because of the Mason Music Foundation, this venue is filling a much needed resource for local musicians to perform. Keep reading to discover how the theater came back to life and its impact on the community.