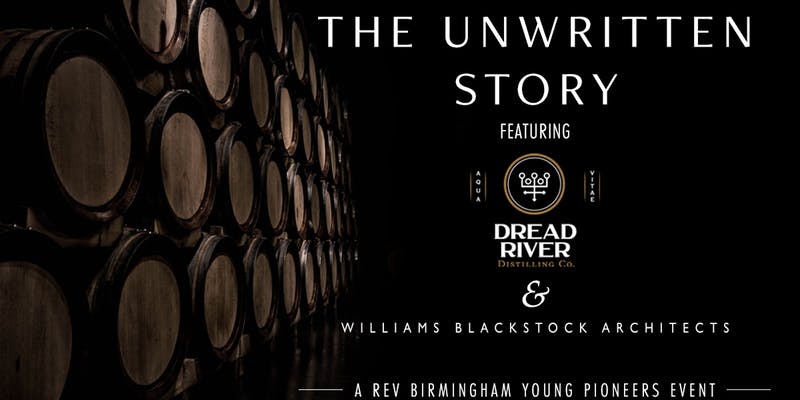 Birmingham keeps getting more and more cool stuff, and we are here for it. The state's largest distillery opened its doors in Lakeview in July, and an upcoming event Young Pioneers event called "The Unwritten Story" will share the story behind the business and its awesome space straight from the sources.
Join Young Pioneers in support of REV Birmingham for a panel discussion featuring Dread River Distilling Co. and Williams Blackstock Architects at the Dread River Tasting Room & Car on Thursday, October 3 at 6:30 p.m. The event is limited 55 attendees, so snag your free ticket today!
Insider tip: you can also take an optional tours, which include tastings, beginning at 5:30pm. Tour tickets are sold separately and may be purchased here.
Light food will be provided by Dread River and cocktails will be available for purchase. Valet will be on duty.
Panelists for the evening include:
Jeff Dugas – Founder, Dread River Distilling Company
John Cubelic – Founder, Dread River Distilling Company
Carl White – Head Distiller
Michelle Piechowicz – Brewmaster
Cyd Quick – Event Director
Stephen Suitts – Beverage Director
Lauren Gwaltney – Architect
Mary Gentle -Interior Designer
Dread River Distilling Co. is a new distillery in downtown Birmingham that draws on the centuries-old craft of creating, curating and distilling quality spirits. The distillery is attached to a 4,000-square-foot venue that functions as both a bar and event space, servicing cocktails, beer and food on a nightly basis. The name Dread River comes from a legend of a river flowing beneath downtown Birmingham. This myth encompasses the spirit behind Dread River, symbolizing the journey it took to bring this business to life, the challenges we all face in our own lives and the chance to celebrate our accomplishments with a toast.
Williams Blackstock Architects has been creating spaces that enhance the human experience – through innovation and creativity – for people to live, learn, work and play. The firm was founded in 1994 to provide inspiring, yet cost efficient design solutions through a collaborative relationship with our clients. More than two decades later, having designed millions of square feet, the firm remains committed to this simple but powerful approach. The principals of Williams Blackstock Architects manage a team of talented, driven professionals committed to the core value of our practice– to make our clients successful.
REV Birmingham creates vibrant commercial districts. In support of that mission, Young Pioneers of Birmingham helps create advocates for the city of Birmingham by connecting young professionals with the influences, risk-takers and business owners who have been and will be instrumental in our city's successes.
Related News
Filed Under: Downtown Birmingham, Front Page, Potential-Proving, Uncategorized, Yaysayers

This Friday, May 20th, we will be having a (20th) Street Party (which you can read more about here) to celebrate the end of our Birmingham Green Refresh! While this certainly calls for a celebration, the party doesn't stop there. We will still be adding some finishing touches to the street after the (20th) Street Party. These additional touches will help make Birmingham's main street more vibrant, interactive, and efficient! Additions will include smart trash cans, free libraries, street performers, and more!

Filed Under: Downtown Birmingham, Front Page, Uncategorized

We've talked about sports, but downtown has so much more to offer! Downtown Birmingham has so many experiences in store for you, which can also turn into life-long memories. And lucky for you, we've created a tool to make all that exploring so much easier!

Filed Under: Birmingham Food & Drink, Front Page, Get Involved

Ever host an event where you ordered way too much food and end up with more leftovers than you can even fathom? We've been there too – until we learned about Magic City Harvest! Magic City Harvest is an organization working towards ending food waste & hunger in the Magic City. They acquire perishable food from schools, wholesale food distributors, restaurants, caterers, churches, event venues and grocery stores to donate to 30 community partners on the frontlines feeding the city's hungry neighbors.