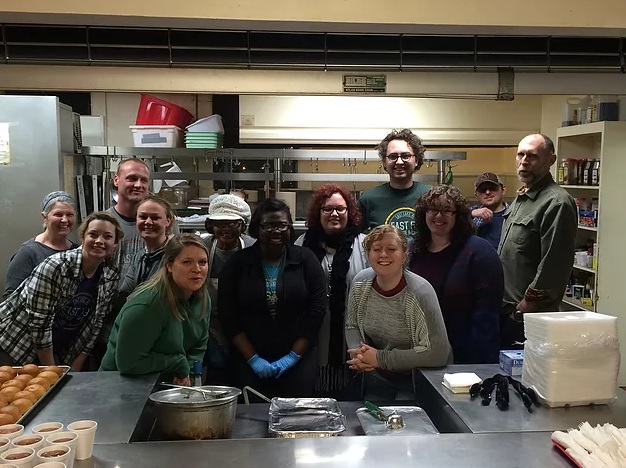 The East Lake District boasts many incredible assets, including Ruffner Mountain and East Lake Park. Husband-and-wife duo Amber and Stephen Tolbert have called East Lake home since 2012. They love their neighbors and community, and they knew this was the neighborhood where they should start their business. 
"Our family had always wanted to run a family restaurant. Our gatherings always ended up in the kitchen around the table or around the person cooking. We are a family that loves to eat and connect," said Amber. "My parents already had a vintage furniture business in Chelsea. When we saw that a combo space with two storefronts was available in East Lake, we jumped on it!" 
And so East 59 Vintage and Café was born – as a pop-up in conjunction with REVIVE 1.0, REV's first revitalization demonstration initiative in 2013. Now, East 59 is an anchor in an evolving part of East Lake, serving as a catalyst for creating vibrancy in the district. 
The East 59 crew went on to win REV's 2015 Big Pitch, Presented by PNC, for their elaborate concept to expand their business to include a highly-demanded event space. They secured a location across the street from their dual storefront, and everything was set to progress. 
But, no one is immune to roadblocks, and the Tolberts encountered many. Plumbing issues, leaky roofs, delayed construction – you name it, they faced it. Their project was pushed well over budget and timeframe. 
The Tolberts refused to take no for an answer and faced their challenges with daring problem solving. They took the project into their own hands and decided to turn the vintage store into an event space and to move the vintage furniture across the street to sell on weekends. Relentless in their pursuit of this business, it took a year and a half to complete the buildout and get permitted, but grand-opening day finally arrived in June 2015.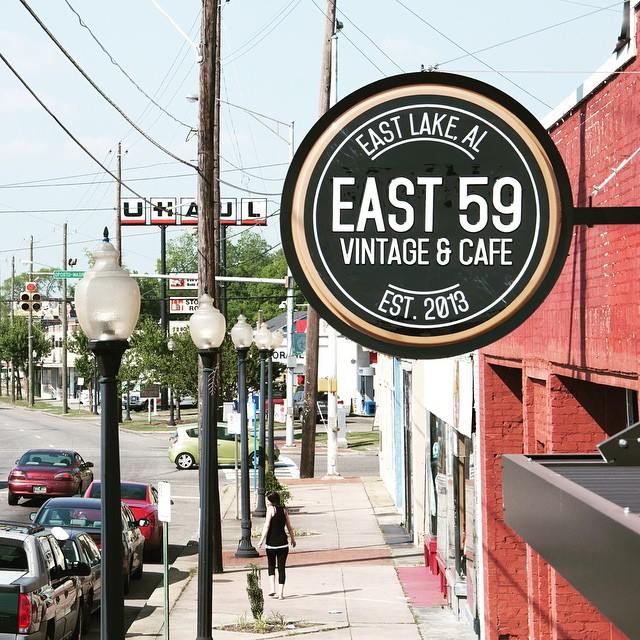 Almost three years later, East 59 has successfully hosted showers, dinners, private gatherings and even some weddings! East 59 has a very diverse base of loyal customers and dedicated team members, which has allowed the business to grow into a second café location inside the Hoover City Library and sparked the growth of their catering and event services. 
The Tolberts hope that their business venture has promoted growth in East Lake. 
"With a willing property manager and collective commercial vision, we believe that East Lake could really take off!" said Amber. "We are excited about all of the things that are happening in the city of Birmingham. We hope that these good things will trickle out to the urban neighborhoods that have so much history and character." 
Related News
Filed Under: Birmingham Food & Drink, Front Page, Get Involved

Ever host an event where you ordered way too much food and end up with more leftovers than you can even fathom? We've been there too – until we learned about Magic City Harvest! Magic City Harvest is an organization working towards ending food waste & hunger in the Magic City. They acquire perishable food from schools, wholesale food distributors, restaurants, caterers, churches, event venues and grocery stores to donate to 30 community partners on the frontlines feeding the city's hungry neighbors.

Filed Under: Downtown Birmingham, Front Page, Small Business, Uncategorized

If you're anything like us, Mother's Day has snuck up on you and now you're scrambling to find a gift before next weekend. Well lucky for you, we're here to save the day! We put together a gift guide for Mother's Day that will not only leave mom with a smile on her face, but it'll help you support local businesses right here in the Ham!

Filed Under: Birmingham Food & Drink, Downtown Birmingham, Front Page, Small Business, Uncategorized

The Alabama Peanut Company has been around for ages and is a Downtown Birmingham staple. Not only do they serve delicious peanuts (both boiled and roasted) but the storefront serves as a reminder of people's childhoods. Keep reading to learn more about the evolution on the country's oldest peanut merchant!