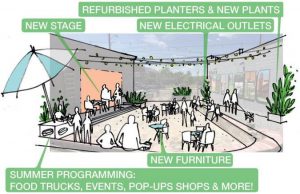 "It takes a place to make a community and a community to make a place." Fred Kent, Project for Public Spaces
In one weekend last year, a group of business and property owners, residents and volunteers from all over the metro area transformed a gravel parking lot into a community gathering space in the historic East Lake Commercial District. Now, we have an opportunity to take the East Lake Station Courtyard to the next level. The community wants to add elements that will allow the space to host events such as live music, dance, art shows, food trucks and even container retail. As a result, they've launched a crowdfunding campaign and applied for a matching grant to help raise funds to accomplish their goals! The East Lake Station Courtyard is one of only three projects in the State of Alabama to be selected by the National Main Street Center as a participant in its Placemaking Crowdfunding Challenge. For a very limited time, every donation made on the project website will be matched dollar for dollar up to $1500! We need your help to activate another amazing space in Birmingham! It's easy…just click here. Thank you for your support!
Related News
Filed Under: Downtown Birmingham, Filling Vacant Spaces, Front Page, Uncategorized

Whether you're planning on visiting Birmingham for The World Games 2022 in just a few weeks, or you're a local looking to explore your city and find some hidden gems, we've got an awesome list of public spaces for you to check out! We've put together a short list of some of the places we think you should check out, but we encourage you to get out and see what else you can find.

Filed Under: Downtown Birmingham, Front Page, Get Involved, Uncategorized, Yaysayers

We are almost one month out from The World Games 2022! This vibrant event will be transformative for Downtown, and we want you to be a part of it! If you consider yourself a lover of Downtown Birmingham and are the friend that always knows where to go or what to do Downtown, this might be the perfect fit for you. We invite you to become a Downtown Ambassador Volunteer and help Birmingham put its best foot forward!

Filed Under: Downtown Birmingham, Front Page, Potential-Proving, Uncategorized, Yaysayers

This Friday, May 20th, we will be having a (20th) Street Party (which you can read more about here) to celebrate the end of our Birmingham Green Refresh! While this certainly calls for a celebration, the party doesn't stop there. We will still be adding some finishing touches to the street after the (20th) Street Party. These additional touches will help make Birmingham's main street more vibrant, interactive, and efficient! Additions will include smart trash cans, free libraries, street performers, and more!