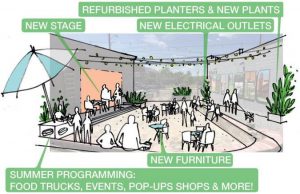 "It takes a place to make a community and a community to make a place." Fred Kent, Project for Public Spaces
In one weekend last year, a group of business and property owners, residents and volunteers from all over the metro area transformed a gravel parking lot into a community gathering space in the historic East Lake Commercial District. Now, we have an opportunity to take the East Lake Station Courtyard to the next level. The community wants to add elements that will allow the space to host events such as live music, dance, art shows, food trucks and even container retail. As a result, they've launched a crowdfunding campaign and applied for a matching grant to help raise funds to accomplish their goals! The East Lake Station Courtyard is one of only three projects in the State of Alabama to be selected by the National Main Street Center as a participant in its Placemaking Crowdfunding Challenge. For a very limited time, every donation made on the project website will be matched dollar for dollar up to $1500! We need your help to activate another amazing space in Birmingham! It's easy…just click here. Thank you for your support!
Related News
Filed Under: Business-Proving, Front Page, Small Business, Uncategorized, Woodlawn

Woodlawn is constantly growing and welcoming new businesses and the past few months have been no exception! There is a diverse mix of new openings in Woodlawn that caters to a variety of different audiences. Whether you're looking to take some dance classes or you're just in the mood to try out a new bar, here's a list of all the new places for you to checkout in Woodlawn!

Filed Under: Uncategorized

Get to know our team better by learning more about what we do and hearing some fun facts about each team member. This week we are introducing Ben Wieseman, our Director of Catalytic Development!