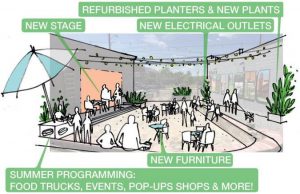 "It takes a place to make a community and a community to make a place." Fred Kent, Project for Public Spaces
In one weekend last year, a group of business and property owners, residents and volunteers from all over the metro area transformed a gravel parking lot into a community gathering space in the historic East Lake Commercial District. Now, we have an opportunity to take the East Lake Station Courtyard to the next level. The community wants to add elements that will allow the space to host events such as live music, dance, art shows, food trucks and even container retail. As a result, they've launched a crowdfunding campaign and applied for a matching grant to help raise funds to accomplish their goals! The East Lake Station Courtyard is one of only three projects in the State of Alabama to be selected by the National Main Street Center as a participant in its Placemaking Crowdfunding Challenge. For a very limited time, every donation made on the project website will be matched dollar for dollar up to $1500! We need your help to activate another amazing space in Birmingham! It's easy…just click here. Thank you for your support!
Related News
Filed Under: Events, Small Business, Uncategorized, Young Pioneers

Come join Young Pioneers of Birmingham, in support of REV Birmingham, for coffee and doughnuts with Bill Smith of Shipt and David Fleming of REV on Thursday, July 19 at 7:30 a.m. at Shipt HQ!

Filed Under: Uncategorized

In 2017, the Five Points Alliance set the foundation for the continued growth and development of the Five Points area.

Filed Under: Uncategorized

Steer clear of the actual construction, Zypsters, but feel free to check out your favorite green bikes from the station on the Green!