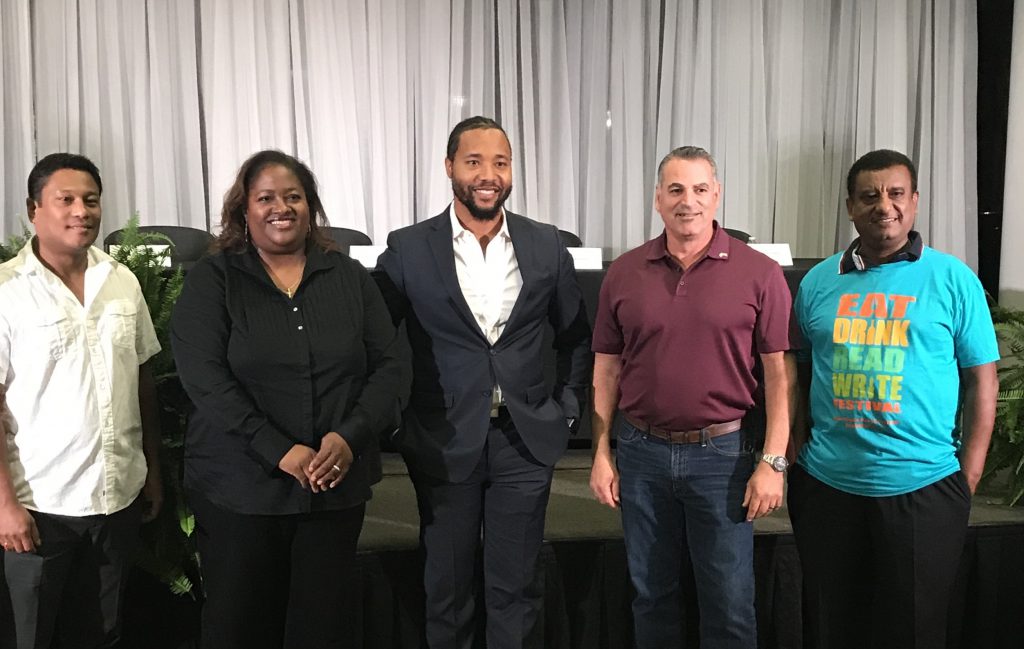 Birmingham's innovative food scene is once again drawing attention. The Birmingham Public Library kicked off its literary and culinary celebration Eat Drink Read Write on Sunday with a panel of rising chefs and restaurateurs, including several Urban Food Project clients and Kim Brock, owner of Bitty's Living Kitchen and the second tenant in REV's REVeal Kitchen. Other panelists included Abhi of MoMo and his namesake restaurant in the Summit, Eli of Eli's Jerusalem Grill, and Amanshwa of Ghion's Cultural Hall.
The event was an opportunity to showcase the growing cultural and culinary diversity in Birmingham's restaurant scene and the role The Pizitz Food Hall has played. REV's Director of Business Growth Deon Gordon moderated discussions that explored the local impact of each panelist while guests enjoyed off-menu samples. For more information on the remaining EDRW schedule, visit www.bplonline.org/eatdrinkfest.aspx.
Related News
Filed Under: Downtown Birmingham, Front Page, Potential-Proving, Uncategorized, Yaysayers

This Friday, May 20th, we will be having a (20th) Street Party (which you can read more about here) to celebrate the end of our Birmingham Green Refresh! While this certainly calls for a celebration, the party doesn't stop there. We will still be adding some finishing touches to the street after the (20th) Street Party. These additional touches will help make Birmingham's main street more vibrant, interactive, and efficient! Additions will include smart trash cans, free libraries, street performers, and more!

Filed Under: Downtown Birmingham, Front Page, Uncategorized

We've talked about sports, but downtown has so much more to offer! Downtown Birmingham has so many experiences in store for you, which can also turn into life-long memories. And lucky for you, we've created a tool to make all that exploring so much easier!

Filed Under: Downtown Birmingham, Front Page, Potential-Proving

We are approaching the finish line for the 20th Street Refresh, which calls for a celebration – and you're invited! The City Center Business Improvement District (BID), funded by downtown property owners, is partnering with the City of Birmingham and REV Birmingham to celebrate a refreshed Birmingham Green. Come join the party on May 20th from 4 to 8 p.m (with a special celebration happening at 6 p.m.)!