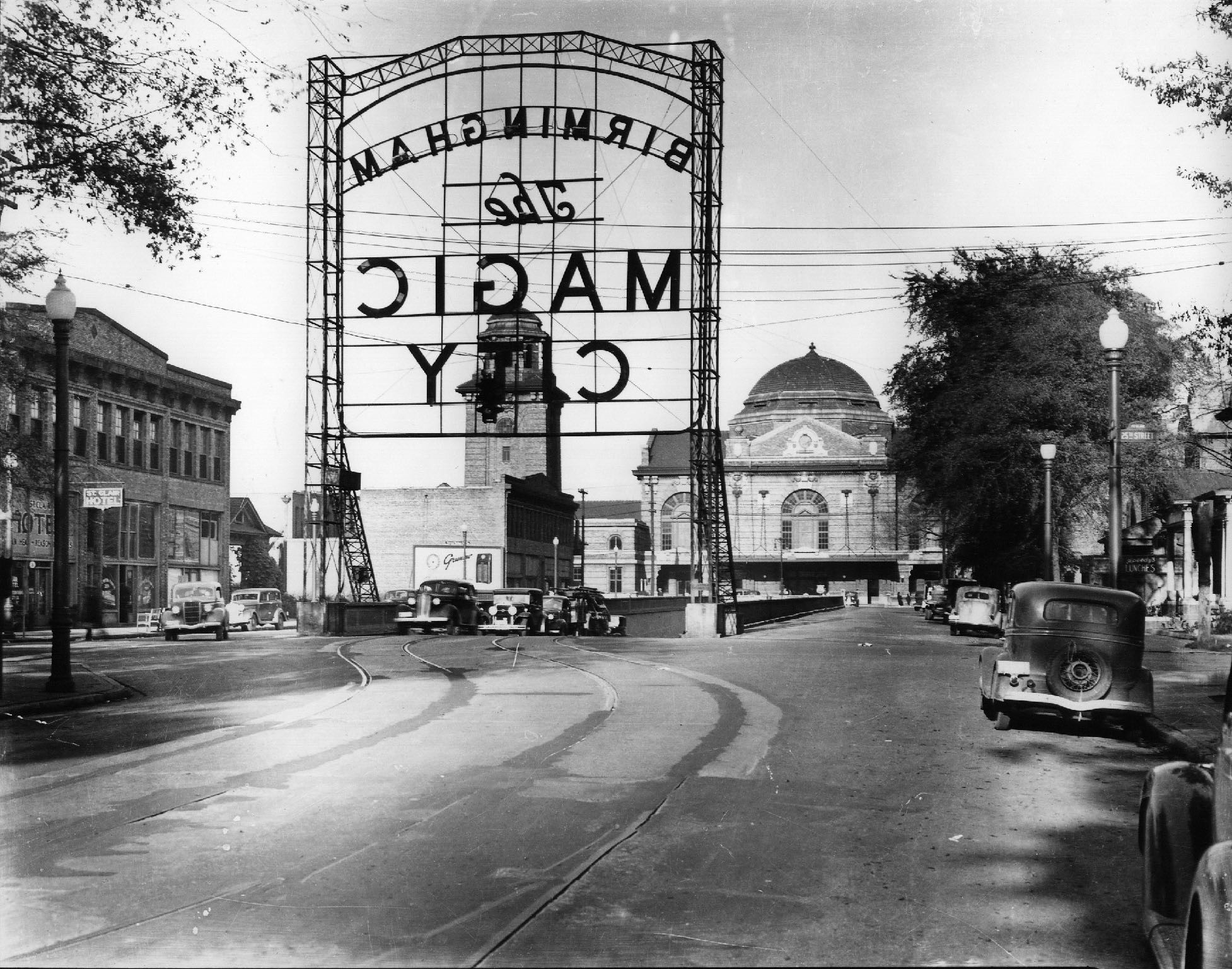 Imagine arriving downtown through a grand central station that takes your breath away with its Beaux-Arts architecture and authentic glamour. That's what it was like in 1909 through the 50s when Birmingham's terminal station featured a 7,600-square-foot central dome, intricate tile work, marble walls, chandeliers, and, of course, the iconic original Magic City sign outside. The terminal acted as a distinct and beautiful front door to Birmingham (that we still are talking about all these years later!).
The doors that welcome you downtown are different now. The terminal building was demolished in 1969 to make way for the Red Mountain Expressway to connect the surrounding suburbs to the city. Today, the exits from the expressway and other major interstates like I-20/59 and I-65 are the gateways that greet visitors and residents.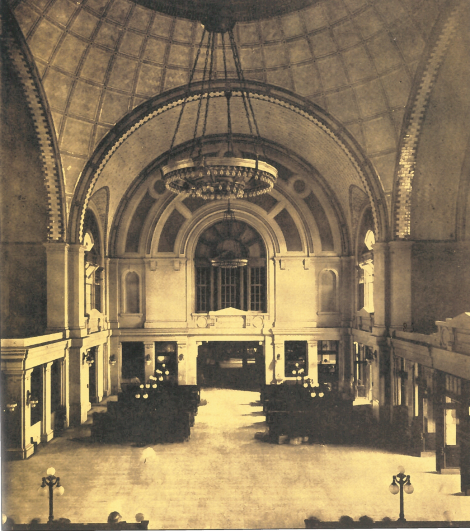 (Photo inside The Terminal Building in 1909)
When you arrive at a district's door, first impressions are formed and affect how you view the overall place. Once you're inside the district's core, the spaces and experiences and other people ultimately set your opinion of that place – how you'll talk about it and whether you'll be back.
The goal is to keep attracting more people and new businesses. Creating jobs, filling vacant spaces with retail and restaurants, and promoting "city living" will help grow Birmingham into a city of possibility where anyone can realize their dreams.
As we begin 2023, that "door and core" philosophy is influencing our thinking about how we carry out our mission to create vibrant commercial districts in Downtown and Woodlawn. We know that REV's team is good at creating high-quality places, preserving historic buildings and avenues, generating inclusive economic growth, casting the overall vision, and setting good first impressions of Birmingham. We are working toward a more inclusive and thriving city – and we've developed a three-year strategy that draws on our strengths to help our focus districts get there.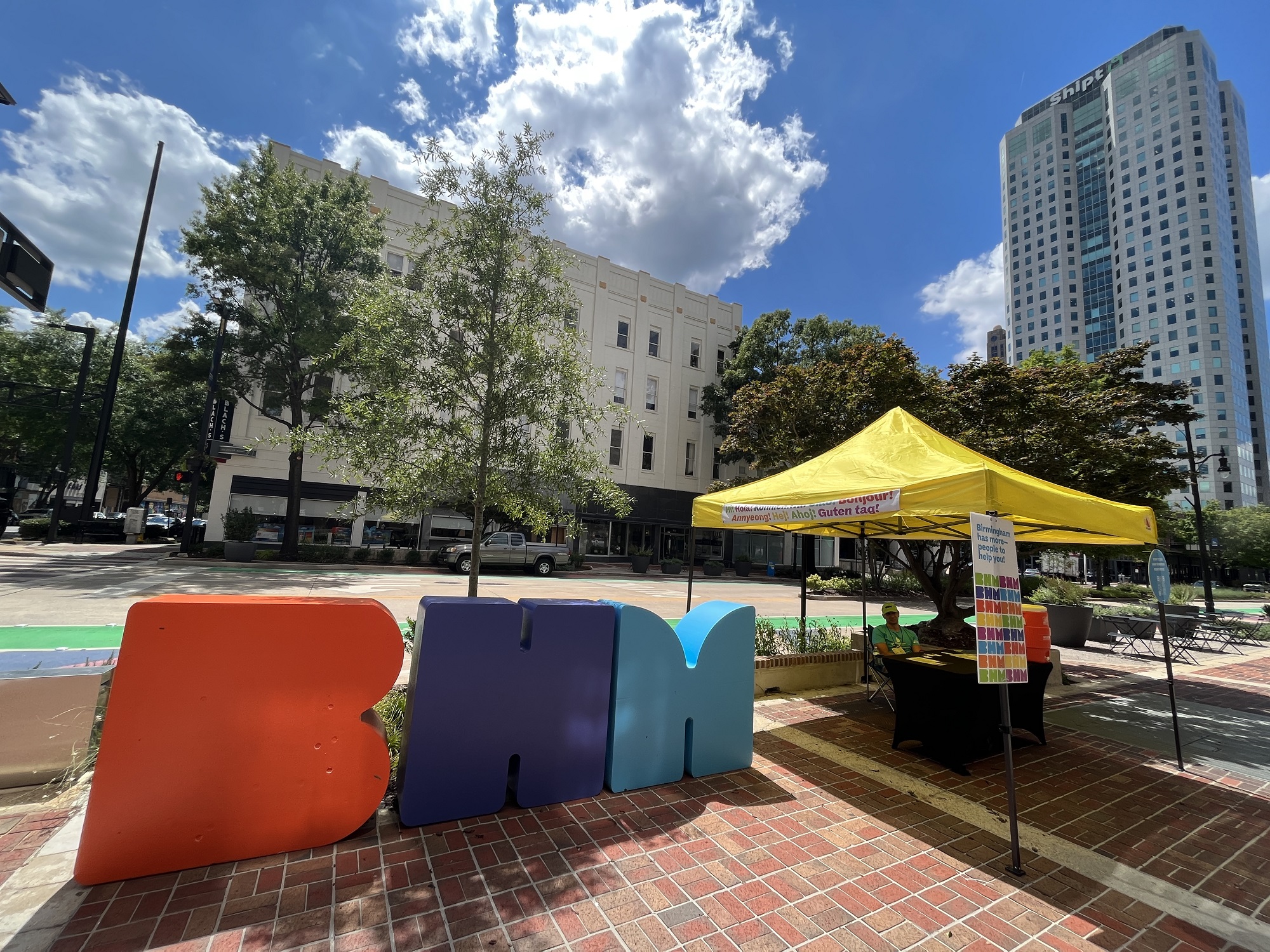 Our efforts have already helped bring new life into Birmingham. REV has helped developers, small and large raise more than 400 million dollars in development capital, fill more than 180 vacancies, and work with thousands of startups. And we aren't stopping anytime soon!
Birmingham continues to hit new strides every day, and it's only possible with the help of Yaysayers like you! Adding vibrancy, magic, and excitement to the city is easier when there are people who believe in our work and want a brighter Birmingham.
Our values and mission will remain the same in 2023. REV is executing our strategic plan to support small businesses, create great experiences, and strengthen historic places. We can't wait to see what's in store for The Magic City this year, and we hope you follow along with our journey.
Related News
Filed Under: Front Page, Get Involved, Historic Preservation, Residential

President and CEO of REV Birmingham David Fleming writes about the importance of historic preservation and highlights the advocacy efforts that saved the French Quarter in New Orleans and the Forest Park neighborhood in Birmingham. The article concludes with a call to action, urging for new leaders and the implementation of various strategies to protect and celebrate Birmingham's historic buildings and places.

Filed Under: Filling Vacant Spaces, Front Page, Small Business, Woodlawn, Yaysayers

Lights, Camera, Action! The rebirth of the Woodlawn Theater is happening this weekend in the heart of Woodlawn. The theater is opening its doors to the public with two extraordinary opening events that are FREE to the public. The 1400 square foot venue has a wide range of amenities and even has a full-service bar. Because of the Mason Music Foundation, this venue is filling a much needed resource for local musicians to perform. Keep reading to discover how the theater came back to life and its impact on the community.

Filed Under: Downtown Birmingham, Events, Front Page, Yaysayers

Brian Allen, a talented cornerback, has made the remarkable transition from a small town in Texas to the vibrant city of Birmingham. Choosing Birmingham for his football career for two consecutive seasons, Brian's unwavering dedication and exceptional skills have made him a standout figure in the world of football. To dive deeper into Brian's journey and discover his genuine appreciation for the city, watch this video with the link below!