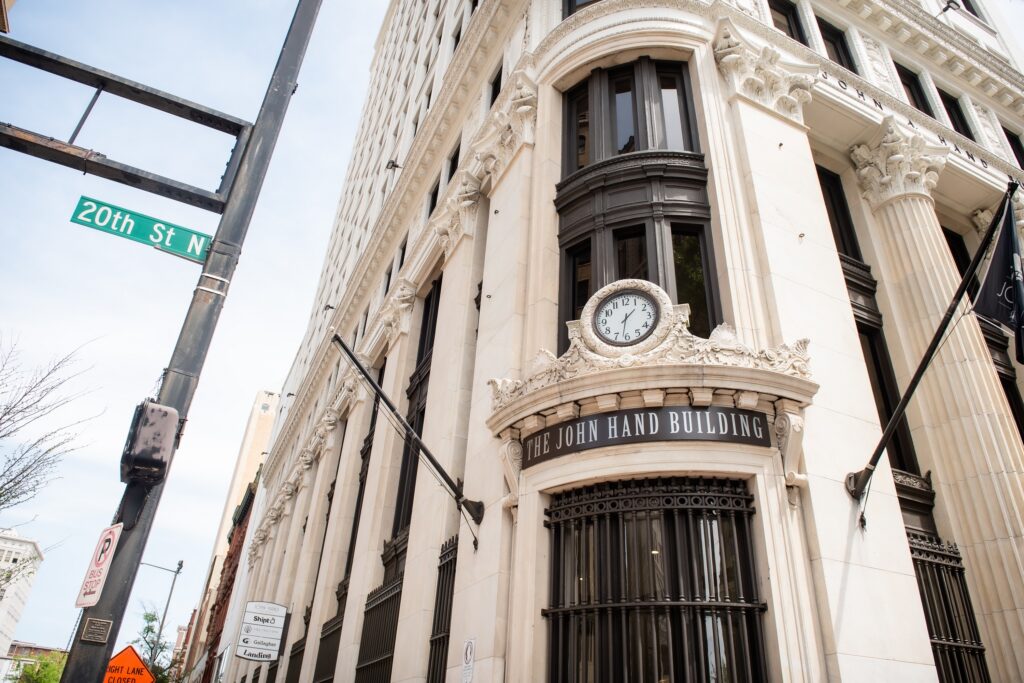 If you've scrolled through your social media feeds lately, you've probably seen Birminghamians celebrating a big win for Birmingham's economy and our growing tech scene.
Landing, an end-to-end platform from Shipt founder Bill Smith (who is also a REV investor—thanks, Bill!) that lets you book furnished apartments across the country, is relocating its headquarters from San Francisco to Birmingham. The tech company plans to create 816 new full-time jobs in Birmingham and is located on downtown's Heaviest Corner in the historic John Hand Building. You can read more about the announcement on AL.com.
If you know anything about REV, you know we're ecstatic about the good news and we're celebrating another sign of Birmingham's continued growth—#YayBham! And, of course, a big congratulations to Landing, plus all the Birmingham economic development organizations that have worked to make this happen.
This is obviously good for downtown… but why exactly? We asked REV President & CEO David Fleming for his take on what the move means for downtown Birmingham's place in the world now and in the future.
Why do you think tech companies are choosing downtown?
Downtown's walkability, amenities and authenticity of place are assets to attracting great talent. Innovative new companies need great talent, and downtown Birmingham attracts that level of talent.
What does Landing's move into the John Hand mean for Birmingham's downtown office market?
Landing represents Birmingham's attractiveness for innovation companies and innovation jobs. We are excited to showcase Landing as another reason Birmingham is the heart and soul of the region. Landing is an asset in our innovation economy that can show other companies the value of locating in downtown Birmingham. We look forward to the job growth in downtown that Landing will produce. Great talent is attracted to great places. Landing's commitment to downtown shows that downtown Birmingham is a great place.
What kind of positive ripple effects do you think this move will have downtown?
Job growth like this downtown supports more vibrancy. We will see that vibrancy in restaurants, storefronts and residential units. As top-level talent is attracted to these jobs, they will look nearby for places to live, eat and play.
How does Landing fit with REV Birmingham's vision for the future of downtown?
We believe that downtown Birmingham is a historic place with an eye to the future. Landing's location downtown builds off the great history in the John Hand Building and looks to the future of the tech industry.
We know you're a history lover; tell us about the history of the John Hand Building!
The John Hand Building was born out of Birmingham's startup culture in the first 40 to 50 years of its history. It was part of a skyscraper collection on 20th Street North that started in 1902 and ended in 1912; it would eventually become known as the "Heaviest Corner on Earth." When John Hand was finished it was the tallest building in Alabama for about a year, until the completion of the building we know today as City Federal. John Hand has always been home to important Birmingham businesses and commerce. Recent examples include Shipt and Cadence Bank.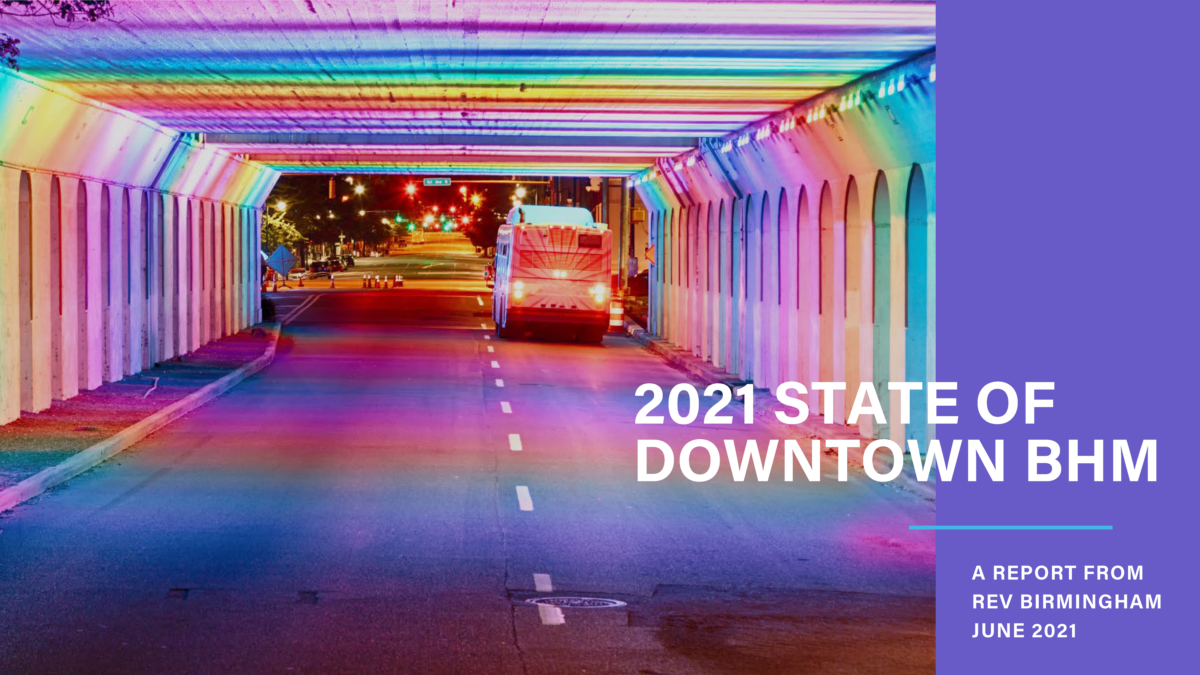 2021 State of Downtown BHM Report
There's a lot going on Downtown BHM! REV has gathered qualitative and quantitative data from downtown Birmingham stakeholders in a June 2021 State of Downtown BHM report. See where downtown is right now as well as what we see in downtown's future (and what we have to do to get there!).
Related News
Filed Under: Front Page, Get Involved, Historic Preservation, Residential

President and CEO of REV Birmingham David Fleming writes about the importance of historic preservation and highlights the advocacy efforts that saved the French Quarter in New Orleans and the Forest Park neighborhood in Birmingham. The article concludes with a call to action, urging for new leaders and the implementation of various strategies to protect and celebrate Birmingham's historic buildings and places.

Filed Under: Filling Vacant Spaces, Front Page, Small Business, Woodlawn, Yaysayers

Lights, Camera, Action! The rebirth of the Woodlawn Theater is happening this weekend in the heart of Woodlawn. The theater is opening its doors to the public with two extraordinary opening events that are FREE to the public. The 1400 square foot venue has a wide range of amenities and even has a full-service bar. Because of the Mason Music Foundation, this venue is filling a much needed resource for local musicians to perform. Keep reading to discover how the theater came back to life and its impact on the community.

Filed Under: Downtown Birmingham, Events, Front Page, Yaysayers

Brian Allen, a talented cornerback, has made the remarkable transition from a small town in Texas to the vibrant city of Birmingham. Choosing Birmingham for his football career for two consecutive seasons, Brian's unwavering dedication and exceptional skills have made him a standout figure in the world of football. To dive deeper into Brian's journey and discover his genuine appreciation for the city, watch this video with the link below!