From summer to fall, the Five Points Alliance and REV Birmingham have coordinated multiple pop-up opportunities that have helped prove the Five Points South community's desire for more outside-the-box additions to their historic neighborhood.
Reactivating green spaces

The first of these pop-up events was a summer Pop-up Dog Park & Community Movie Night at Brother Bryan Park.
The inspiration originated from a 2017 community-planning meeting, in which plans were proposed for revitalizing the area's green spaces. The committee sent a survey to more than 1,000 residents to receive feedback on park redevelopment. One of the most frequent responses from the survey was that Brother Bryan Park should be repurposed into a community event space. The pop-up dog park helped demonstrate the park's potential to the neighborhood.
"For a first-time event, the pop-up dog park went very well. A lot of vendors and community members showed up in the earlier part of the day to enjoy the dog park," said Stephen Foster, Five Points South Neighborhood Association vice president. "Unfortunately the movie got rained out, but we still got experience with logistics and planning for it."
According to Foster, five neighborhood associations within three city council districts are all within a 20-minute walking distance from Brother Bryan Park. People are generally willing to walk up to 20 minutes to access a green space or dog park, and that was the basis of centralization for engaging Brother Bryan Park as the catalyst for reactivating green spaces in the area.
Increasing retail opportunities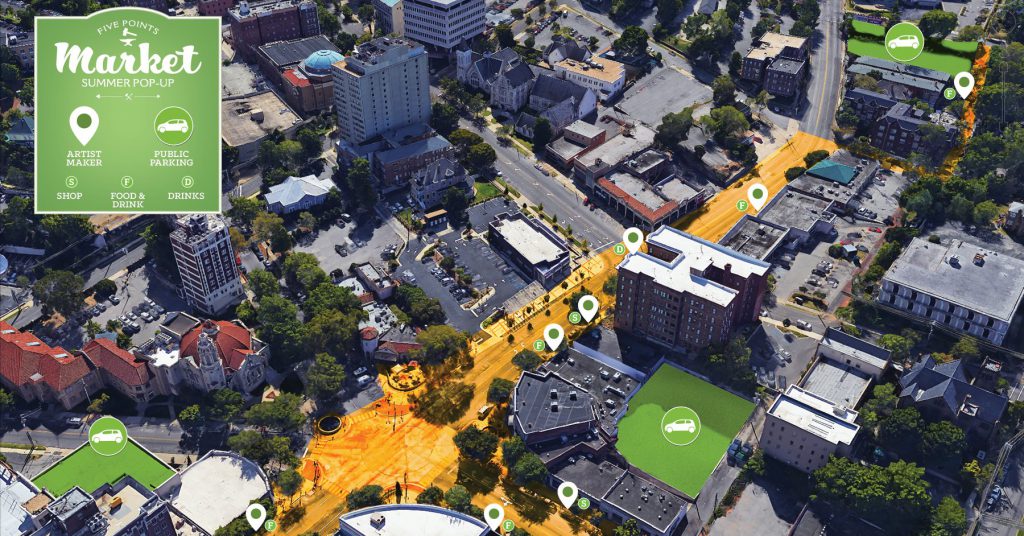 Much like the Pop-up Dog Park & Movie Night, the idea for the Five Points Market series was brought to life in response to community survey results. These responses highlighted the need for more retail options in Five Points South to complement the community's thriving food scene. The market highlights area makers, art and gifts, while also demonstrating the viability of Five Points South as a market for expanded retail.
"The Five Points Market is very important because it helps show the consumer there is actually an opportunity for a retail footprint in Five Points South," said Ace Graham, owner of Alchemy 213. "It gives people more places to hang out as opposed to going out of their way into other parts of Birmingham or other cities for a shopping experience; Five Points and nearby residents can walk or make a short drive and not have to spend extra time or money commuting to retail."
Five Points South's potential for growth was highlighted last year during the Birmingham Restaurant Week Preview Party, hosted at Pickwick Place. Up until this point, Pickwick Place had been largely vacant for a number of years. The success of the Preview Party and KH Management's rebrand of the property led to a flourishing Pickwick Place with new tenants, which has also contributed to a significantly decreased vacancy rate in Five Points South.
—
The Five Points Alliance's vision is that Five Points South is a visitor and culinary destination that offers vibrant retail and entertainment experiences in a walkable neighborhood environment. Pop-up opportunities like the ones organized in 2018 enrich the neighborhood's vibrancy and allow stakeholders and visitors to experience a taste of what Five Points' future could hold!
Related News
Filed Under: Business-Proving, Front Page

All too often we catch ourselves reading the news wanting to help, but not knowing where to begin. That's why Maria Underwood created Fundrage, a social impact platform that connects users to nonprofits they can support based on the exact news article that they're reading. Keep reading to find out more about how this app is playing a huge role in creating positive change in real time!

Filed Under: Downtown Birmingham, Front Page, Potential-Proving, Uncategorized, Yaysayers

This Friday, May 20th, we will be having a (20th) Street Party (which you can read more about here) to celebrate the end of our Birmingham Green Refresh! While this certainly calls for a celebration, the party doesn't stop there. We will still be adding some finishing touches to the street after the (20th) Street Party. These additional touches will help make Birmingham's main street more vibrant, interactive, and efficient! Additions will include smart trash cans, free libraries, street performers, and more!

Filed Under: Downtown Birmingham, Front Page, Potential-Proving

We are approaching the finish line for the 20th Street Refresh, which calls for a celebration – and you're invited! The City Center Business Improvement District (BID), funded by downtown property owners, is partnering with the City of Birmingham and REV Birmingham to celebrate a refreshed Birmingham Green. Come join the party on May 20th from 4 to 8 p.m (with a special celebration happening at 6 p.m.)!