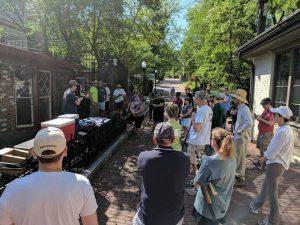 On the heels of May's successful clean up, Five Points South is gearing up for its July Clean & Clear event. Clean & Clear Five Points South is a quarterly cleanup event in partnership with area stakeholders. From trash collection to clearing sidewalks and planting flowers, this is your day to give back to Five Points South.
"Volunteering for Clean & Clear we hope will become a staple for residents, visitors and business owners," Steve Alexander said. "There are always many projects and needs to tackle and we hope to see how much our community can get done during these events."
"It's a great opportunity for area residents, visitors and businesses to explore the area while giving some TLC," Alexander said. "Also, if anyone in the community notices a troublesome spot—litter, graffiti, etc.—we can add it to the list to address during the next during Clean & Clear."
Last quarter we had Clean & Clear on March 27th and May 20th. In total, 80 volunteers joined us for 240 hours of volunteer work. We cleaned and cleared 1,928 feet of sidewalk and alley, collecting a whopping 2,580 pounds of trash and debris! We hope that beautification efforts like this will help create a higher quality of life by attracting visitors and residents, reducing crime, encouraging new businesses, and creating pride in Five Points South. Thank you so much to everyone who participated!
So are YOU ready to participate in the July Clean & Clear?? Anyone can! From church members to area residents and merchants, we'll find a place and tasks for everyone. Sign up as an individual or gather a team by clicking HERE!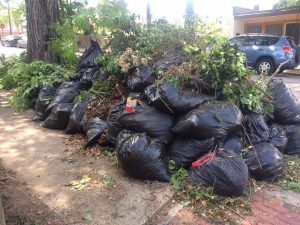 Impact from May 20th
Related News
Filed Under: Big Pitch, Front Page, Small Business, Uncategorized

If you've been following REV for a while, you probably remember The Big Pitch Competitions we used to hold back in the day. The Big Pitch presented by PNC was essentially our own little version of Shark Tank. And a lot of your favorite local businesses that participated in this competition now have active retail storefronts that you can go check out. Let's start with some of our finalists that are based in the City of Birmingham and see what they've been up to!

Filed Under: Developer, Downtown Birmingham, Filling Vacant Spaces, Front Page, Potential-Proving, Uncategorized

Have you been to Downtown Birmingham's newest development located on 25th Street? If not, you need to head down there ASAP and check it out! This new single story development is a product of a collaboration between David Baker Architects (DBA) and Locke General Contractors, led by DBA's very own Amanda Loper. It is intended to be a "collaborative commercial space in a catalyst development area of Birmingham." Both DBA and Locke General Contractors will be tenants of the space, along with June Coffee Roasters, Zephyr Barber, and Last Call Baking Cooperative!

Filed Under: Downtown Birmingham, Events, Front Page, Uncategorized

One of Birmingham's many hidden treasures is the music scene downtown. The sheer volume of concert venues we have in downtown Birmingham is something most people aren't even aware of – but it really is remarkable! There is truly something for everyone, whether you're into the smaller, more intimate venues or the large-scale venues for those big name artists. Keep reading to check out some of the cool venues downtown Birmingham has to offer.