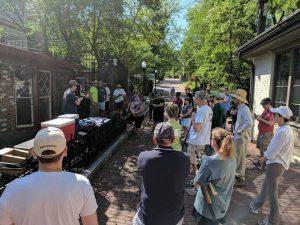 On the heels of May's successful clean up, Five Points South is gearing up for its July Clean & Clear event. Clean & Clear Five Points South is a quarterly cleanup event in partnership with area stakeholders. From trash collection to clearing sidewalks and planting flowers, this is your day to give back to Five Points South.
"Volunteering for Clean & Clear we hope will become a staple for residents, visitors and business owners," Steve Alexander said. "There are always many projects and needs to tackle and we hope to see how much our community can get done during these events."
"It's a great opportunity for area residents, visitors and businesses to explore the area while giving some TLC," Alexander said. "Also, if anyone in the community notices a troublesome spot—litter, graffiti, etc.—we can add it to the list to address during the next during Clean & Clear."
Last quarter we had Clean & Clear on March 27th and May 20th. In total, 80 volunteers joined us for 240 hours of volunteer work. We cleaned and cleared 1,928 feet of sidewalk and alley, collecting a whopping 2,580 pounds of trash and debris! We hope that beautification efforts like this will help create a higher quality of life by attracting visitors and residents, reducing crime, encouraging new businesses, and creating pride in Five Points South. Thank you so much to everyone who participated!
So are YOU ready to participate in the July Clean & Clear?? Anyone can! From church members to area residents and merchants, we'll find a place and tasks for everyone. Sign up as an individual or gather a team by clicking HERE!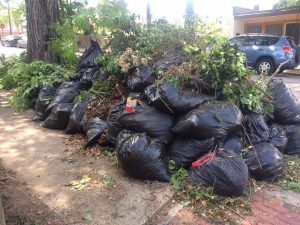 Impact from May 20th
Related News
Filed Under: Front Page, Uncategorized, Woodlawn, Yaysayers

This Sunday, a group of volunteers will embark on a façade improvement project at The Shop on 1st Avenue – cleaning and painting the outside of the building.