Whether you're working from home or back in your office, a change of scenery can be good for your productivity and your mental health. From traditional meeting spaces to cafes to parks, Birmingham has plenty of places for you to meet for work and/or fun.  
We've curated a list of 12 awesome meeting spots in the city, including indoor and outdoor spaces fit for parties large and small. Please follow CDC guidelines in regard to the ongoing COVID-19 pandemic as well as respect the requirements of individual businesses. Stay safe and happy exploring! 
BOOK A MEETING SPACE!
If you are looking for a meeting space with a cool industrial vibe (and to support REV's mission of creating vibrant spaces), SocialVenture is the place for you! SocialVenture is a co-working, meeting, and change-making space located in Woodlawn. The meeting spaces at Social Venture can accommodate parties large or small – and SocialVenture got some upgrades in 2020 to help prevent the spread of COVID-19 and other germs! There are Bipolar Ionic Air Purifiers installed in the meeting spaces that clean the air as it passes through the air conditioning system, as well as attacking impurities and contagions at their source. Plus, there is lots of room for social distancing!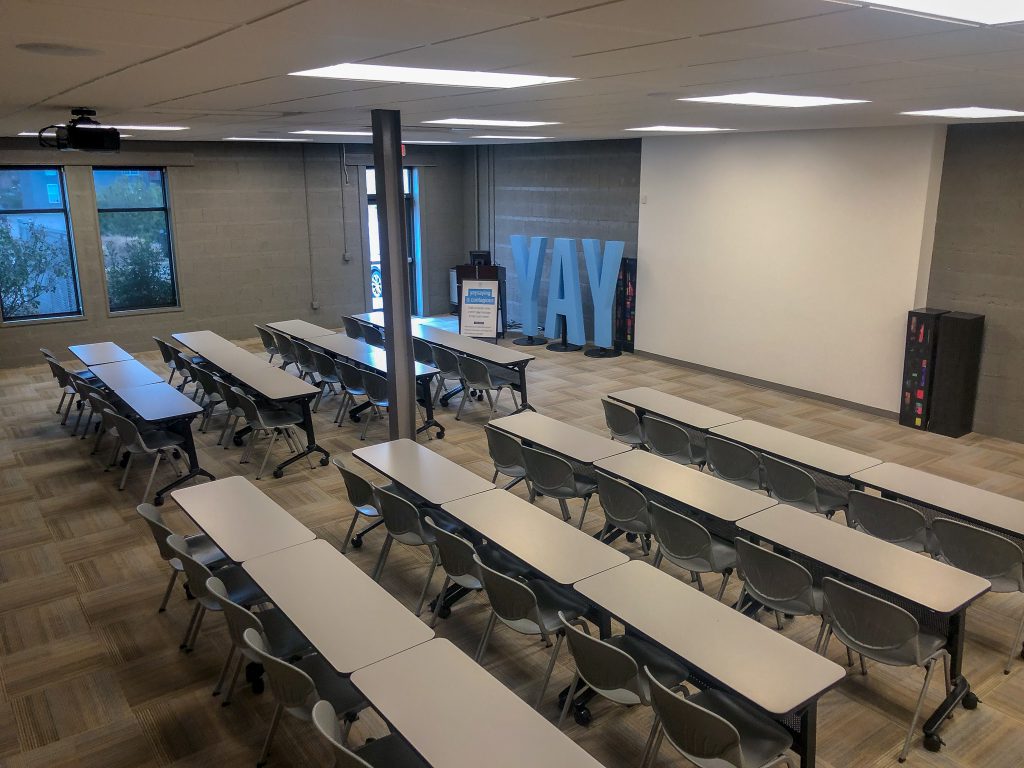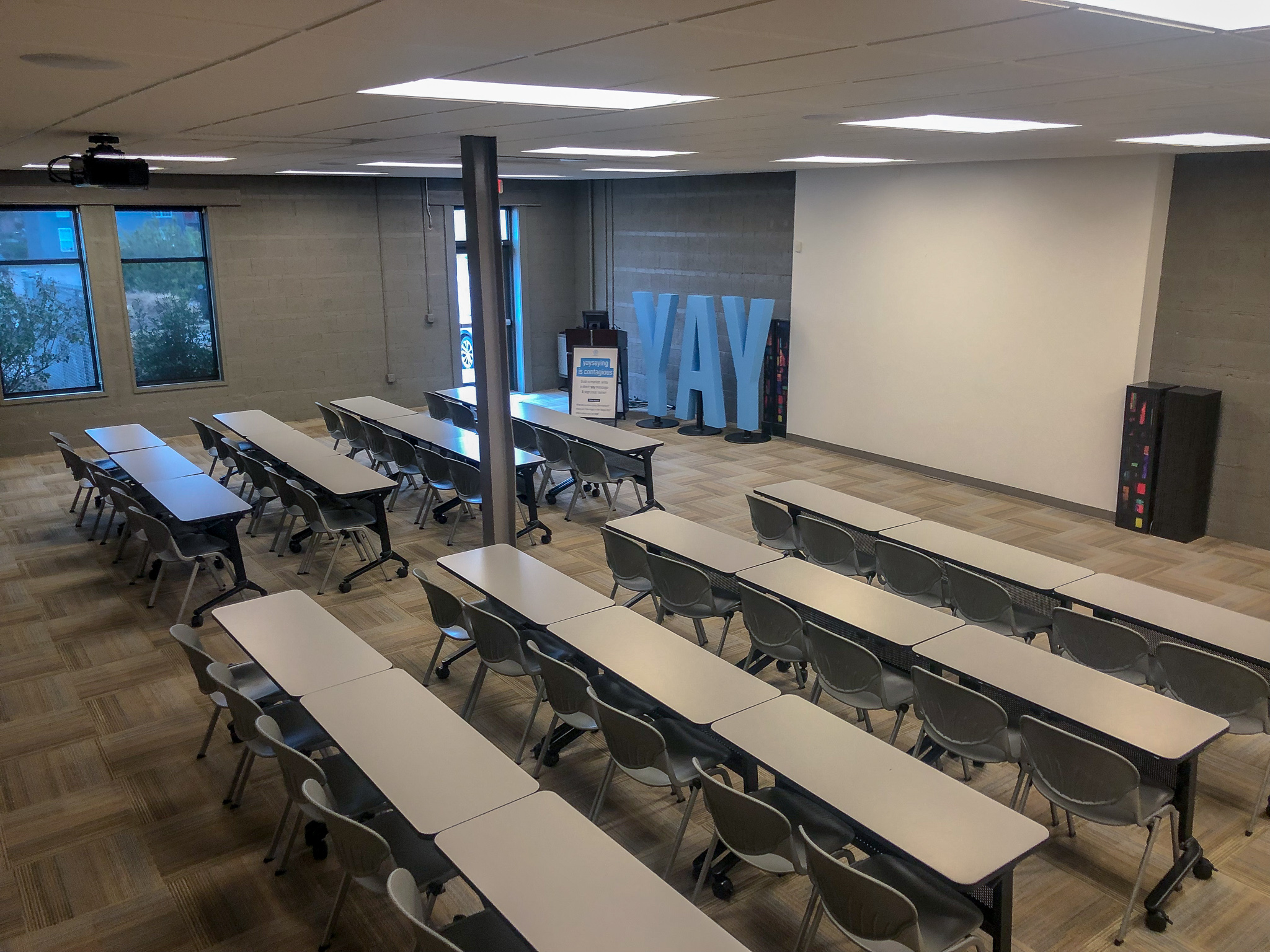 The Birmingham Museum of Art offers a variety of meeting spaces that are guaranteed to meet your needs. Whether you are looking for conference rooms to hold meetings in, indoor and outdoor spaces for receptions, seated dinners, or cocktail parties, or an auditorium to put on a show – there is bound to be something for you. Be ready to let your creativity flow and book your space now!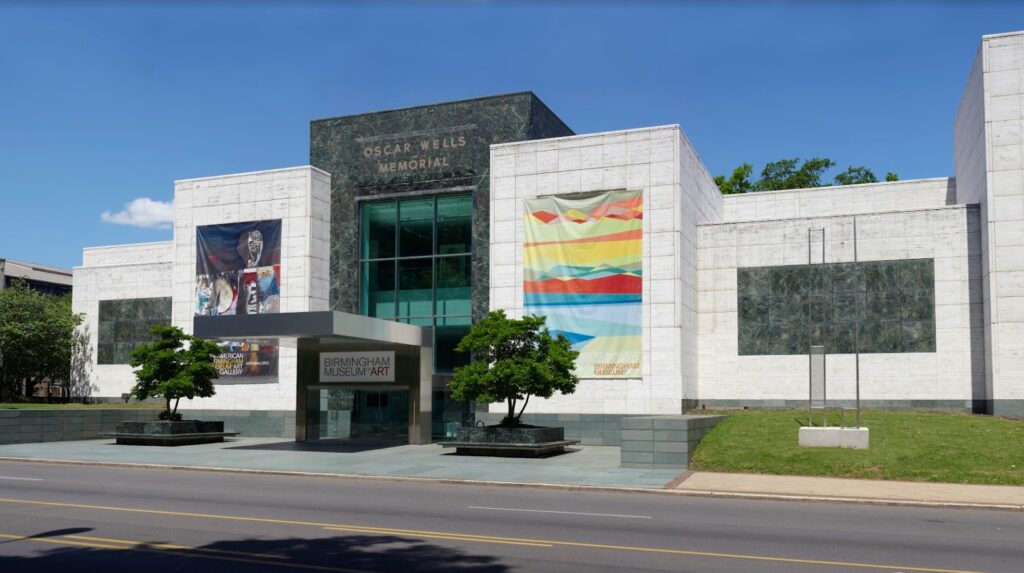 Vulcan Park and Museum is the perfect meeting spot for any event. With both indoor and outdoor venue options, and a beautiful view of Birmingham, you are sure to wow your guests! You can even kick it up a notch by providing beverage services for everybody to enjoy.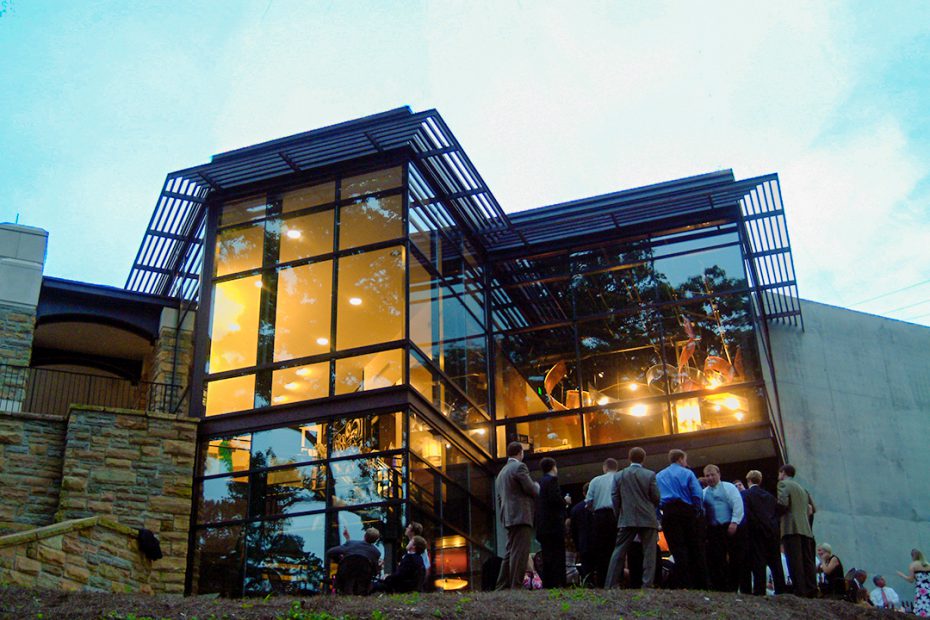 MEET OVER COFFEE OR FOOD!
Revelator Coffee is here to provide you with some funky latte art and an inviting atmosphere that is sure to make working from home a little more exciting! Revelator offers a variety of coffee beverages and snacks to fuel you throughout your day. Its Downtown Birmingham location makes for the perfect work, study or small meeting spot.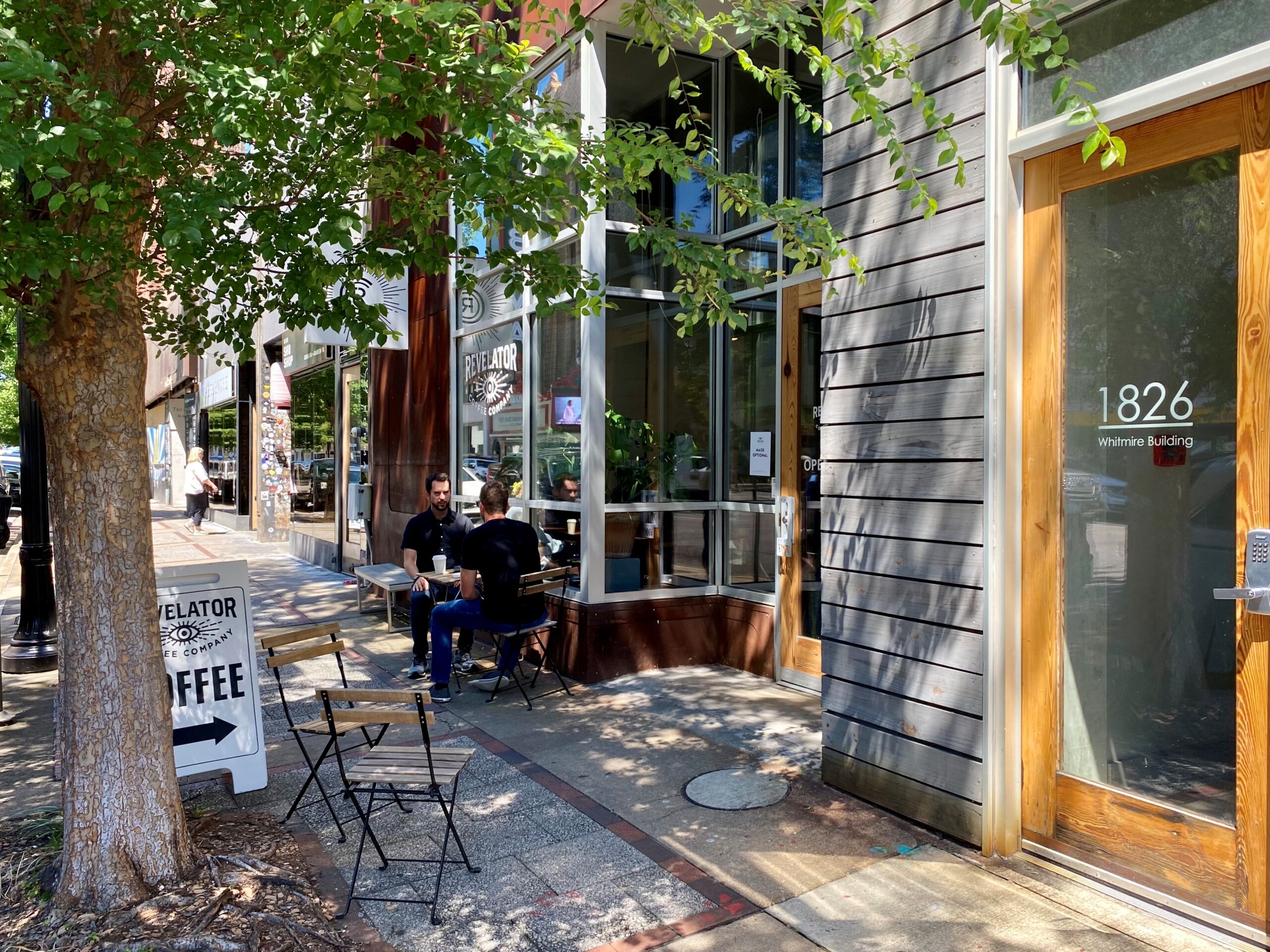 With two locations in the City of Birmingham, Red Cat Coffee House was carefully curated by its owners to make sure it had something to offer for everybody. This 2,300– square –foot space can be used as a meeting space for your office crew or you can rent it out for larger events!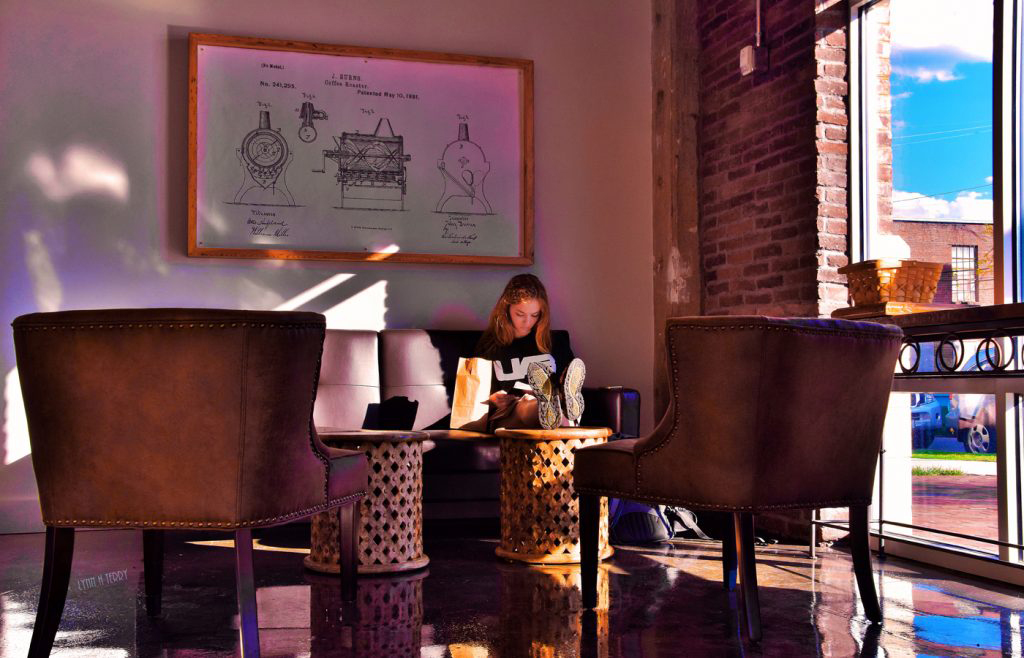 With a variety of innovative coffees and teas to choose from, along with a delicious selection of food, Filter coffee is the perfect meeting place. Their vision of "it's all about coffee, but it's more than just coffee" shows just how dedicated they are to fostering a collaborative environment for their guests.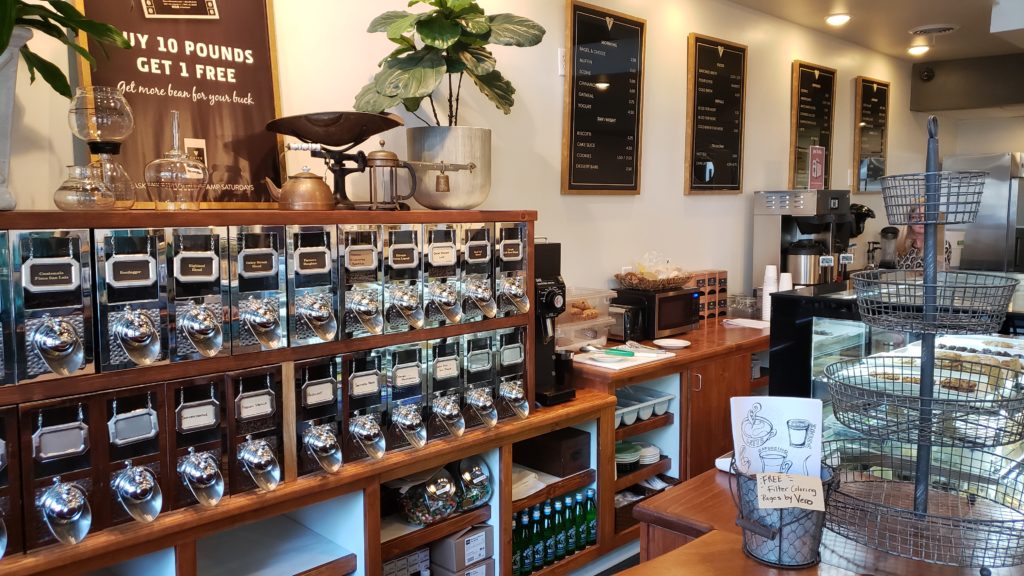 The Pizitz Food Hall is the perfect spot to hold meetings while indulging in your cravings. With a variety of food stalls to choose from, as well as a bar to enjoy some post-work drinks at, you are guaranteed to enjoy your time here.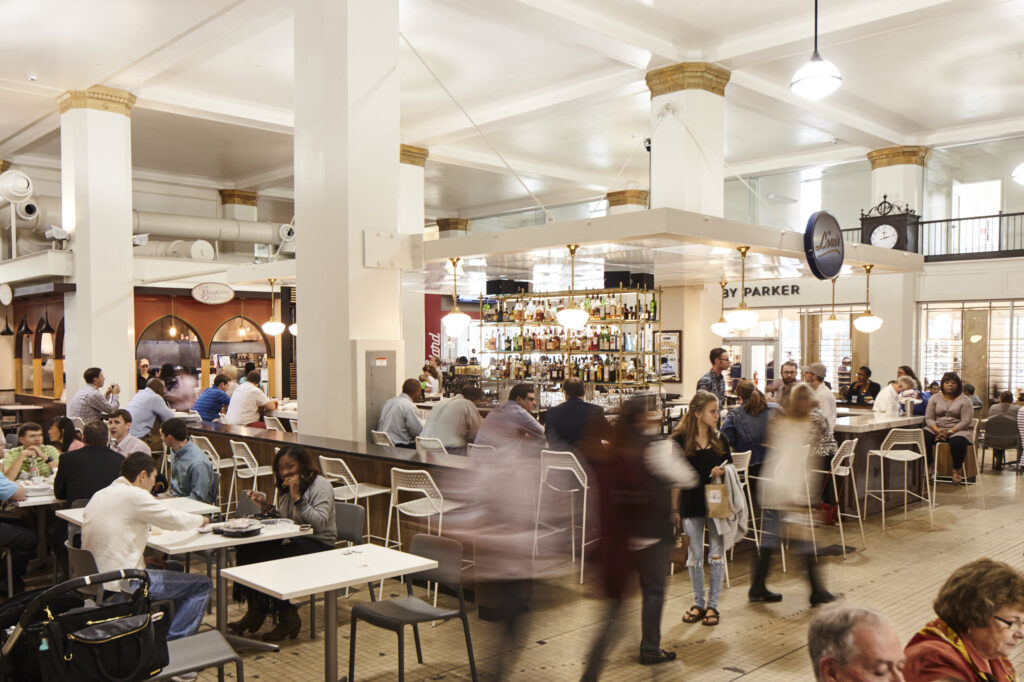 The Essential is located in Downtown Birmingham and offers a variety of delectable dishes and desserts to choose from. With an inviting indoor and outdoor space for you to choose from, this is a great meeting spot for everyone!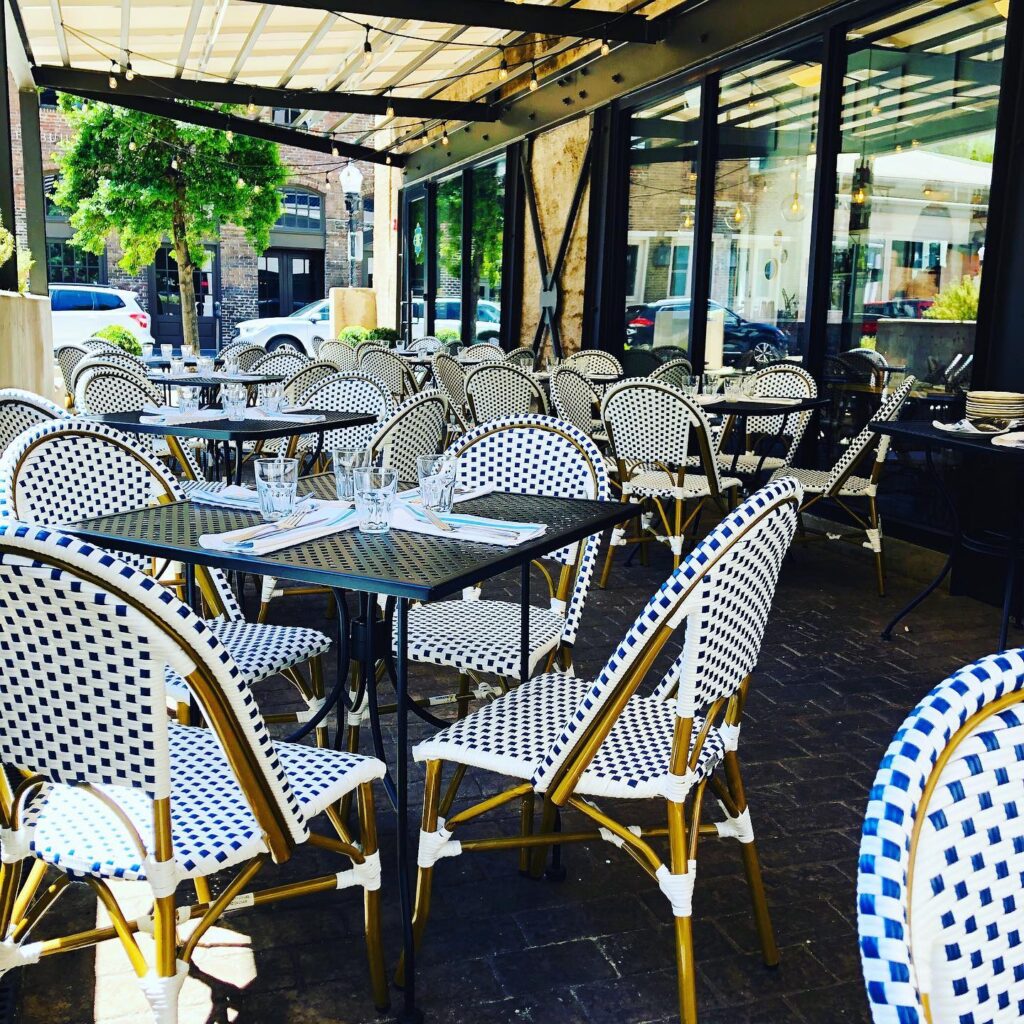 MEET OUTDOORS!
Located in Downtown Birmingham, Railroad Park offers 19 acres of greenery for you to enjoy while you get your work done. Whether you want to bring a blanket and enjoy a change of scenery during meetings or book an event space for larger gatherings, Railroad Park is sure to have something for you!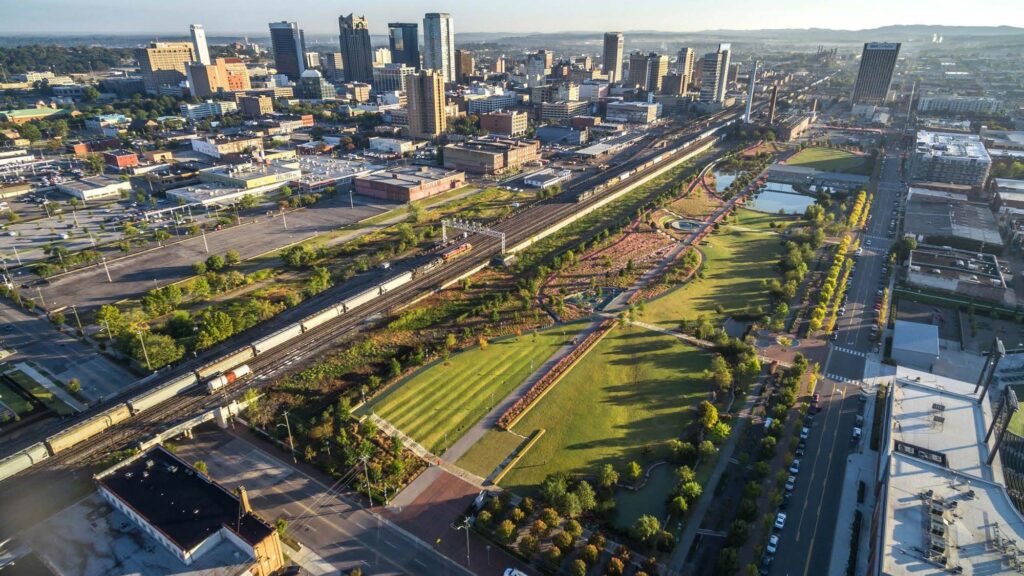 Avondale Park
Avondale Park is guaranteed to be a great meeting spot for any event. The park is almost 37 acres of land and has gazebos, gardens, duck ponds, and so much more for you to enjoy! It is also conveniently located next to the Avondale Library in case you need to brush up on some fun facts!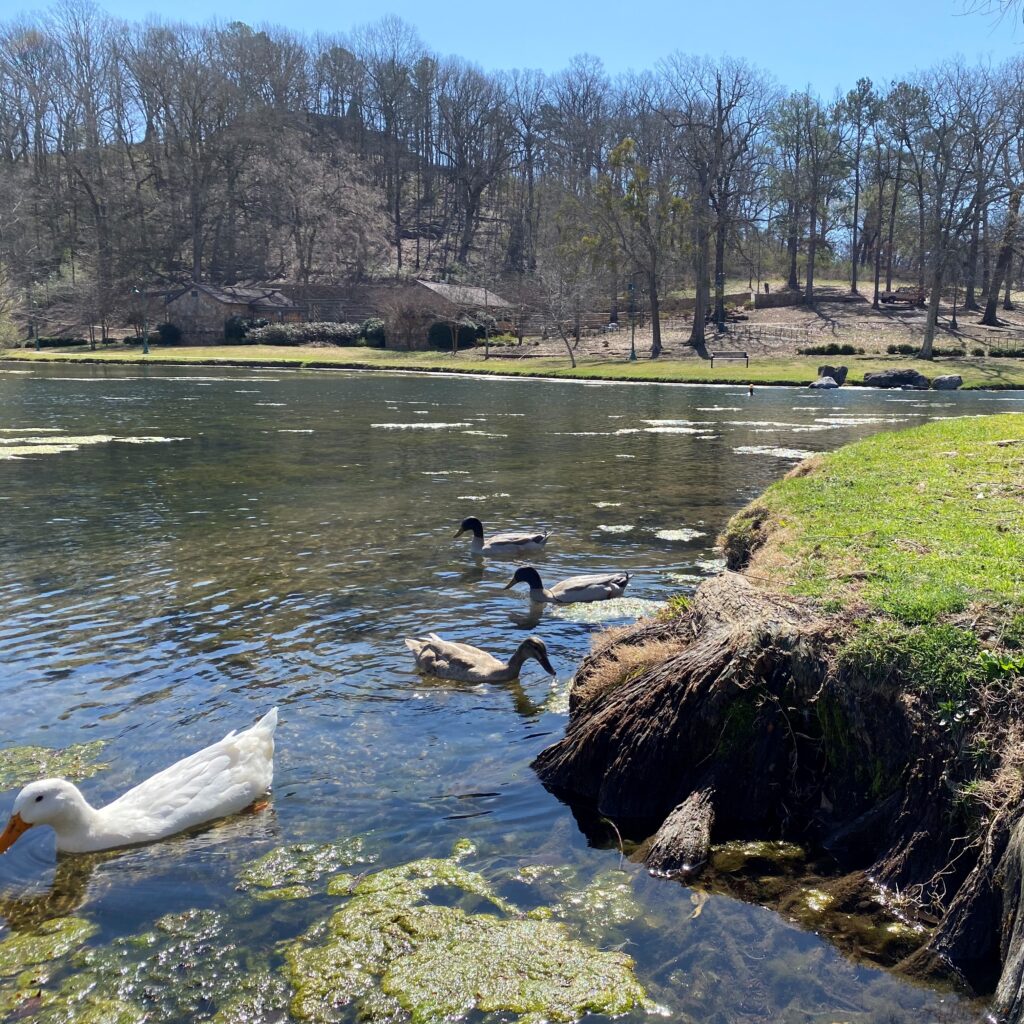 Rotary Trail
The Rotary Trail is a great place to get in some exercise as well as get some work done! Not only does it have a phenomenal view of the Birmingham skyline, it also has a skate park, benches, and the best part of all – solar powered charging stations for your electronics! It doesn't get much better than that.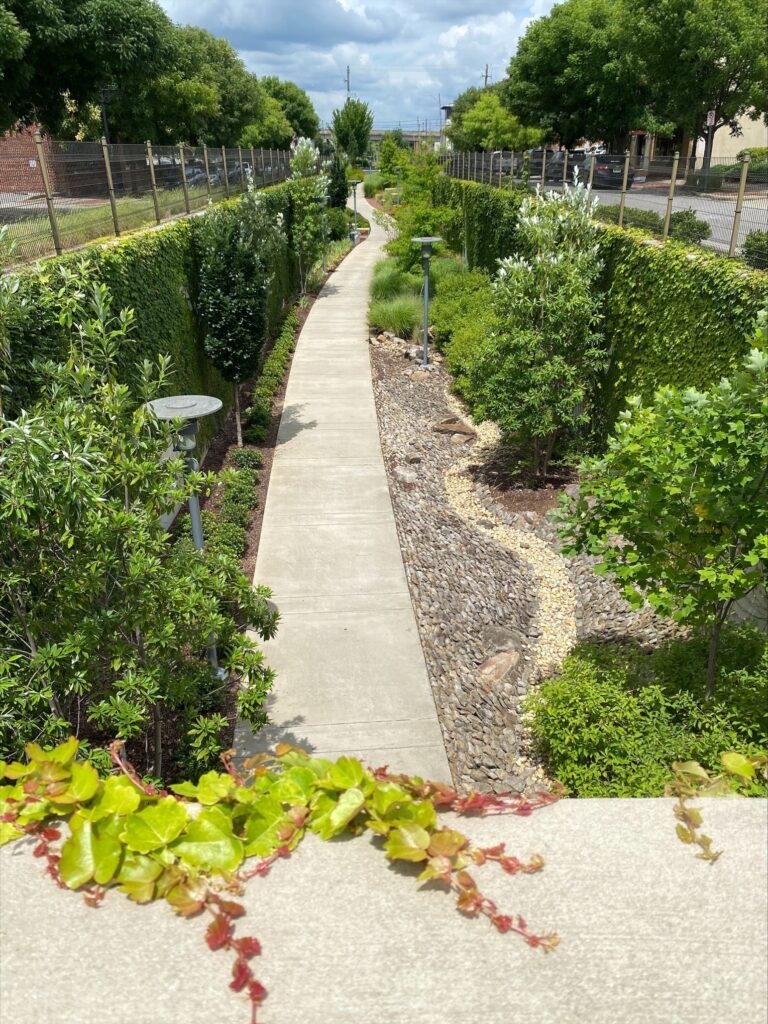 Have you noticed the colorful swings on the corner of 2nd Avenue North and 19th Street? On the corner across from The Pizitz (and diagonally across from McWane), REV has created a little outdoor meeting/hang-out space with swings and rockers. We call it Upswing. It's a fun spot for a pop-up meeting!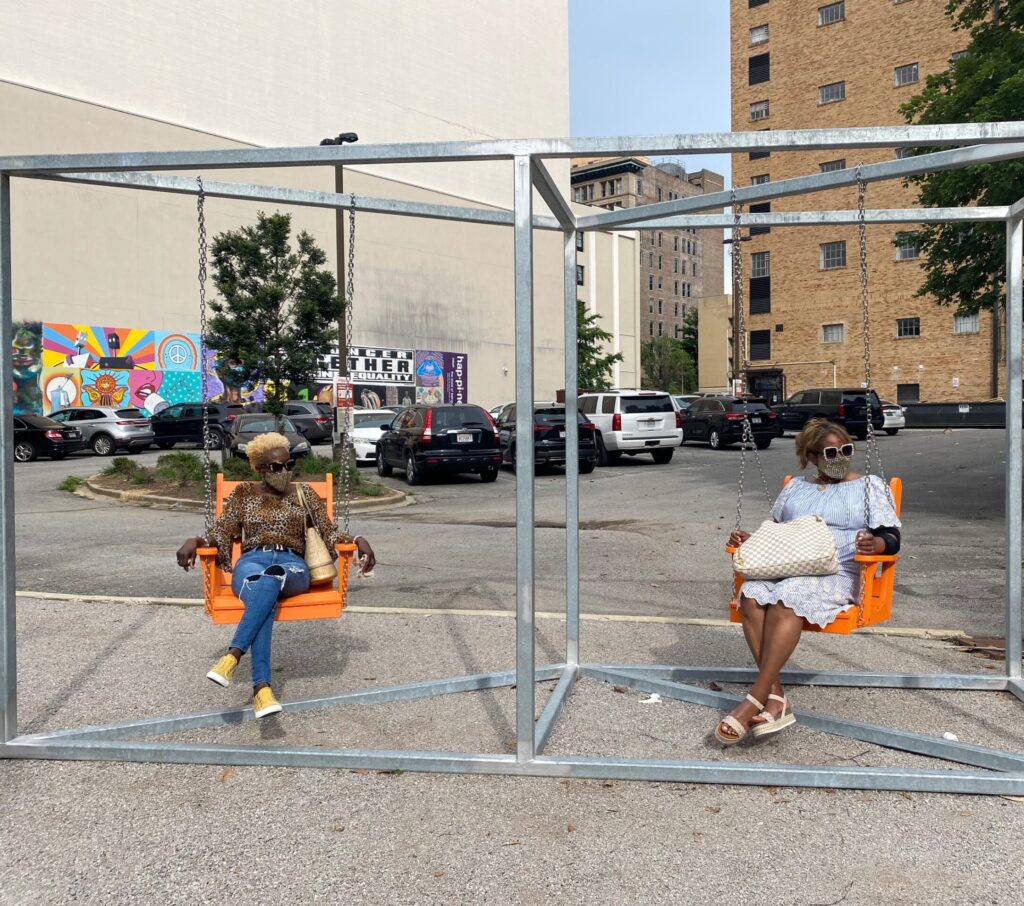 Related News
Filed Under: Front Page, Get Involved, Historic Preservation, Residential

President and CEO of REV Birmingham David Fleming writes about the importance of historic preservation and highlights the advocacy efforts that saved the French Quarter in New Orleans and the Forest Park neighborhood in Birmingham. The article concludes with a call to action, urging for new leaders and the implementation of various strategies to protect and celebrate Birmingham's historic buildings and places.

Filed Under: Filling Vacant Spaces, Front Page, Small Business, Woodlawn, Yaysayers

Lights, Camera, Action! The rebirth of the Woodlawn Theater is happening this weekend in the heart of Woodlawn. The theater is opening its doors to the public with two extraordinary opening events that are FREE to the public. The 1400 square foot venue has a wide range of amenities and even has a full-service bar. Because of the Mason Music Foundation, this venue is filling a much needed resource for local musicians to perform. Keep reading to discover how the theater came back to life and its impact on the community.

Filed Under: Downtown Birmingham, Events, Front Page, Yaysayers

Brian Allen, a talented cornerback, has made the remarkable transition from a small town in Texas to the vibrant city of Birmingham. Choosing Birmingham for his football career for two consecutive seasons, Brian's unwavering dedication and exceptional skills have made him a standout figure in the world of football. To dive deeper into Brian's journey and discover his genuine appreciation for the city, watch this video with the link below!