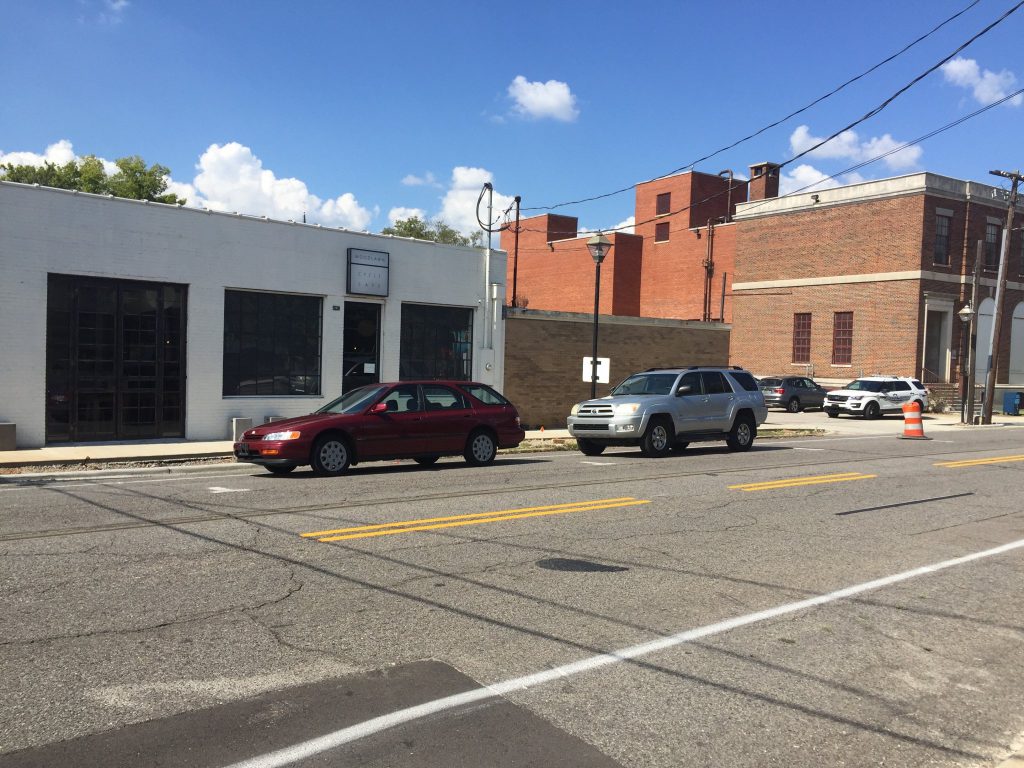 The traffic tape has been pulled up and the signs taken down, returning 1st Avenue South between 54th and 56th streets to its original configuration following a three-week demonstration. The temporary changes showed how the street would operate if it were narrowed to slow down traffic and include bike lanes and parallel parking. Data collected will be shared with the engineering firm retained by the City of Birmingham to design a new street program. Work is expected to begin next year on the street improvements, although sidewalks are already being installed. REV will prepare a final report, which will be available to the public by early December.
REV thanks AARP for the Community Challenge grant funding that helped make the project possible, the volunteers who helped install and remove the temporary street design, the Regional Planning Commission of Greater Birmingham for installing a traffic camera to collect data, and the Woodlawn Business Association for its support.
If you're a cyclist, we'd love your input to better our understanding of your needs! Click here to take a short survey and share your thoughts and experiences cycling the 'Ham.
Related News
Filed Under: Downtown Birmingham, Filling Vacant Spaces, Front Page, Uncategorized

Whether you're planning on visiting Birmingham for The World Games 2022 in just a few weeks, or you're a local looking to explore your city and find some hidden gems, we've got an awesome list of public spaces for you to check out! We've put together a short list of some of the places we think you should check out, but we encourage you to get out and see what else you can find.

Filed Under: Downtown Birmingham, Front Page, Get Involved, Uncategorized, Yaysayers

We are almost one month out from The World Games 2022! This vibrant event will be transformative for Downtown, and we want you to be a part of it! If you consider yourself a lover of Downtown Birmingham and are the friend that always knows where to go or what to do Downtown, this might be the perfect fit for you. We invite you to become a Downtown Ambassador Volunteer and help Birmingham put its best foot forward!

Filed Under: Downtown Birmingham, Front Page, Potential-Proving, Uncategorized, Yaysayers

This Friday, May 20th, we will be having a (20th) Street Party (which you can read more about here) to celebrate the end of our Birmingham Green Refresh! While this certainly calls for a celebration, the party doesn't stop there. We will still be adding some finishing touches to the street after the (20th) Street Party. These additional touches will help make Birmingham's main street more vibrant, interactive, and efficient! Additions will include smart trash cans, free libraries, street performers, and more!