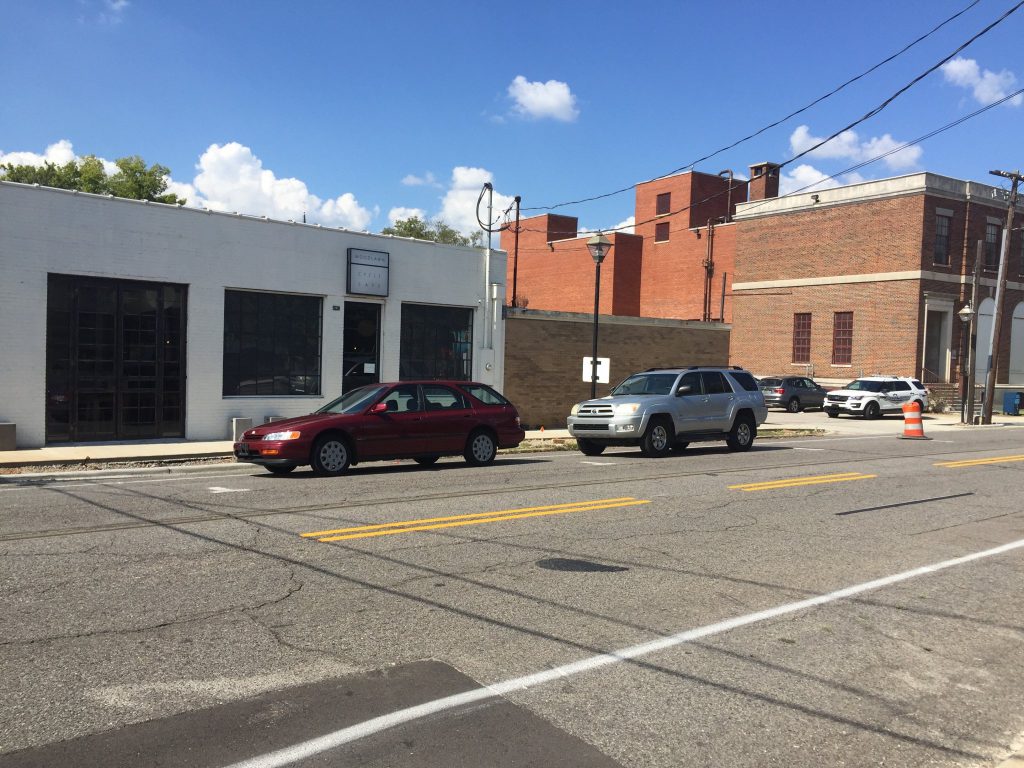 The traffic tape has been pulled up and the signs taken down, returning 1st Avenue South between 54th and 56th streets to its original configuration following a three-week demonstration. The temporary changes showed how the street would operate if it were narrowed to slow down traffic and include bike lanes and parallel parking. Data collected will be shared with the engineering firm retained by the City of Birmingham to design a new street program. Work is expected to begin next year on the street improvements, although sidewalks are already being installed. REV will prepare a final report, which will be available to the public by early December.
REV thanks AARP for the Community Challenge grant funding that helped make the project possible, the volunteers who helped install and remove the temporary street design, the Regional Planning Commission of Greater Birmingham for installing a traffic camera to collect data, and the Woodlawn Business Association for its support.
If you're a cyclist, we'd love your input to better our understanding of your needs! Click here to take a short survey and share your thoughts and experiences cycling the 'Ham.
Related News
Filed Under: Downtown Birmingham, Front Page, Potential-Proving, Uncategorized, Yaysayers

This Friday, May 20th, we will be having a (20th) Street Party (which you can read more about here) to celebrate the end of our Birmingham Green Refresh! While this certainly calls for a celebration, the party doesn't stop there. We will still be adding some finishing touches to the street after the (20th) Street Party. These additional touches will help make Birmingham's main street more vibrant, interactive, and efficient! Additions will include smart trash cans, free libraries, street performers, and more!

Filed Under: Downtown Birmingham, Front Page, Uncategorized

We've talked about sports, but downtown has so much more to offer! Downtown Birmingham has so many experiences in store for you, which can also turn into life-long memories. And lucky for you, we've created a tool to make all that exploring so much easier!

Filed Under: Developer, Downtown Birmingham, Front Page, Potential-Proving, Uncategorized

If you've been paying close attention, you may have noticed that we've been hinting at a new Linn Park project coming soon – and we're finally ready to share it with you! A planning process to redesign and reactivate Linn Park kicked off recently when public and private organizational partners met on site with the nationally acclaimed park designers OJB Landscape Architecture (OJB) to begin an eight-month master plan development process to improve Linn Park.