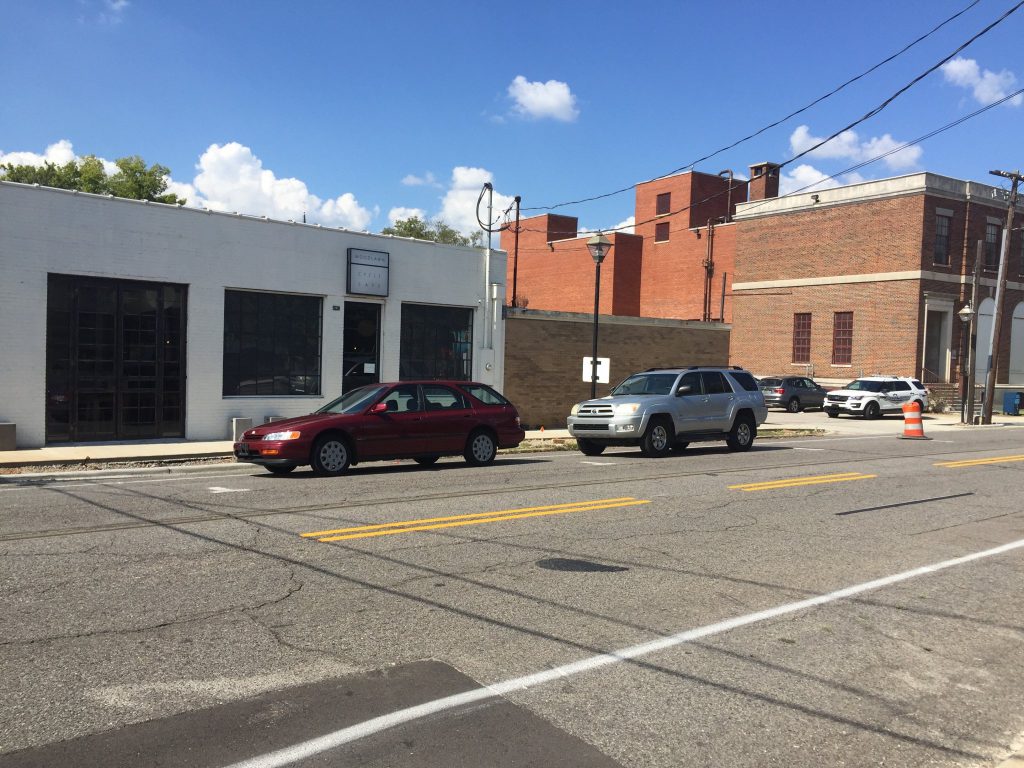 The traffic tape has been pulled up and the signs taken down, returning 1st Avenue South between 54th and 56th streets to its original configuration following a three-week demonstration. The temporary changes showed how the street would operate if it were narrowed to slow down traffic and include bike lanes and parallel parking. Data collected will be shared with the engineering firm retained by the City of Birmingham to design a new street program. Work is expected to begin next year on the street improvements, although sidewalks are already being installed. REV will prepare a final report, which will be available to the public by early December.
REV thanks AARP for the Community Challenge grant funding that helped make the project possible, the volunteers who helped install and remove the temporary street design, the Regional Planning Commission of Greater Birmingham for installing a traffic camera to collect data, and the Woodlawn Business Association for its support.
If you're a cyclist, we'd love your input to better our understanding of your needs! Click here to take a short survey and share your thoughts and experiences cycling the 'Ham.
Related News
Filed Under: Front Page, Potential-Proving, Uncategorized, Yaysayers

TODAY IS THE DAY! REV Birmingham is celebrating 10 years of creating vibrant commercial districts in the City of Birmingham. Today is all about celebrating the past decade of success and all that we have accomplished. It all started ten years ago when two organizations – Operation New Birmingham and Main Street Birmingham – merged to create the one and only REV Birmingham. We have covered so much ground since then, from historic building rehab consulting all the way to our refresh of 20th Street North – and we are looking forward to seeing what the future holds for us here at REV.

Filed Under: Business-Proving, Front Page, Uncategorized, Yaysayers

REV is turning TEN! Our birthday is swiftly approaching (it's on November 15th in case you want to give us a happy birthday shoutout!) and we are spending the week leading up to it reflecting on the past 10 years. We have accomplished so much in just a decade, and we can't wait to see what the next 10 years have in store for us. But for now, let's take a trip down memory lane and look back at some of our favorite projects.

Filed Under: Downtown Birmingham, Front Page, Residential, Uncategorized

From Austin, Texas to New Orleans, Louisiana, learn why this family choose to move into the city center of Birmingham. We are interviewing people from all around the city and learning why they chose to move into Birmingham.