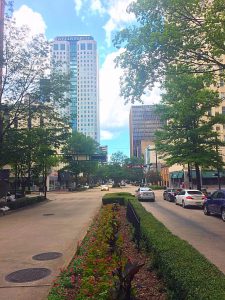 The City of Birmingham and the Regional Planning Commission of Greater Birmingham have recently began looking for input for the future design of 20th Street North! In the early 1970s, a public-private partnership involving downtown business owners and the City of Birmingham created a plan to turn 20th Street North from 1st Avenue to Linn Park into a walkable, tree-lined corridor designed to attract more shoppers, restaurants and businesses to downtown's Central Business District.
Almost 50 years later, the City of Birmingham and the Regional Planning Commission of Greater Birmingham have commissioned a study to explore streetscape improvements along 20th Street from 2nd Avenue South to Linn Park. The design team is led by Goodwyn, Mills and Cawood, which has partnered with landscape architect Walter Hood of Hood Design Studio and Skipper Consulting.
Planners are researching what has been successful or not-so-successful in other cities, and will compare these case studies to Birmingham's existing conditions and available resources to develop a model for the city to guide future improvements.
A design workshop is scheduled for August 3rd and 4th at the Auburn Urban Studio at 221 20th Street N, 35203.  Stakeholders, business owners, residents – everyone interested in providing input – are invited to visit during the hours of 10:00 AM to 12:00 PM and 2:00 PM to 4:00 PM on both days.
Related News
Filed Under: Downtown Birmingham, Family Friendly, Front Page, Get Involved, Small Business, Yaysayers

With summer just around the corner, kids will soon be out of school and insisting on getting out of the house. Luckily, Downtown Birmingham has an abundance of family-friendly activities that will keep your kiddos entertained and create lifelong memories.

We know taking kids out for extended periods can be challenging; that's why we have curated a list of experiences designed to be enjoyable within a manageable 3 – 4 hour timeframe. This way, both children and parents can make the most of their time without feeling overwhelmed or exhausted. These four experiences include lunch options and are tailored to different ages and personalities.

Filed Under: Downtown Birmingham, Front Page, Get Involved, REV Team, Yaysayers

Meet Michael Symes, the new City Center District Manager for the Business Improvement District (BID). As a long-time resident of Birmingham, Michael brings a wealth of knowledge and experience to the role, having been an active member of the community since graduating from the University of Alabama. In this article, we will explore Michael's journey and learn about his "accidental roots" in the city, as well as his passion for working with the Business Improvement District (BID) of the Magic City. Follow along  as we get to know the person behind the job title and uncover the unique perspective he brings to the role.

Filed Under: Downtown Birmingham, Events, Front Page, Yaysayers

Brian Allen, a talented cornerback, has made the remarkable transition from a small town in Texas to the vibrant city of Birmingham. Choosing Birmingham for his football career for two consecutive seasons, Brian's unwavering dedication and exceptional skills have made him a standout figure in the world of football. To dive deeper into Brian's journey and discover his genuine appreciation for the city, watch this video with the link below!