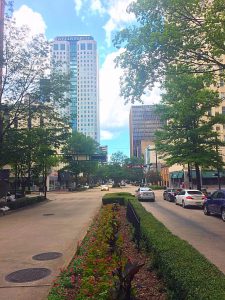 The City of Birmingham and the Regional Planning Commission of Greater Birmingham have recently began looking for input for the future design of 20th Street North! In the early 1970s, a public-private partnership involving downtown business owners and the City of Birmingham created a plan to turn 20th Street North from 1st Avenue to Linn Park into a walkable, tree-lined corridor designed to attract more shoppers, restaurants and businesses to downtown's Central Business District.
Almost 50 years later, the City of Birmingham and the Regional Planning Commission of Greater Birmingham have commissioned a study to explore streetscape improvements along 20th Street from 2nd Avenue South to Linn Park. The design team is led by Goodwyn, Mills and Cawood, which has partnered with landscape architect Walter Hood of Hood Design Studio and Skipper Consulting.
Planners are researching what has been successful or not-so-successful in other cities, and will compare these case studies to Birmingham's existing conditions and available resources to develop a model for the city to guide future improvements.
A design workshop is scheduled for August 3rd and 4th at the Auburn Urban Studio at 221 20th Street N, 35203.  Stakeholders, business owners, residents – everyone interested in providing input – are invited to visit during the hours of 10:00 AM to 12:00 PM and 2:00 PM to 4:00 PM on both days.
Related News
Filed Under: Birmingham Food & Drink, Downtown Birmingham, Front Page, Small Business

COVID-19 has affected businesses across Birmingham, but those with small footprints are shifting strategically to adhere to Alabama's Safer at Home order and keep their customers safe in a smaller setting. Find out what three different businesses have done to adapt their spaces and experiences.