It's a good time for some out-of-the-box thinking when it comes to outdoor spaces. Useful outdoor spaces have always been important contributors to downtown vibrancy. COVID-19, and the need for more square footage to spread out, has pushed us to rethink how one specific public space should be used: city streets. 
Beginning in 2020, the City of Birmingham and REV Birmingham have partnered on several projects that reclaim streets (or sometimes specific sections of streets) for pedestrian use. A better pedestrian experience leads to more foot traffic, which means more support for our local businesses and more fun in our urban districts. Here are a few things we've done: 
Flex Lanes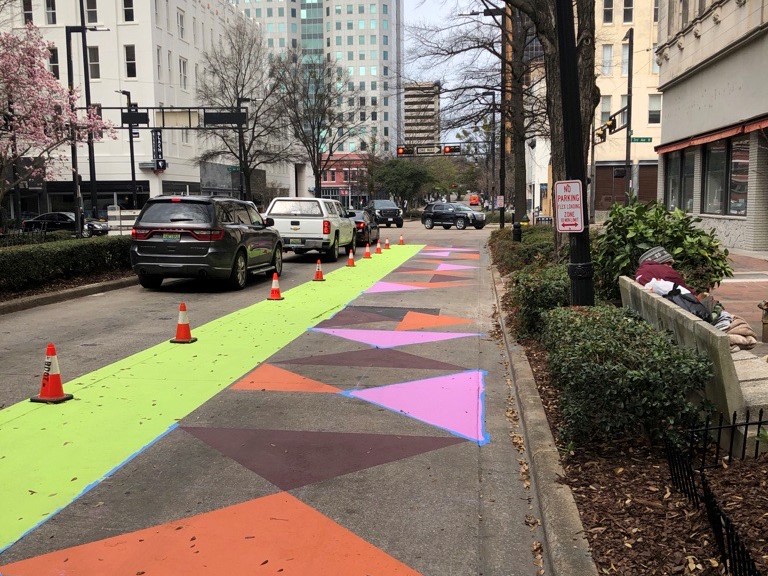 The City of Birmingham's Department of Transportation and REV are planning to make good use of some previously underutilized public space along 20th Street North. 20th Street North is technically one very wide lane, but it has always functioned more like two. Traffic typically moves on the left, and other uses—from valet to delivery to construction supply storage—happen on the right. The City, with support from REV, is now formalizing the flexible usage of that right lane with funky new paint and clarified policy. The creation of a flex lane is an exciting and tangible step in the implementation of the larger 20th Street refresh plan. Read more about the 20th Street plan and how flex lanes can be used! 
Shared Space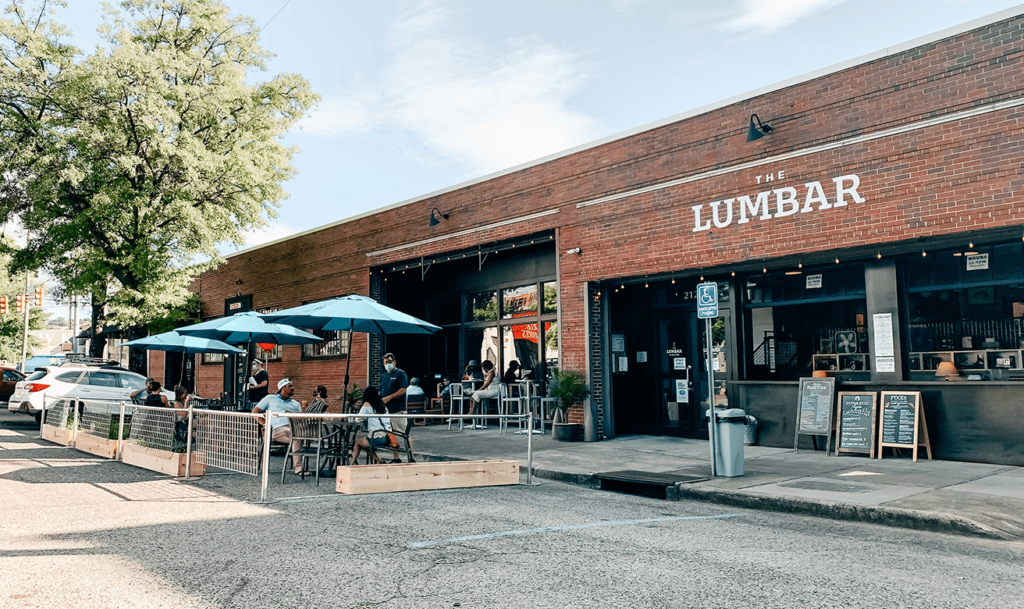 The City of Birmingham launched Shared Space Permits in 2020 to help bars and restaurants safely welcome customers back for an on-site dining experience while also maintaining social distancing rules. The City created a special permit that allows the temporary use of designated, outdoor, public space to promote safe distancing during the COVID-19 outbreak. The permit allows for seating or dining, retail use, and curbside pickup. REV worked with the City to create a design guide, and has consulted with several restaurant owners to create their Shared Space plan and file for a permit. Learn more about the process and how we can help!  
Eat in the Streets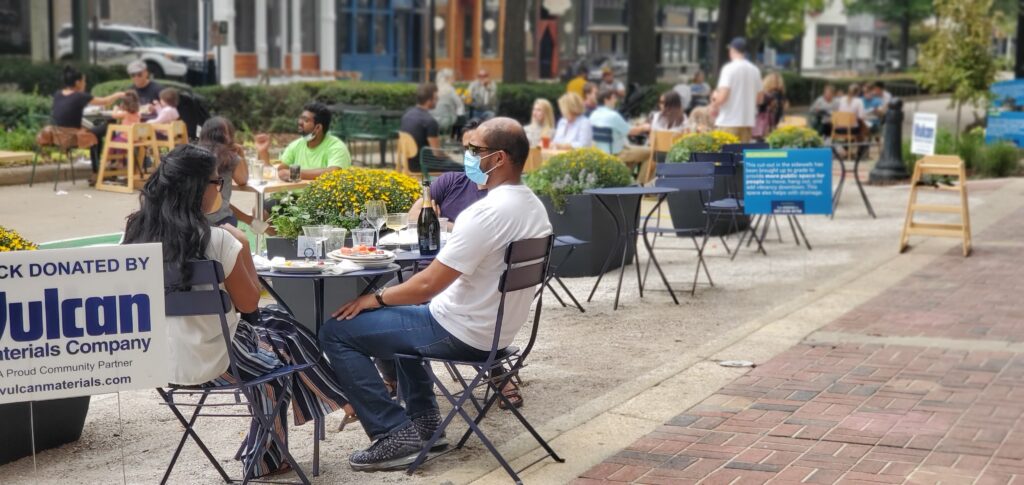 A breath of fresh air for Birmingham restaurants and the diners who love them, Eat in the Streets allows diners to dine outdoors while also social distancing. Last fall, the  City of Birmingham closed key streets in downtown Birmingham, Pepper Place and Avondale and spread tables across the asphalt for several vibrant and delicious evenings in 2020.  
Parkside Trail (Open Streets)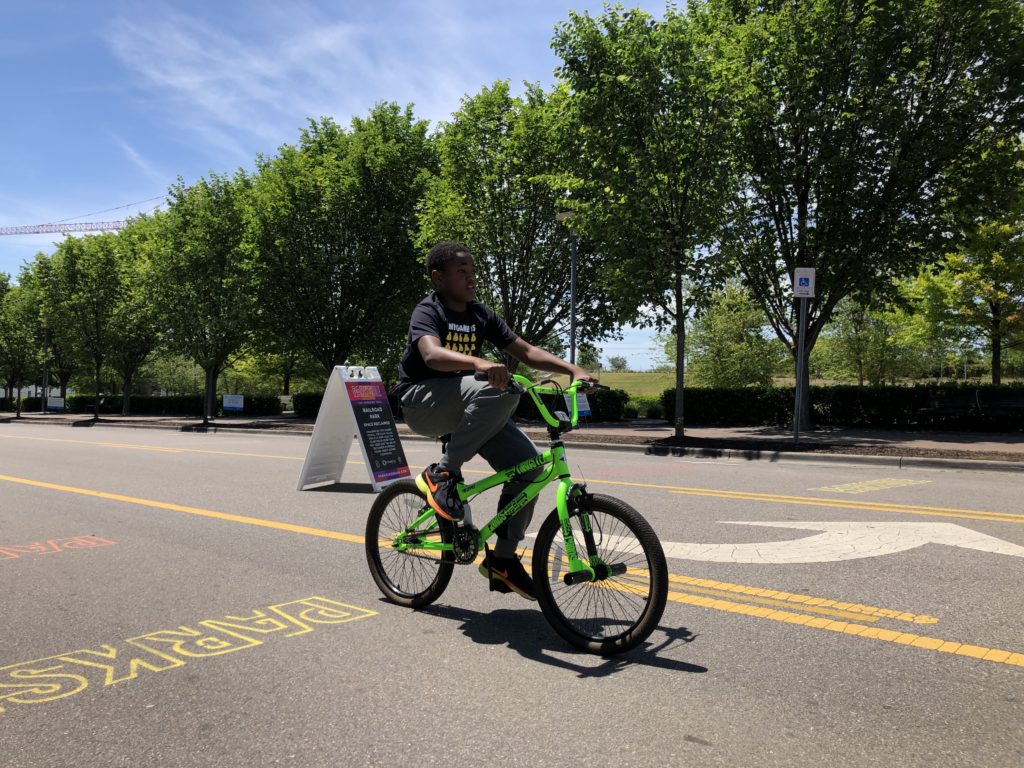 Parkside Trail was an Open Streets demonstration by Orchestra Partners and REV on 1st Avenue South that transformed a space normally designated for cars into space for people to enjoy. Every Saturday and Sunday in May of 2020, more than ½ mile of street space was transformed into a multi-use trail/parklet using temporary road paint and light traffic cones and barricades. Road paint consisted of six-foot-wide, multicolored Parkside logos, placed six feet apart to encourage social distancing. REV uses temporary interventions like Parkside Trail to gather data and create experiences that can inspire long-term positive change in the districts where we work. 
Cool, right? Stay tuned to @revbham on Facebook and Instagram for lots more about what's going on in your city—and share your thoughts and questions with us on social media! 
Related News
Filed Under: Big Pitch, Front Page, Small Business, Uncategorized

If you've been following REV for a while, you probably remember The Big Pitch Competitions we used to hold back in the day. The Big Pitch presented by PNC was essentially our own little version of Shark Tank. And a lot of your favorite local businesses that participated in this competition now have active retail storefronts that you can go check out. Let's start with some of our finalists that are based in the City of Birmingham and see what they've been up to!

Filed Under: Developer, Downtown Birmingham, Filling Vacant Spaces, Front Page, Potential-Proving, Uncategorized

Have you been to Downtown Birmingham's newest development located on 25th Street? If not, you need to head down there ASAP and check it out! This new single story development is a product of a collaboration between David Baker Architects (DBA) and Locke General Contractors, led by DBA's very own Amanda Loper. It is intended to be a "collaborative commercial space in a catalyst development area of Birmingham." Both DBA and Locke General Contractors will be tenants of the space, along with June Coffee Roasters, Zephyr Barber, and Last Call Baking Cooperative!

Filed Under: Downtown Birmingham, Events, Front Page, Uncategorized

One of Birmingham's many hidden treasures is the music scene downtown. The sheer volume of concert venues we have in downtown Birmingham is something most people aren't even aware of – but it really is remarkable! There is truly something for everyone, whether you're into the smaller, more intimate venues or the large-scale venues for those big name artists. Keep reading to check out some of the cool venues downtown Birmingham has to offer.