There aren't as many people on the streets of downtown Birmingham this week, and, for the first time ever, we think that's ok. We're happy to see our community following recommendations from the World Health Organization (WHO) and the U.S. Centers for Disease Control (CDC) on reducing the spread of COVID-19, the novel coronavirus.
At the time of publication, the CAP team is still downtown for you, offering our clean and safe services with a special emphasis on clean. We are first responders of sorts, addressing the needs of downtown for as long as we can. (Note: Services are subject to change at any time based on new information that affects the health and safety of our CAP Ambassadors.)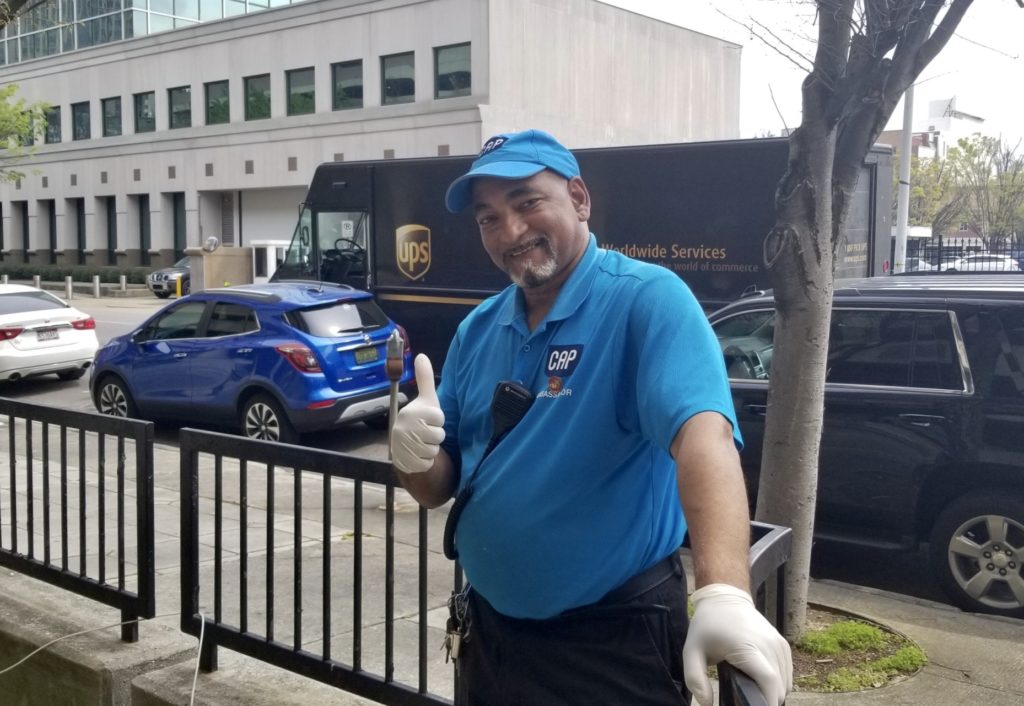 Right now, here's what we know.
Downtown needs to be cleaner than ever. We're adjusting the way we use our pressure-washing trike to be able to disinfect high-traffic surfaces downtown. We're expecting chlorination tablets to be delivered soon, and by putting that in the pressure washer's water tank, we'll be able to lightly spray surfaces like crosswalk buttons, benches and more to kill virus-spreading germs.
Vulnerable populations need our help to keep them safe. Those experiencing homelessness right now are at a heightened risk for infection because of lack to access to medical information as well as sanitation options. To reduce the spread of illness, area homeless shelters are restricting movement in and out of overnight programs, which means that currently unsheltered individuals may not be able to find many of the services they count on. To help fill this gap, CAP and One Roof are working together to coordinate education and sanitation services for those who are currently unsheltered. CAP has ordered handwashing stations to be deployed this week in public spaces downtown and will be actively engaging those who do not have regular access to running water in handwashing routines. One Roof and REV have developed educational materials that CAP ambassadors and One Roof's Street Team will be sharing with anyone in need. Fortunately, so far, CAP Ambassadors have observed that few individuals seem to be on the street right now—but our team will continue to monitor the situation.
We need to be ready to come back strong. In addition to addressing COVID-19-specific clean and safe needs, we're also using this time for planning and extra team training to prepare for Birmingham's triumphant return to the vibrant, foot-traffic-heavy City Center we know and love.
So hang in there, Birmingham. We'll see you downtown again when the COVID-19 threat has passed. In the meantime, stay safe and call 205-251-0111 if you need us!
News
Filed Under: Downtown Birmingham

To protect one of Birmingham's most vulnerable populations, CAP and One Roof are coordinating education and sanitation services for people who are unsheltered.
Related News
Filed Under: Front Page, Get Involved, Historic Preservation, Residential

President and CEO of REV Birmingham David Fleming writes about the importance of historic preservation and highlights the advocacy efforts that saved the French Quarter in New Orleans and the Forest Park neighborhood in Birmingham. The article concludes with a call to action, urging for new leaders and the implementation of various strategies to protect and celebrate Birmingham's historic buildings and places.

Filed Under: Filling Vacant Spaces, Front Page, Small Business, Woodlawn, Yaysayers

Lights, Camera, Action! The rebirth of the Woodlawn Theater is happening this weekend in the heart of Woodlawn. The theater is opening its doors to the public with two extraordinary opening events that are FREE to the public. The 1400 square foot venue has a wide range of amenities and even has a full-service bar. Because of the Mason Music Foundation, this venue is filling a much needed resource for local musicians to perform. Keep reading to discover how the theater came back to life and its impact on the community.

Filed Under: Downtown Birmingham, Events, Front Page, Yaysayers

Brian Allen, a talented cornerback, has made the remarkable transition from a small town in Texas to the vibrant city of Birmingham. Choosing Birmingham for his football career for two consecutive seasons, Brian's unwavering dedication and exceptional skills have made him a standout figure in the world of football. To dive deeper into Brian's journey and discover his genuine appreciation for the city, watch this video with the link below!