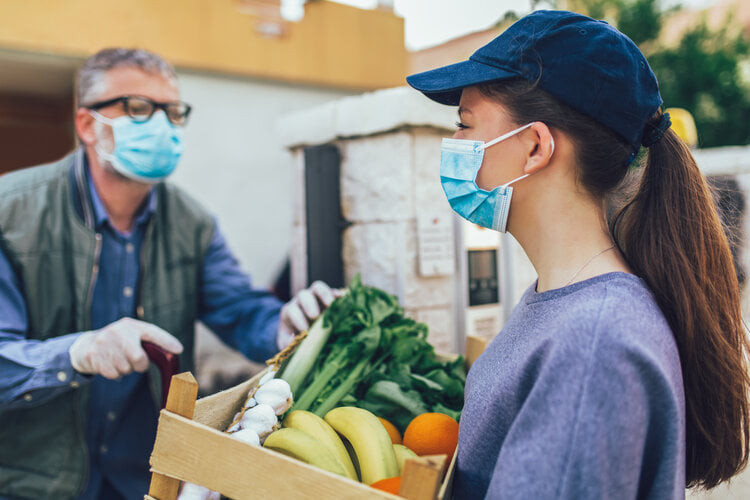 Ever host an event where you ordered way too much food and end up with more leftovers than you can even fathom? We've been there too – until we learned about Magic City Harvest! Magic City Harvest is an organization working towards ending food waste & hunger in the Magic City. They acquire perishable food from schools, wholesale food distributors, restaurants, caterers, churches, event venues and grocery stores to donate to 30 community partners on the frontlines feeding the city's hungry neighbors.
MCH was started in 1995 from a Public Health class project at UAB that focused on hunger issues in Birmingham. The group followed through on the project and thus Magic City Harvest was born! Paulette Von Matre, the founder of MCH, led the fight to feed hungry folks for 22 years. MCH began with volunteers picking up food in their cars and today they run 2 full size refrigerated trucks 5 days a week. MCH has moved from having a warehouse with refrigeration holding prepared food, to delivering all of the food the same day they receive it. Their community partners also acquired their own refrigeration which enables a more efficient meal planning process because they know what they have available. In 1995 MCH collected 4,755 pounds of food and in 2021 they collected 399,641 pounds. Wow – talk about growth!
The one thing that has been consistent in their history is that MCH has always been able to execute their mission with a lean staff. Early on, they were led by 1 full time executive director, 1 part time office manager and 1 truck driver. Today they have 1 full time executive director, 1 assistant executive director, 1 part time program coordinator, 2 truck drivers and a part time bookkeeper.
Their goal? To put as much money as they possibly can back into the community.
What areas of Birmingham does MCH serve?
You want it? You got it! MCH will food share with North Birmingham, Woodlawn, Avondale, Center Point, Bessemer, South Birmingham, Jefferson County, Ensley, Fairfield and any other neighborhood in need. Magic City Harvest is the only prepared food recovery organization, and they have the ability to reach all economically challenged communities.
Next time you find yourself with an excess of food, text or call 205-591-3663, or you can email ann@magiccityharvest.org!
Magic City Harvest donates food to Brother Bryan, Children's Village, Hopewell Baptist, King's Ranch/Hannah, Shepherd's Fold, Urban Ministry, Lovelady Center, Community Kitchens (2 sites), The Foundry Rescue Mission, Isaiah's House, Jessie's Place, Pathways, Church of the Reconciler, Firehouse Shelter, Christian Service Mission, Samaritan House, Three Hots and a Cot, Grace House, Greater Birmingham Ministries (2 sites), Jimmie Hale Mission, St. Paul's UMC Lunch, YWCA Interfaith Hospitality, Salvation Army (2 sites), Highland UMC –Lunch, St. Anne's Home, Project Success and Grace Klein.
Want to help the cause?
You can click here to donate, or you can scan the QR codes below to donate via PayPal or Venmo!
Magic City Harvest works with EAT (Earth Aware Team) sponsored by Alabama Environmental Council, ECHA (Ending Childhood Hunger in Alabama), UAB Sustainability Department, and we handout information and do presentations at restaurants, churches, social clubs, and work with local collages to promote hunger awareness.
In 2021, MCH collected 399,641 pounds of food and supplied 1,198,923 servings of food to 31 different agencies which equals 479,569 meals for families and children.
Currently, there are 117,840 people who are hungry and 21,384 are children in Jefferson and Shelby Counties.
With The World Games coming to Birmingham this summer, our city has the opportunity to feed more people than ever before! Magic City Harvest is looking forward to partnering with all sports and social events to collect and donate more food than ever. Click below to donate to end waste and end hunger in Birmingham!
Related News
Filed Under: Downtown Birmingham, Front Page, Get Involved

We've made it to the third and final public workshop for Re-vision Linn Park! Partners behind Re-Vision Linn Park will wrap up the community engagement process at the last public workshop on Tuesday, October 4, at Boutwell Auditorium. Community members can participate and provide feedback on a park design concept in the noon or 5:30 p.m. session – so come out one last time and let your voice be heard!

Filed Under: Big Pitch, Front Page, Small Business, Uncategorized

If you've been following REV for a while, you probably remember The Big Pitch Competitions we used to hold back in the day. The Big Pitch presented by PNC was essentially our own little version of Shark Tank. And a lot of your favorite local businesses that participated in this competition now have active retail storefronts that you can go check out. Let's start with some of our finalists that are based in the City of Birmingham and see what they've been up to!

Filed Under: Developer, Downtown Birmingham, Filling Vacant Spaces, Front Page, Potential-Proving, Uncategorized

Have you been to Downtown Birmingham's newest development located on 25th Street? If not, you need to head down there ASAP and check it out! This new single story development is a product of a collaboration between David Baker Architects (DBA) and Locke General Contractors, led by DBA's very own Amanda Loper. It is intended to be a "collaborative commercial space in a catalyst development area of Birmingham." Both DBA and Locke General Contractors will be tenants of the space, along with June Coffee Roasters, Zephyr Barber, and Last Call Baking Cooperative!