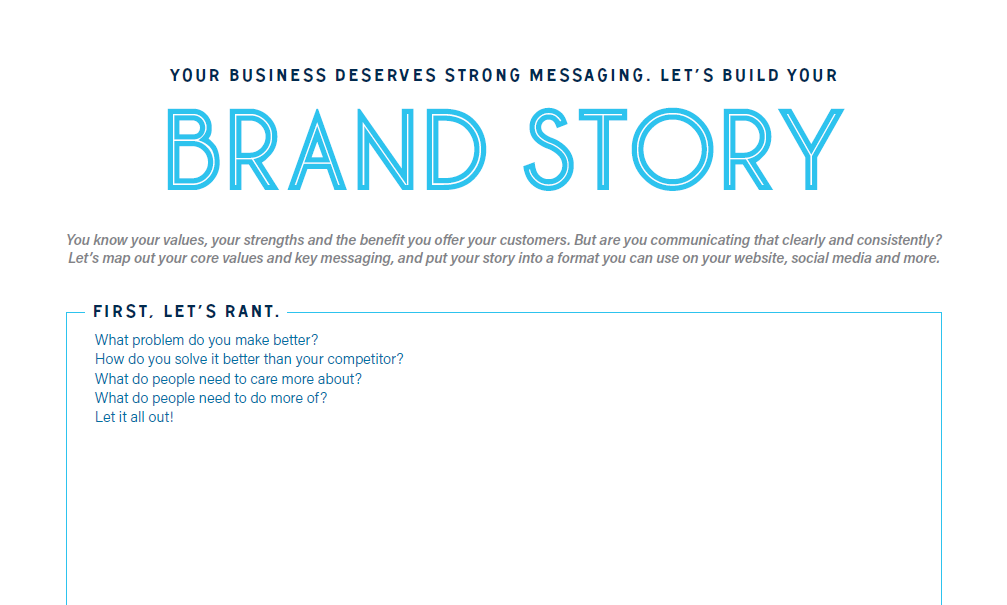 By Julie Clark McKinney
REV Birmingham Director of Communications
Your brand story is the foundation for your business. It's your why (you do what you do), and how you communicate to your customers why they should buy from you.
There's no one right way to arrive at your brand story, but some ways are simpler than others. In Rebound Bham's Telling Your Brand Story workshop that I co-taught with Trufund's incredible Kim Carter Evans, we did our best to uncover the easiest way to walk a business owner through it, with no formal public relations education required.
You can watch the whole workshop (right here! for free!) and hear explanations and examples from us for each step of the process.
In the workshop, we walk you through the Brand Story Canvas, a REV team creation that you can print out and fill in (fits best on 11×17 paper but works on 8.5×11 paper too) or follow along and jot down your own notes on whatever you've got handy.
This canvas leads you through creating, tweaking or affirming…
YOUR CORE VALUES—those guiding principles and beliefs that are the foundation for how you run your business
YOUR CUSTOMER—specifically thinking about how your core values align with theirs and what that means for your messaging
YOUR KEY MESSAGING—your engaging elevator pitch
YOUR BRAND STORY—your what and your why, described in a way that demonstrates your core values and connects with your customer
The truth is that it doesn't matter how you get to your brand story, only that you get it right. Because you and your small business baby deserve it!
Give this workshop and the canvas a try; then check out more free Rebound Bham workshop videos. And, as always, reach out to REV's Biz Growth team when you need us!
Related News
Filed Under: Big Pitch, Front Page, Small Business, Uncategorized

If you've been following REV for a while, you probably remember The Big Pitch Competitions we used to hold back in the day. The Big Pitch presented by PNC was essentially our own little version of Shark Tank. And a lot of your favorite local businesses that participated in this competition now have active retail storefronts that you can go check out. Let's start with some of our finalists that are based in the City of Birmingham and see what they've been up to!

Filed Under: Front Page, Small Business, Uncategorized, Woodlawn

We're so excited to welcome yet another new business to the Woodlawn Community! Thrive Wellness Lounge is a plant-based health and wellness store in the heart of Woodlawn owned by Tish Fletcher (a veteran Woodlawn Street Market vendor – whoop whoop)! You can swing by and check out Woodlawn's newest addition on Tuesday – Saturday from 11:00 a.m. – 5:30 p.m. It's always a good time to support a female, black-owned local business! We talked to Tish a little bit more about her journey to opening her very own brick and mortar store. Keep reading to learn more!

Filed Under: Developer, Downtown Birmingham, Front Page, Get Involved

The second community workshop held at Boutwell Auditorium on July 26th was another opportunity for the public to weigh in on the future of Linn Park. The project consultant team shared insight about the people engaged so far, the place-based assessment of Linn Park, and the preliminary park concept solutions. Keep reading to see the results and how you can play a part in this re-vision!