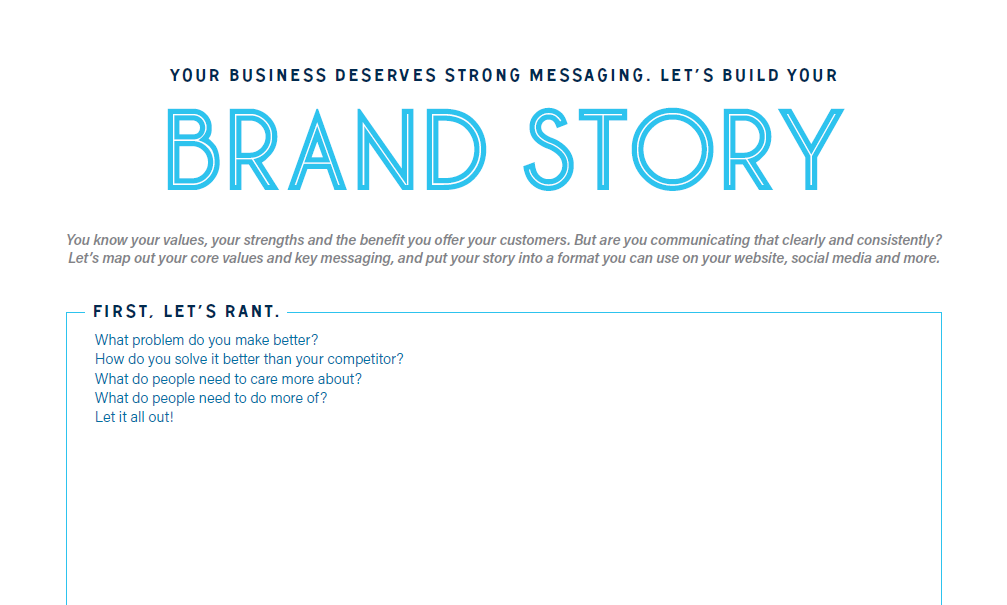 By Julie Clark McKinney
REV Birmingham Director of Communications
Your brand story is the foundation for your business. It's your why (you do what you do), and how you communicate to your customers why they should buy from you.
There's no one right way to arrive at your brand story, but some ways are simpler than others. In Rebound Bham's Telling Your Brand Story workshop that I co-taught with Trufund's incredible Kim Carter Evans, we did our best to uncover the easiest way to walk a business owner through it, with no formal public relations education required.
You can watch the whole workshop (right here! for free!) and hear explanations and examples from us for each step of the process.
In the workshop, we walk you through the Brand Story Canvas, a REV team creation that you can print out and fill in (fits best on 11×17 paper but works on 8.5×11 paper too) or follow along and jot down your own notes on whatever you've got handy.
This canvas leads you through creating, tweaking or affirming…
YOUR CORE VALUES—those guiding principles and beliefs that are the foundation for how you run your business
YOUR CUSTOMER—specifically thinking about how your core values align with theirs and what that means for your messaging
YOUR KEY MESSAGING—your engaging elevator pitch
YOUR BRAND STORY—your what and your why, described in a way that demonstrates your core values and connects with your customer
The truth is that it doesn't matter how you get to your brand story, only that you get it right. Because you and your small business baby deserve it!
Give this workshop and the canvas a try; then check out more free Rebound Bham workshop videos. And, as always, reach out to REV's Biz Growth team when you need us!
Related News
Filed Under: Front Page, Get Involved, Historic Preservation, Residential

President and CEO of REV Birmingham David Fleming writes about the importance of historic preservation and highlights the advocacy efforts that saved the French Quarter in New Orleans and the Forest Park neighborhood in Birmingham. The article concludes with a call to action, urging for new leaders and the implementation of various strategies to protect and celebrate Birmingham's historic buildings and places.

Filed Under: Filling Vacant Spaces, Front Page, Small Business, Woodlawn, Yaysayers

Lights, Camera, Action! The rebirth of the Woodlawn Theater is happening this weekend in the heart of Woodlawn. The theater is opening its doors to the public with two extraordinary opening events that are FREE to the public. The 1400 square foot venue has a wide range of amenities and even has a full-service bar. Because of the Mason Music Foundation, this venue is filling a much needed resource for local musicians to perform. Keep reading to discover how the theater came back to life and its impact on the community.

Filed Under: Downtown Birmingham, Filling Vacant Spaces, Front Page, Small Business

The final touches are coming together for the grand opening of the Nextec building in the Switch district. Conveniently located a block away from the Innovation Depot, graduates from the depot and other entrepreneurs have a place to go after successfully launching their business off the ground. Continue reading to find out more about the district and newest developments.