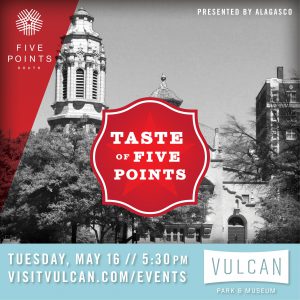 Vulcan Park and Museum and the newly-formed Five Points Alliance are coming together to bring Birmingham a fantastic new culinary and cultural event! A Taste of Five Points, presented by Alagasco, will take place at Vulcan Park and Museum on Tuesday, May 16th from 5:30 p.m. to 7:30 p.m.
This event will celebrate the neighborhood's 130th anniversary and mark the end of the exhibit Patience, People, and the Plan: The Revitalization of Five Points South, currently on display in the Linn-Henley Gallery at Vulcan Park and Museum.
Participating vendors include: Alexander Eton, Black Market Bar & Grill, Bottega, Buck Mulligan's, Charlemagne Records, Chick-Fil-A, Dave's Pub, Delta Blues, Dreamland BBQ, Good People Brewing Co., IIIs, Jim-N-Nicks, Little Italy, Orbit Salon, Pho Pho, Rucker Place / Savoie Catering, Starbucks, T-Bones, The Hotel Highland, The J. Clyde, the UPS Store, and Zydeco.
"The idea behind this event is to shed light on all that the Five Points South neighborhood has to offer, not just culinary," said Morgan Berney Black, Director of Marketing & Public Relations at Vulcan Park and Museum. "Guests will get a taste of all of it and experience the best of landmark culinary hot-spots, trendy retail, and lively entertainment."
At the event, a specialty Five Points cocktail will be revealed thanks to Dave's Pub and Jose Cuervo Tradicional.
Advanced tickets are $30 for an individual and $50 for a couple. These are available for purchase at the Vulcan Park and Museum Website! At the gate, single tickets will be $35 and couple tickets will be $55. Each ticket holder will receive a coupon for a complimentary beer from Good People Brewing Company.
A portion of the proceeds will go to benefit the new master plan project underway by the Five Points Alliance.
Additional support for this inaugural event is provided by Michael and Barvette Patterson, Commute Smart, 97.3 Play, Alabama Outdoors, Birmingham Coca-Cola Bottling Company, Birmingham Mountain Radio, ZeeKee Interactive, and REV Birmingham.
Get your tickets HERE before they're gone!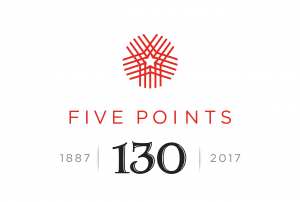 Related News
Filed Under: Downtown Birmingham, Filling Vacant Spaces, Front Page, Uncategorized

Whether you're planning on visiting Birmingham for The World Games 2022 in just a few weeks, or you're a local looking to explore your city and find some hidden gems, we've got an awesome list of public spaces for you to check out! We've put together a short list of some of the places we think you should check out, but we encourage you to get out and see what else you can find.

Filed Under: Downtown Birmingham, Front Page, Get Involved, Uncategorized, Yaysayers

We are almost one month out from The World Games 2022! This vibrant event will be transformative for Downtown, and we want you to be a part of it! If you consider yourself a lover of Downtown Birmingham and are the friend that always knows where to go or what to do Downtown, this might be the perfect fit for you. We invite you to become a Downtown Ambassador Volunteer and help Birmingham put its best foot forward!

Filed Under: Downtown Birmingham, Front Page, Potential-Proving, Uncategorized, Yaysayers

This Friday, May 20th, we will be having a (20th) Street Party (which you can read more about here) to celebrate the end of our Birmingham Green Refresh! While this certainly calls for a celebration, the party doesn't stop there. We will still be adding some finishing touches to the street after the (20th) Street Party. These additional touches will help make Birmingham's main street more vibrant, interactive, and efficient! Additions will include smart trash cans, free libraries, street performers, and more!