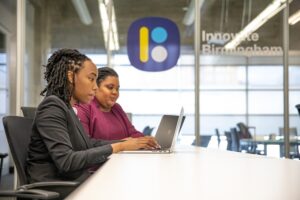 By: Amy Jones
Marketing Manager at Innovate Birmingham
This blog was originally published on The Switch.
Since you're reading the Switch blog, there's a legitimate chance you've heard of Innovate Birmingham. You likely know us as "the nonprofit that does coding classes" or "oh yeah, they do free tech boot camps." Nothing wrong with that — we've worked hard to build that reputation here in Birmingham.
But what you may not know — and what sets IB apart — is that we're here to help beyond free Full Stack Web Development and Data Analytics training for local unemployed and underemployed residents.
We know that daily realities don't stop for anything, and that includes potential life-changing opportunities. Our boot camps last 14 weeks, and many don't have the financial wherewithal or support system to be able to take almost four months to learn new skills.
There may still be bills to pay, family members to care for and other obligations to meet. Or participants may have personal needs that go beyond educational training.
For those applicants that are accepted into our program and show a demonstrated need, we are committed to helping remove the barriers to a more fulfilling and upwardly mobile career.
Some of the services we can assist with include:
Anger management
Dental care
Emergency and non-emergency medical care
Mental health assessment and treatment
Substance abuse treatment
Childcare services
Emergency rent assistance
Professional development, such as resume building and mock interview practice
Pregnancy services
The above is just a short sampling of how we can help during the program.
We also believe in the continuum of care — continuing to provide care for participants even after they've completed our program.
We do this in myriad ways. We have the Innovate Birmingham Alumni Council, which allows our alums to stay connected to IB and keep up with the program as it grows and evolves. Alums can also be personally involved with the growth of and promotion of IB through the Alumni Council, and can grow a valuable support network of other alums.
We also have alums that come back to us months or years down the road for help with job searching. All of our participants, from Cohort 1 to our newest, Cohort 15, are considered part of IB.
At Innovate Birmingham, we don't just train local talent — we invest in them and their families. Those who participate get a life-changing opportunity to move into a fast-growing, essential tech field.
Meanwhile, for our community, we are feeding a circle of economic prosperity, both local and statewide. We believe that our homegrown talent will stay home and continue to reinvest back into Birmingham.
To learn more about IB, visit www.innovatebham.com
Related News
Filed Under: Downtown Birmingham, Family Friendly, Front Page, Get Involved, Small Business, Yaysayers

With summer just around the corner, kids will soon be out of school and insisting on getting out of the house. Luckily, Downtown Birmingham has an abundance of family-friendly activities that will keep your kiddos entertained and create lifelong memories.

We know taking kids out for extended periods can be challenging; that's why we have curated a list of experiences designed to be enjoyable within a manageable 3 – 4 hour timeframe. This way, both children and parents can make the most of their time without feeling overwhelmed or exhausted. These four experiences include lunch options and are tailored to different ages and personalities.

Filed Under: Downtown Birmingham, Front Page, Get Involved, REV Team, Yaysayers

Meet Michael Symes, the new City Center District Manager for the Business Improvement District (BID). As a long-time resident of Birmingham, Michael brings a wealth of knowledge and experience to the role, having been an active member of the community since graduating from the University of Alabama. In this article, we will explore Michael's journey and learn about his "accidental roots" in the city, as well as his passion for working with the Business Improvement District (BID) of the Magic City. Follow along  as we get to know the person behind the job title and uncover the unique perspective he brings to the role.

Filed Under: Front Page, Get Involved, Historic Preservation, Residential

President and CEO of REV Birmingham David Fleming writes about the importance of historic preservation and highlights the advocacy efforts that saved the French Quarter in New Orleans and the Forest Park neighborhood in Birmingham. The article concludes with a call to action, urging for new leaders and the implementation of various strategies to protect and celebrate Birmingham's historic buildings and places.