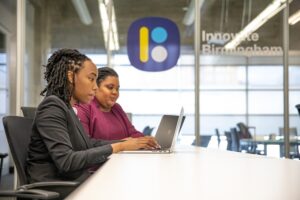 By: Amy Jones
Marketing Manager at Innovate Birmingham
This blog was originally published on The Switch.
Since you're reading the Switch blog, there's a legitimate chance you've heard of Innovate Birmingham. You likely know us as "the nonprofit that does coding classes" or "oh yeah, they do free tech boot camps." Nothing wrong with that — we've worked hard to build that reputation here in Birmingham.
But what you may not know — and what sets IB apart — is that we're here to help beyond free Full Stack Web Development and Data Analytics training for local unemployed and underemployed residents.
We know that daily realities don't stop for anything, and that includes potential life-changing opportunities. Our boot camps last 14 weeks, and many don't have the financial wherewithal or support system to be able to take almost four months to learn new skills.
There may still be bills to pay, family members to care for and other obligations to meet. Or participants may have personal needs that go beyond educational training.
For those applicants that are accepted into our program and show a demonstrated need, we are committed to helping remove the barriers to a more fulfilling and upwardly mobile career.
Some of the services we can assist with include:
Anger management
Dental care
Emergency and non-emergency medical care
Mental health assessment and treatment
Substance abuse treatment
Childcare services
Emergency rent assistance
Professional development, such as resume building and mock interview practice
Pregnancy services
The above is just a short sampling of how we can help during the program.
We also believe in the continuum of care — continuing to provide care for participants even after they've completed our program.
We do this in myriad ways. We have the Innovate Birmingham Alumni Council, which allows our alums to stay connected to IB and keep up with the program as it grows and evolves. Alums can also be personally involved with the growth of and promotion of IB through the Alumni Council, and can grow a valuable support network of other alums.
We also have alums that come back to us months or years down the road for help with job searching. All of our participants, from Cohort 1 to our newest, Cohort 15, are considered part of IB.
At Innovate Birmingham, we don't just train local talent — we invest in them and their families. Those who participate get a life-changing opportunity to move into a fast-growing, essential tech field.
Meanwhile, for our community, we are feeding a circle of economic prosperity, both local and statewide. We believe that our homegrown talent will stay home and continue to reinvest back into Birmingham.
To learn more about IB, visit www.innovatebham.com
Related News
Filed Under: Big Pitch, Front Page, Small Business, Uncategorized

If you've been following REV for a while, you probably remember The Big Pitch Competitions we used to hold back in the day. The Big Pitch presented by PNC was essentially our own little version of Shark Tank. And a lot of your favorite local businesses that participated in this competition now have active retail storefronts that you can go check out. Let's start with some of our finalists that are based in the City of Birmingham and see what they've been up to!

Filed Under: Developer, Downtown Birmingham, Filling Vacant Spaces, Front Page, Potential-Proving, Uncategorized

Have you been to Downtown Birmingham's newest development located on 25th Street? If not, you need to head down there ASAP and check it out! This new single story development is a product of a collaboration between David Baker Architects (DBA) and Locke General Contractors, led by DBA's very own Amanda Loper. It is intended to be a "collaborative commercial space in a catalyst development area of Birmingham." Both DBA and Locke General Contractors will be tenants of the space, along with June Coffee Roasters, Zephyr Barber, and Last Call Baking Cooperative!

Filed Under: Downtown Birmingham, Events, Front Page, Uncategorized

One of Birmingham's many hidden treasures is the music scene downtown. The sheer volume of concert venues we have in downtown Birmingham is something most people aren't even aware of – but it really is remarkable! There is truly something for everyone, whether you're into the smaller, more intimate venues or the large-scale venues for those big name artists. Keep reading to check out some of the cool venues downtown Birmingham has to offer.