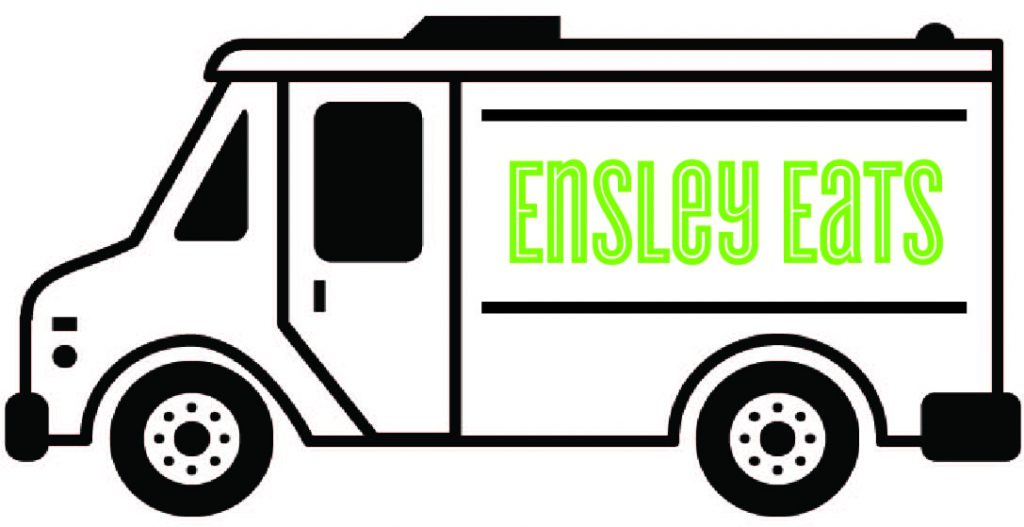 When the Ensley Merchant's Association (EMA) set out to activate an underutilized lot in historic downtown Ensley, they joined forces with Ensley Alive and REV Birmingham to form a plan for the space.
The challenge: Attract residents out of their homes, workers of their offices, and people bypassing the area into downtown Ensley.
Merchants brainstormed a number of opportunities, but one stuck out: Food.  There are few dining options within walking distance of the core of the Ensley Business District. So the group called in food trucks and dubbed the event Ensley Eats. Every first Wednesday of the month from 11 a.m. to 1 p.m. (sometimes beyond because of demand) food trucks showed up, and the crowds shortly followed.
Ensley Eats demonstrated that the importance and demand for spaces to connect with community were much needed. People from throughout the community showed up in droves to get a bite to eat and spend time with their neighbors. In the end, the community expressed the desire to have more events like Ensley Eats as well as a need for a food truck in Ensley on a more consistent basis.
Although Ensley Eats is finished for this season, don't be surprised if you see a food truck or two attracting lines in historic downtown Ensley. The next Ensley Eats season will kick off in May 2018.
Related News
Filed Under: Business-Proving, Front Page, Small Business, Uncategorized, Woodlawn

Woodlawn is constantly growing and welcoming new businesses and the past few months have been no exception! There is a diverse mix of new openings in Woodlawn that caters to a variety of different audiences. Whether you're looking to take some dance classes or you're just in the mood to try out a new bar, here's a list of all the new places for you to checkout in Woodlawn!

Filed Under: Uncategorized

Get to know our team better by learning more about what we do and hearing some fun facts about each team member. This week we are introducing Ben Wieseman, our Director of Catalytic Development!