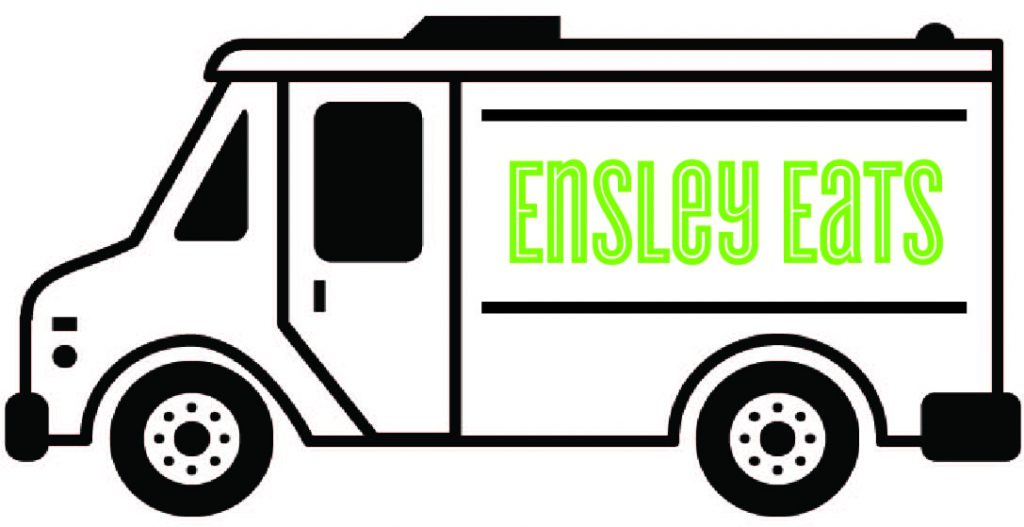 When the Ensley Merchant's Association (EMA) set out to activate an underutilized lot in historic downtown Ensley, they joined forces with Ensley Alive and REV Birmingham to form a plan for the space.
The challenge: Attract residents out of their homes, workers of their offices, and people bypassing the area into downtown Ensley.
Merchants brainstormed a number of opportunities, but one stuck out: Food.  There are few dining options within walking distance of the core of the Ensley Business District. So the group called in food trucks and dubbed the event Ensley Eats. Every first Wednesday of the month from 11 a.m. to 1 p.m. (sometimes beyond because of demand) food trucks showed up, and the crowds shortly followed.
Ensley Eats demonstrated that the importance and demand for spaces to connect with community were much needed. People from throughout the community showed up in droves to get a bite to eat and spend time with their neighbors. In the end, the community expressed the desire to have more events like Ensley Eats as well as a need for a food truck in Ensley on a more consistent basis.
Although Ensley Eats is finished for this season, don't be surprised if you see a food truck or two attracting lines in historic downtown Ensley. The next Ensley Eats season will kick off in May 2018.
Related News
Filed Under: Front Page, Uncategorized, Woodlawn, Yaysayers

This Sunday, a group of volunteers will embark on a façade improvement project at The Shop on 1st Avenue – cleaning and painting the outside of the building.  

Filed Under: Developer, Downtown Birmingham, Filling Vacant Spaces, Front Page, Uncategorized

From the terrazzo floors to the alley mural, the New Ideal building is full of history, and its redevelopment is sure to bring even more vibrancy to the already bustling block it shares with The Pizitz. Here are three reasons we are excited about the New Ideal Lofts project – and we hope it makes you say #YayBham too! 

Filed Under: Events, Small Business, Uncategorized, Young Pioneers

Come join Young Pioneers of Birmingham, in support of REV Birmingham, for coffee and doughnuts with Bill Smith of Shipt and David Fleming of REV on Thursday, July 19 at 7:30 a.m. at Shipt HQ!