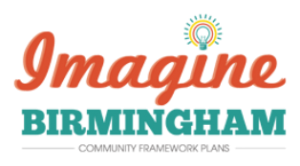 Hey Birmingham, did you know you have an opportunity to change your neighborhood, your commercial district, and the Birmingham we work, live and invest in for the better?
Would you like to get engaged? Now is the time.
In 2013, the City of Birmingham adopted its first Comprehensive Plan in 60 years. "The Plan" captures the vision citizens have for Birmingham for the next 20 years, and it puts the City on a new strategic path toward renewed neighborhoods, a stronger economy and a better quality of life for all. Now, that BIG-picture vision is getting real in neighborhoods on the east and west sides of the Magic City.
What do you think could fill that vacant lot and draw people into the heart of your commercial district? How can the City encourage existing small businesses and attract new ones that you would support? What can we do to increase safety?  Where do we need to invest in sidewalks and remove blight? Add your voice to this important work!
Our partners in City Planning are creating framework documents – data on literally every land parcel in a community –  and talking to hundreds of stakeholders like you. These plans will be detailed and take about a year to complete. There are two new opportunities kicking off THIS month for you to be involved — the Eastern Area Kick-Off meeting is Tuesday, January 24th at Woodlawn United Methodist Church from 6pm-7:30pm, and the Pratt-Ensley Kick-Off meeting is Tuesday, January 31st at McAlpine Rec Center from 6pm-7:30pm.
We hope you'll join your neighbors and us as we look to the future and build a better Birmingham for all. Want to know more?  Jump to the official Imagine Birmingham website HERE! http://www.imaginebham.com/.
Related News
Filed Under: Uncategorized

Get to know our team better by learning more about what we do and hearing some fun facts about each team member. This week we are introducing Ben Wieseman, our Director of Catalytic Development!

Filed Under: Front Page, Uncategorized

Public parks play a vital role in how we experience the communities, neighborhoods, and cities that we live in. Inclusive, well-designed public spaces provide access to recreational activities, spurs local investment opportunities, and combats environmental impacts.