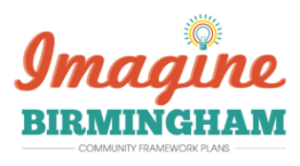 Hey Birmingham, here's an opportunity to change your neighborhood, commercial district, and the Birmingham we love, for the better.
In 2013, the City of Birmingham adopted its first Comprehensive Plan in 60 years. "The Plan" captures the vision citizens have for Birmingham for the next 20 years, and it puts the City on a new strategic path toward renewed neighborhoods, a stronger economy, and a better quality of life for all. Now, that BIG-picture vision is coming to fruition in specific neighborhoods through the creation of Framework Plans.
Our partners in Birmingham City Planning are talking to hundreds of stakeholders like you. The planning work focuses on four to six neighborhoods at a time, and right now, the Ensley-Pratt and Eastern Area Framework Plans are underway. The resulting plans will take about a year to complete, be detailed, and will inform, guide and improve how City services will be delivered to these areas. REV will use the plans to help prioritize our work in the East Lake and Ensley neighborhood commercial districts.
What do you think could fill that vacant lot and draw people into the heart of your commercial district? How can the City encourage existing small businesses and attract new ones that you would support? Where should they invest in sidewalks and remove blight? Where do traffic issues need to be addressed? Add your voice to this important work!
We hope you'll join your neighbors and us as we all look to the future and give voice to how we want to build a better Birmingham. Want to add your input or learn more? Jump to the official Imagine Birmingham website HERE!
Related News
Filed Under: Front Page, Potential-Proving, Uncategorized, Yaysayers

TODAY IS THE DAY! REV Birmingham is celebrating 10 years of creating vibrant commercial districts in the City of Birmingham. Today is all about celebrating the past decade of success and all that we have accomplished. It all started ten years ago when two organizations – Operation New Birmingham and Main Street Birmingham – merged to create the one and only REV Birmingham. We have covered so much ground since then, from historic building rehab consulting all the way to our refresh of 20th Street North – and we are looking forward to seeing what the future holds for us here at REV.

Filed Under: Business-Proving, Front Page, Uncategorized, Yaysayers

REV is turning TEN! Our birthday is swiftly approaching (it's on November 15th in case you want to give us a happy birthday shoutout!) and we are spending the week leading up to it reflecting on the past 10 years. We have accomplished so much in just a decade, and we can't wait to see what the next 10 years have in store for us. But for now, let's take a trip down memory lane and look back at some of our favorite projects.

Filed Under: Downtown Birmingham, Front Page, Residential, Uncategorized

From Austin, Texas to New Orleans, Louisiana, learn why this family choose to move into the city center of Birmingham. We are interviewing people from all around the city and learning why they chose to move into Birmingham.